At once regal and dishevelled, Budapest is a bewitching city steeped in history and teaming with weird and wonderful nightlife.
If you're thinking of heading out there, here's a few picks of places to stay and things to do catering for all budgets.
Hotels
Gresham Palace (Four Seasons)
This is undoubtedly a very grand Budapest hotel if not the Grand Budapest Hotel Wes Anderson was inspired by when making his recent movie.
Art nouveau in architecture and draped in its delicate embellishments, it is perhaps the most expensive hotel in the city but certainly the finest, with all the opulence you would expect from a five-star hotel but also an interesting history you might not.
Gresham Palace used to have a shopping arcade running through it and it has retained this feel, with giant iron gates at either end and store fronts lining the lobby.
Along with a selection of stunning rooms and suites, it has a first class spa on the top floor and is located directly in front of the Danube's Chain Bridge in the heart of the city.
Bohem Art Hotel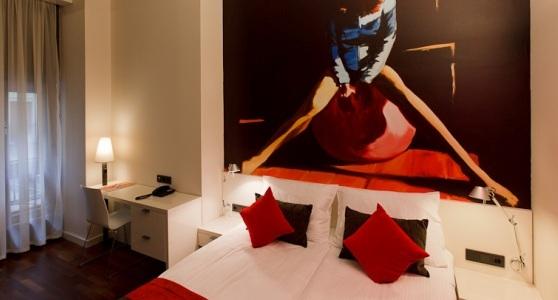 Located downtown, this old stationery factory is now a boutique hotel with its own art gallery and fresh, modern rooms.
It supports local artists and aims to convey the "ease of bohemian life", encouraging guests to choose their room based on the paintings.
It's only a few feet from the river bank and also within stumbling distance of the Jewish quarter.
Hostels
Casa De La Musica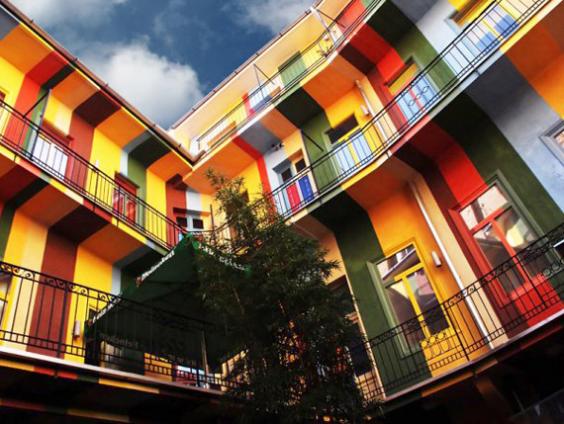 This brightly-coloured hostel is both a very cheap place to stay and a buzzing hub for nightlife with its own bar, basement concert hall and inflatable swimming pool.
It houses dormitories for between four and 12 people along with private rooms which are basic but – as you're looking for – clean and functional.
Restaurants
Kőleves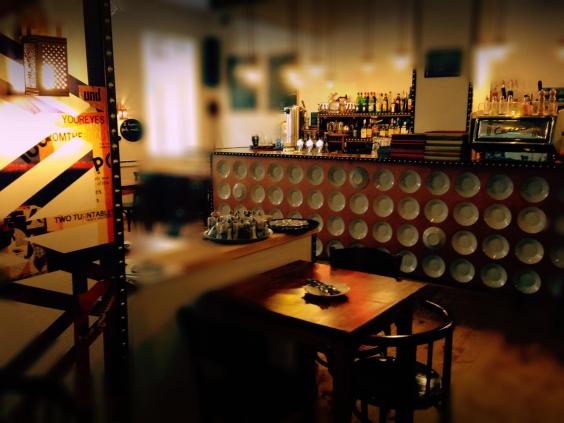 Books, old instruments and metal tankards are piled high in this laidback restaurant, which is perfect for splitting a bottle of wine and eating some hearty Hungarian food before heading on to the ruin pubs.
Their goulash (made with blackened chunks of smoked brisket) is to die for.
Halászbástya
Located inside the Castle District, Halászbástya or Fisherman's Bastion is a place to drink in the history of the city while enjoying refined takes on Hungarian classics (lots of goose, duck, cottage cheese and sauasage).
During the summer months you can sit out on the terrace, and if it rains there's always the novelty of eating in one of its turrets.
Onyx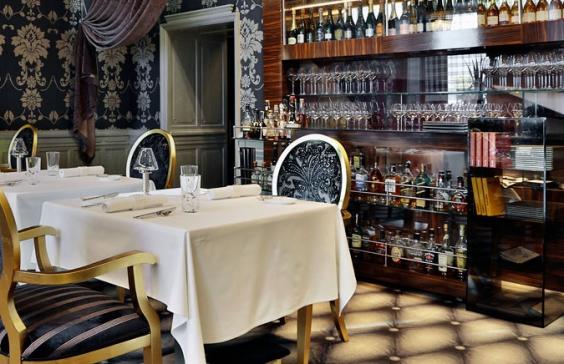 If you're after a quick goulash head to Spinoza, if you're looking for a gastronomic tour pay Onyx a visit, a Michelin Star restaurant where you'll find dishes like water buffalo with pickled cucumber and sour cream and brook saibling with kohlrabi and pumpernickel.
Ruin pubs

Budapest is famed for its ruin pubs, but they're not yet overrun with tourists, still attracting locals and never feeling too busy.
Szimpla Kert (above) is the place to start, with hundreds of rooms orientated around a ramshackle garden.
Every surface has been written on, every wall has been adorned with novelty objects and the kert is filled with bizarre furniture (half a car, a bath tub). It feels like an Alabama dive bar lost in Europe.
Corvintető is also worth checking out, situated on the roof of a communist-era department store and often holding outdoor film screenings, and you should end your night at Instant, which has all the surrealism of a ruin pub but a few dancefloors to boot (random memories: a disco ball shaped like a pig, a room decorated entirely upside down).
If you're there on a Saturday night the Szechenyi Baths are a must, transforming into a steamy club night with lasers and cheap beer.