Firstly, a confession: I may have been a bit sniffy about the idea of putting my children into a club while I relaxed by the pool on holiday. I'm not the chic mum on the beach sporting a kaftan and matching string bikini. I'm more of the bum-in-the-air, sand neck-to-toe, sandcastle-village-making kind. But now, I fear I may have to backtrack a little. I might be a convert.
It happened in Italy. My family – me, husband Nick, and children Fin, nine, and Bella, six – had travelled to the shores of Lake Garda, just outside Peschiera del Garda on the southern-most shore. Our destination was the Hotel Parc and Eden Residence, surrounded by a golf course and vineyards. It is newly offered by Esprit Sun, the summer programme of Esprit Ski, which has offered family ski holidays in the Alps for 31 years. We arrived at Verona airport and were met by Esprit rep Laura Henderson, who within minutes had made firm friends with the children and sussed out their interests (Fin: football, golf, tennis and swimming; Bella: dancing, swimming, skipping and art). To say they were keen to join the Esprit clubs is an understatement.
They were booked in for three half-days at Esprit's Sun Club, for three to 10 year olds, and invited along to the Esprit Sunset Club, a free programme of games each evening between 7.30 and 10pm. So, on our first night they skipped off to the Sunset Club while Nick and I enjoyed an alfresco glass of lugana, the local white wine. We did sneak back to check that they were okay, but we were caught out by my eagle-eyed daughter who shrieked at us to go away.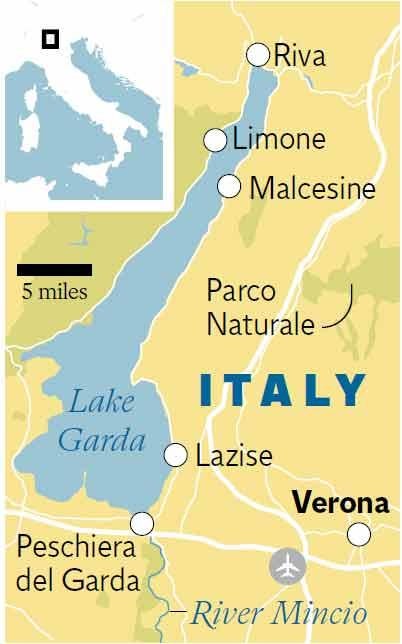 In the daytime, we used the hotel's free shuttle bus to explore Peschiera del Garda, the fourth largest town on Lake Garda, surrounded by 16th-century fortress walls. The town's cobbled lanes bustle with shoppers, while the elegant promenade is a lovely place to stroll. But nothing can detract from the lake, where you can rent boats, pedalos, canoes or just take a dip. We played it safe with a pedalo, but it wasn't long before Fin, Bella and I dived into the deliciously cool and refreshing water.
Verona – the city of Shakespeare's star-crossed lovers – is less than 20 minutes by train from Peschiera, and small enough to see most of the sights in a day. We visited Casa di Giulietta (and Juliet's balcony), the Castelvecchio, built in 1354 and now the city's most important medieval monument, and the 2,000-year-old Arena di Verona, which once hosted gladiatorial combats but now features opera's biggest names. Then we tucked into pizzas at Impero Trattoria and Pizzeria on the central Piazza dei Signori, gazing at a marble statue of the poet Dante who once lived nearby.
Even at the end of the long, hot day Fin and Bella were keen as ever to join in the Sunset Club. Again, we were shooed away when we tried to collect them earlier than scheduled. They were in the midst of a very important game of giant hopscotch with Lisa and Sam, part of the Esprit team of experienced UK-qualified childcarers. Esprit offers flexible childcare, in addition to the free Sunset Club, on the basis that you pay for what you want.
No family holiday is complete without a trip to a theme park, so we duly set off for Gardaland. It is on the eastern shore of Lake Garda and features rollercoasters with such names as Blue Tornado, Raptor and Mammut, among other rides for the less adventurous. I discovered that Bella is a bit of a daredevil, and I conquered my fear of heights, thanks to the rides for which my husband exceeded the height limit (yes, really). After the excitement, the children went into the Sun Squad for an afternoon and I found a place in the shade back at the hotel pool.
The Sun Squad proved such a hit that Fin and Bella were keen to spend the following day there, with plans for golf, tennis, swimming and craft. So, Nick and I took a full-day coach tour around the lake. We stopped in the pretty walled village of Lazise; the medieval village of Malcesine with its gorgeous narrow streets and fascinating little shops; Riva, with its Austrian architectural influences; and my favourite, Limone, home to the historic lemon houses built to protect lemon trees from the cold.
We arrived back to find Bella asleep on a sofa in reception and Fin playing cards with Laura. They hadn't missed us a bit. And after dinner? They went back to the club, and we had another lugana.
Getting there
Amber Evans and her family travelled with Esprit Sun (01483 791 919; espritsun.com), which offers a week at the Hotel Parc and Eden Residence near Peschiera del Garda, departing 16 August, with transfers, based on an all-inclusive family room, with free morning Esprit Sun Squad, evening Sunset Club for children and a family ticket to Gardaland, for £2,629. Flights are from Gatwick or Cambridge. Flights from Bristol, Glasgow and Birmingham are available with a supplement.