Travelling companion: My twin sister Lydia
Trip: Weekend in Amsterdam
Before August last year, I'd never been on holiday with just my sister. Which is odd, really, considering we're twins. We've been on family trips, of course, and on holidays with friends, but never just we two. Perhaps the nine months spent curled around each other in the womb was all the alone time we needed. As any twin will tell you, independence is important.
Don't get me wrong, my sister and I are really close. We're not indistinguishable (we treasure our differences) but we're completely in tune with one another. We finish each other's sentences not because we're psychic (pur-lease!) but because we're perfectly in step, something that comes from a lifetime spent sharing rooms, clothes and secrets. Our personalities complement each other. She's organised and I'm creative; I'm opinionated, she's laid-back.
It was only after moving in together last year that we decided we were ready to take a twin trip. We chose a weekend in Amsterdam, a city we'd visited before, but only as children. I must admit, the prospect filled me with excitement. This was an opportunity to escape the humdrum reality of everyday life. No bickering over who should do the washing-up or take out the bin. Pure escapism.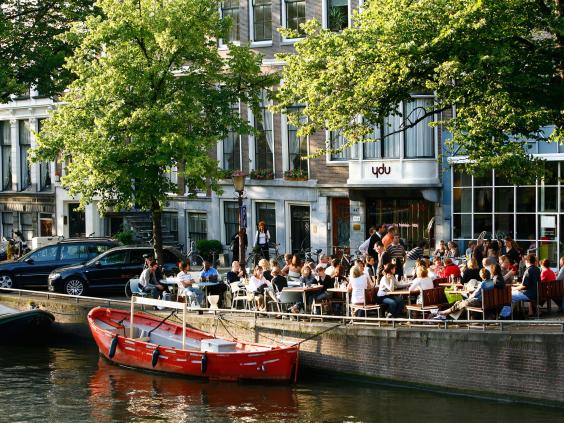 The fun starts at Gatwick where we treat ourselves to a bottle of prosecco and a plate of gluttonous fries in the departure lounge. We giggle as we chomp through the chips, discussing what the weekend might hold. My sister has dreams of hiring a tandem ("Think of the Instagram potential!"), but I'm terrified about veering into a tram. We compromise, as we always do, and agree to keep to the lusciously green, tram-free Vondelpark.
Upon arrival at the brand new The Hoxton – five former canal houses on the Herengracht that have been transformed into a trendy hotel – we scamper upstairs to our allotted bedroom (a twin, naturally) and spend a good few moments joyously leaping around, bouncing on the beds, and generally revelling in the excitement of it all. Without much discussion (it's not needed), we agree to spend the night at the hotel, taking in the restaurant and the bustling bar downstairs. Tomorrow, we decide, we'll explore further. Two medium-rare steaks and several champagne cocktails later, we both crash out.
The following morning brings glorious sunshine, so we gobble down near-identical breakfasts and head outside, stopping occasionally to ask bemused passers-by to take our photograph.
Our first stop is the Vondelpark, where we hire that dreaded tandem. Climbing aboard, we realise this could make or break us. The cyclist at the front is in charge of steering, leaving the one on the back seat completely at their mercy. My sister, the twin with a driving licence, takes the lead and we wobble off along the busy cycle path. It doesn't take long before we fall into an easy rhythm and soon enough we're careering past solo cyclists, waving hello as we go. Trouble only comes when I, the twin without a driving licence, decide to take control. My sister screeches terrified instructions from behind until we eventually swap back.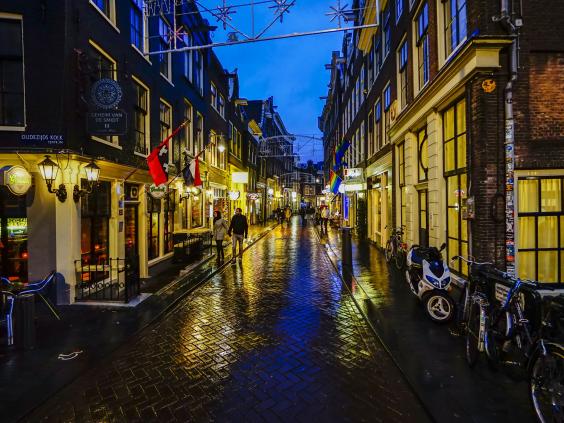 Neither of us fancies paying for the Van Gogh Museum, which we visited as children, especially as the sun is still blazing down. We opt instead for an ice cream and a wander down curious alleyways and into unusual districts including, of course, the notorious Red Light District. Then it's back to the hotel to freshen up and get ready for a night on Amsterdam's cobbles.
So rarely do we get to sit and chat together that it's a novelty to park ourselves at a canalside bar and enjoy a few beers without the distraction of work, TV or Facebook. We talk until the sun goes down and vow to do this more often, be it on holiday or at home.
The next day, silent, glum and back in London, we haul our cases on to the bus. Rain streaks the windows as we gaze out, recalling the stack of washing-up we left at the flat. Back to reality. Then, with a sly grin, my sister turns to me. "How do you feel about Stockholm?"
The Hoxton is at Herengracht 255, Amsterdam (0031 20 888 5555, thehoxton.com/holland/amsterdam). Twin room from €89, including breakfast
Reuse content