In view of my penchant for mementos, I should have thought a bit more carefully about heading to the Pays de la Loire for my personal Tour de France. List of souvenirs available en route: artisan-crafted glass; high-end tin-glazed earthenware; wine. Excellent.
The magnitude of my error hit me as I wove my way unsteadily back to my chambres d'hôtes in La Chartre-sur-le-Loir on the final, sun-caressed evening of a 100km (60-mile) velodyssey. I wasn't under the influence, but my panniers were; with every turn of the wheel and squeeze of the brakes, half a dozen bottles in my saddlebags emitted suspicious clanks and gurgles. If I wasn't already red-faced from several hours of undulating pedalling that day, I'd have blushed.
I'd no one to blame but myself – and certainly not the folk behind the freshly minted new cycling routes showcasing the best of the Sarthe and Loir valleys. And no, that's not a typo: Le Loir, masculine, without a concluding E, is the little brother of that more famed (and touristed) river some 50km to the south. Less renowned it may be, but the Loir has its share of fairytale châteaux and vineyards – and, as of now, its own waymarked cycle trail, the V47, snappily subtitled "La Vallée du Loir à Vélo", roughly tracing the river west to east between La Flèche and La Chartre-sur-Le-Loir. Beginning at Asnìeres-sur-Vègre on the V44 "La Sarthe à Vélo" route spidering across the département, I was able to construct a winsome two-day, two-wheel expedition.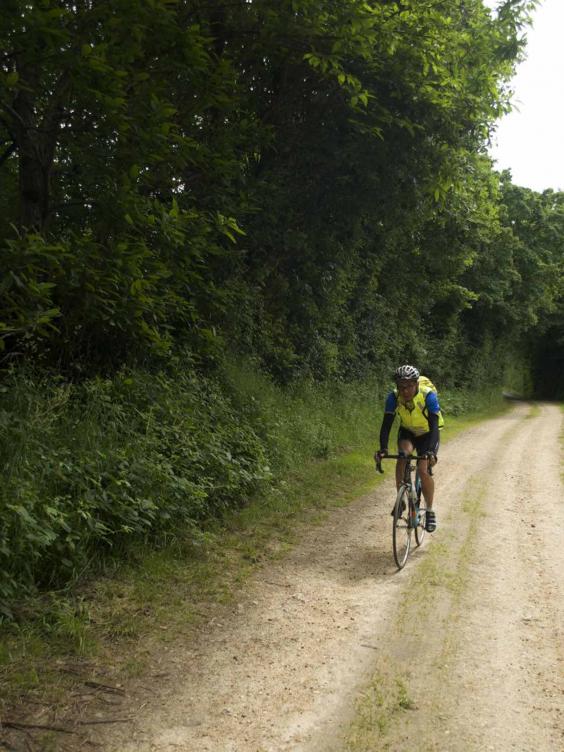 Day One got off to a slow start. Not that the terrain was challenging – exertion levels ranged from smug free-wheeling to mildly out-of-puff – but extracting myself from Asnières was a task. There's a whiff of the Cotswold honeypot about this compact village, with its golden stone cottages and flower-garlanded lanes. By the time I'd nosed around the kaleidoscopic flowerbeds of the innovative Jardin Mosaïque, watched a glassworking demonstration at atelier Verr i Kiti, and peered up at the 12th-century Eglise Saint-Hilaire's fresco of Judgement Day – spot the sinners stewing in a hellish cauldron – mid-morning had come and gone.
Somewhat reluctantly, I turned my handlebars east, towards Noyen and the banks of the Sarthe proper. This is, and long has been, prosperous agricultural land. Back in the day – by which I mean the late Middle Ages – many a gentleman farmer propped up his ego by building a manoir, or even a micro-château; there are half a dozen in and around Asnières alone and more appeared alongside my route as I pedalled.
South of Noyen, sleepy Malicorne-sur-Sarthe produced another diversion – not the rather tired-looking château, which was closed, but a museum of earthenware. The Espace Faïence offered quiet, air-conditioned cool and an arresting jaunt through the history of ceramics – more particularly majolica, the local speciality that underwrote the town's fortunes for a couple of centuries. It's an engrossing place, cleverly wrapped around the surviving kiln chimneys of an old factory.
La Flèche, an hour or so south, didn't provide such temptation to linger. Castles it has – or former castles, its 16th-century Château Neuf now housing the Prytanée National Militaire (René Descartes' alma mater), and the Château des Carmes part-housing the Hôtel de Ville – but it's an otherwise standard-issue medium-sized town. It does though mark the point where I met the Loir and joined the V47. A couple of hours' gentle pootling along a car-free voie verte (green way) brought me to Le Lude, my midway overnight halt. The town isn't postcard-pretty, but its castle – well, it's a beaut'.
The Château du Lude, northernmost of the Loire region's bastions, is a curious Russian doll, revealing one distinctive layer of history after another. Medieval origins are detectable in now-dry moats and burly round towers with four-metre-thick walls. But successive owners applied an Italian Renaissance overcoat and installed vast kitchens, lavish Flemish tapestries and the astonishing studiolo, a bijou prayer room exquisitely painted by artists from the Raphael school, with scenes from the Bible and Petrarch.
Pedalling out and past the château's back gate, I was at first a little disappointed that the waymarked trail did not, as intimated, stick to the banks of the Loir. No such riparian path exists and the route takes frequent detours away from the river. But I soon came to recognise that meandering through the countryside provided a more rounded picture of the region. As well as more Monet-lite wheatfields, I scooted alongside pine plantations, sleepy hamlets and wildfowl-specked lakes. At Vaas, I picnicked in a riverside meadow, gazing past swifts and martins swooping over the Loir to the lavoirs (wash houses) in which women of a century or so ago would pound the household laundry. Miles and hours slipped past, along with manoirs and hilltop chapels and the odd heron and buzzard.
The best was saved till last. La Chartre-sur-le-Loir isn't "special" in an easily defined sense; there are no handsome timbered medieval streets nor soaring spires, yet the Loir lends this small town a languid charisma. And, of course, it's surrounded by vineyards.
The cave of Domaine Gigou is a mere five-minute cycle from central La Chartre, providing a pocket-sized booth for tasting the small winery's dozen or so current offerings. And you should taste before you buy; both AOCs represented here, Jasnières and Côteaux du Loir, have stony soil producing mineral flavours unfamiliar to this palate, at least. They're not to everyone's liking, as Ludovic Gigou readily admitted to me, but those that like them, love them – Henri IV was an early fan.
I was with Henri on this one. My initial doubts, based on first sips and some truly awful label design, were swept away during a more informed tasting. And that reflected my overall impression of the Loir cycling experience: don't judge it by the label. Read the tasting notes carefully. I found a spicy vintage with surprising finesse, enhanced by warm, earthy notes that lingered on the palate.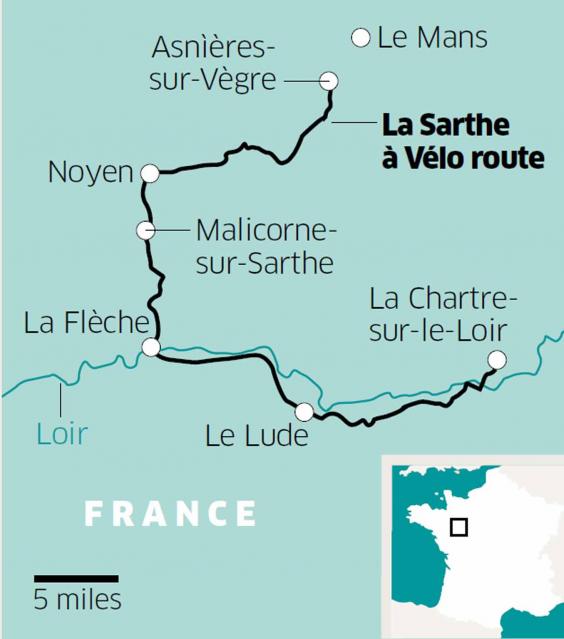 GETTING THERE
Train fares to Le Mans from London via Paris start at £89 return (0844 848 5848; voyages-sncf.com). Regular trains link Le Mans with Sablé-sur-Sarthe, at the western end of the newly waymarked section of the V44 Sarthe à Vélo cycle trail. Bus No 16, from La Chartre-sur-le-Loir, runs to Le Mans three times daily (lestis72.com).
GETTING AROUND
Sarthe Developpement (00 33 2 72 88 18 74; tourisme-en-sarthe.com) offers a seven-day cycling package covering the route described in this article, including accommodation, bike hire and baggage transport, from €604 (£480).
Teractiv72 (00 33 0 6 86 05 69 29; teractiv72.fr) rents bikes for €27(£21.50) a week; free delivery/collection at local train stations and accommodation if your party spends more than €40 (£32).
STAYING THERE
Le Manoir des Claies (00 33 2 43 92 40 50; manoirdesclaies.fr) offers chambres d'hôtes in a delightfully renovated 15th-century manor just outside the charming village of Asnières-sur-Vègre. Doubles €100 (£80), including breakfast.
Le Grand Moulin (00 33 2 43 44 65 78; mdmillet-moulin.fr), a historic watermill in La Chartre-sur-le-Loir, has been lovingly restored to create fresh, spacious rooms. Doubles €90 (£71.50), including breakfast; discounts for stays of more than one night.
MORE INFORMATION
Sarthe Developpement (00 33 2 43 40 22 50; tourisme-en-sarthe.com)