Spring is the season when the Netherlands comes into its own. The tulips of Flevoland's multi-coloured bulb fields and the Keukenhof Gardens are in full bloom. But it's not just flowers that show the country at its vibrant best – for a taste of the Netherlands at its most lively, head to its cities.
Of course, Amsterdam dominates tourism, providing many travellers with their only impressions of the country. For some, that means hazy memories of a boozy weekend hopping between bars and "experimenting" in coffee shops. To others, it's learning about the cultural legacy of the 17th-century Dutch Golden Age, viewing the masterful brushstrokes and etchings of Rembrandt at the Rijksmuseum (00 31 20 674 7000; rijksmuseum.nl; €17.50/£14). 
During the first 10 months of 2014, British tourists accounted for 860,000 overnight stays in Amsterdam. Rotterdam, the next most visited city by British travellers, totted just 63,000, despite being less than half an hour by train from Amsterdam's Schiphol airport. Travelling further afield – to cities including Arnhem, Eindhoven and Nijmegen – remain a bridge too far for most Brits.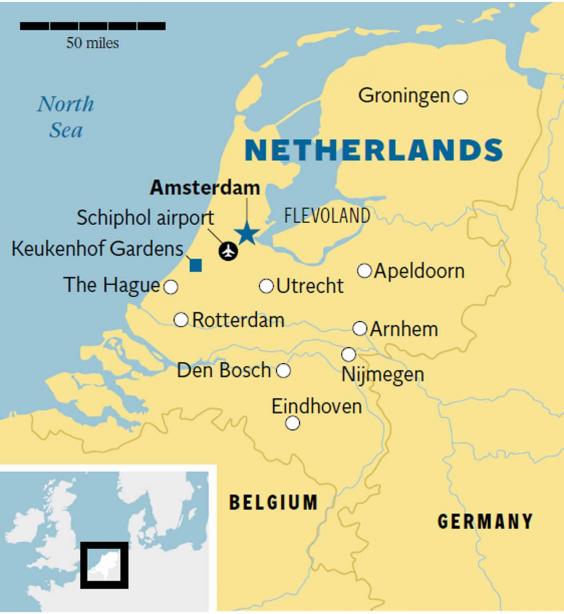 Visitors from the UK are likely to be impressed by the Netherlands' integrated transport system. It's easy to move between urban centres by train; even the relatively long journey between Amsterdam and Groningen, in the country's north-east, takes just a little more than two hours. 
For those who prefer direct flights to riding the rails, getting to the Netherlands is becoming even easier for travellers from the north of England. This month Flybe (0371 700 2000; flybe.com) started flying from Manchester to Rotterdam/The Hague, and on 24 March it will introduce a service from Doncaster/Sheffield to Amsterdam.
And what to do once you get there? This summer, Amsterdam will host the European Athletics Championships. Most events will take place in the Olympic Stadium, but from 6-10 July, the Museumplein, the grassy square behind the Rijksmuseum, will be the site of the qualification rounds of the discus and javelin. 
In 's-Hertogenbosch (or, as most Dutch people call it, Den Bosch) you'll find one of this year's most talked-about European art exhibitions. "Hieronymus Bosch – Visions of Genius" is one of a series of events commemorating 500 years since the death of the Dutch painter. Until 8 May works loaned from galleries around Europe will be on display in Het Noordbrabants Museum (00 31 73 687 7844; hnbm.nl; €12). And throughout the year, a free light show will be projected on to buildings on the market square, where Bosch had his studio.
In Rotterdam, two events in 2014 were seen as pivotal moments in the city's evolution from an ugly duckling into a destination with genuine tourism potential. The first was the opening of Markthal – where the country's largest artwork arches above the gourmet stalls within the busy market hall. The second was the award of Unesco World Heritage Site status to the Constructivist Van Nelle Factory. 
Striking contemporary buildings such as De Rotterdam and the Timmerhuis, both designed by Rem Koolhaas, make the city ideal for architecture lovers, while fans of water sports can look forward to the autumn opening of an urban surf hub on the Steigersgracht canal.
Railbookers (020 3780 2222; railbookers.com) offers a six-night tour of The Hague, Amsterdam and Rotterdam, with two nights in each city. From £639pp, including Eurostar from London St Pancras to Brussels, plus connecting rail travel. 
Leger Holidays (0844 324 5557; leger.co.uk) has a five-day tour of the Dutch bulb fields and Amsterdam with an excursion to The Hague, Scheveningen and Delft, from £309pp, including coach transport from the UK plus accommodation with breakfast.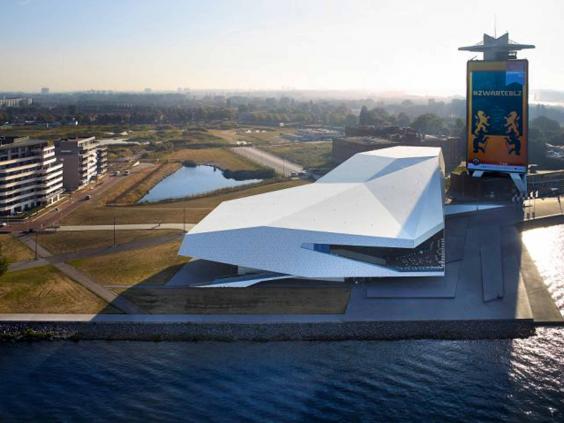 Amsterdam
The Netherlands' first city needs no introduction, but for a new view of Amsterdam, jump on one of the free ferries across the River IJ from the back of the Centraal Station to Buikslotersweg, and head up to the observation deck in the A'dam Toren. Formerly known as the Shell Tower, the 22-storey building reopens this spring following major renovations.
The tower will have a hotel, a revolving restaurant on the 19th floor, and a bar on the 20th floor (adamtoren.nl).
While you're on the north side of the river take a look inside the Eye Film Museum (pictured right; 00 31 20 589 1400; eyefilm.nl; €10). The sleek building provides insights into aspects of Dutch movie-making history, screening films and documentaries. 
Or, if you're visiting Amsterdam for the first time, board a 75-minute boat tour (00 31 20 679 1370; blueboatcompany.nl; €16), departing from Stadhouderskade 30, for an overview of the historic canals. 
Doubles at the newly opened Element Amsterdam hotel (00 31 20 517 5300; elementamsterdamhotel.com) cost from €95, B&B; studios and suites come with their own kitchenettes. For more tips on the Dutch capital, see our most recent 48 Hours In ... guide to Amsterdam, researched this month, at bit.ly/48Ams.
The Hague
This coastal city with a pedestrianised core is the seat of the Dutch parliament and King Willem-Alexander's official place of work, Noordeinde Palace. The Hague's name is synonymous with the International Court of Justice, and on select weekends it is possible to tour the grand interiors of the Peace Palace (00 31 70 302 4242; vredespaleis.nl; €9.50).
Johannes Vermeer's celebrated Girl with a Pearl Earring is among the impressive collection of Dutch Golden Age paintings in the Mauritshuis (00 31 70 302 3456; mauritshuis.nl; €14), while M C Escher's designs are displayed at Escher in Het Paleis (00 31 70 4277730; escherinhetpaleis.nl; €9.50).
Had your fill of culture? Stroll along the Passage, a 19th-century arcade, reminiscent of the Galeries Royales Saint-Hubert in Brussels, with cafés and fashion brands.
The boutique Paleis Hotel (00 31 70 362 4621; paleis-hotel.nl) has doubles within a 17th-century townhouse from €134, room only.
Rotterdam
There's a wealth of modern architecture in Rotterdam, and Urban Guides (00 31 10 433 2231; urbanguides.nl) will show you the highlights by bicycle (€17.50pp for a 2.5-hour tour). These include the Functionalist-style Sonneveld House plus Piet Blom's Pencil Tower and Cube Houses. 
The Museum Boijmans van Beuningen (00 31 10 441 9400; boijmans.nl; €15) has an extensive collection of world-class artworks that spans centuries, encompassing paintings by Hieronymus Bosch and Vincent van Gogh, as well as Rietveld furniture.
To view regularly changing photography exhibitions and a permanent collection of works by notable Dutch photographers head to the Nederlands Fotomuseum (00 31 10 203 0405; nederlandsfotomuseum.nl; €10).
Stay in smart rooms overlooking the River Meuse and Erasmus Bridge at the Inntels Hotels Rotterdam Centre (00 31 10 413 4139; inntelhotelsrotterdam centre.nl). Doubles from €103.50, room only.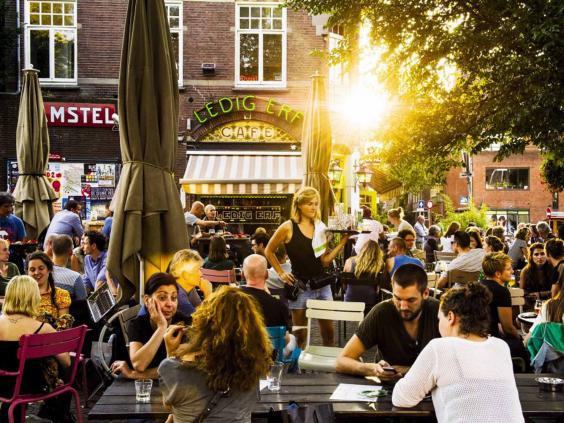 Utrecht
Explore cobbled lanes running alongside medieval canals and brick townhouses in Utrecht's historic centre. In fine weather, plant yourself on one of the terraces of the numerous café-bars, and on chilly evenings hole up with a drink in a vaulted, canal-side cellar.
For views from 95 metres up, climb the 465 steps of Utrecht's city icon, the Dom Tower (00 31 30 236 0010; domtoren.nl; €9). And if you prefer 20th-century architecture, explore living space influenced by the ideas of De Stijl movement within the Rietveld Schroderhuis (00 31 30 236 2362; centraalmuseum.nl; €15.50).
Family fun can be had at the Miffy Museum (00 31 30 236 2399; miffymuseum.com; €2.50), which opened this month. Dedicated to the rabbit character created by Dick Bruna, it's aimed at young children, and each room has a different theme, from the zoo to the doctor's surgery.
The Eye Hotel (00 31 30 303 6303; eyehotel.nl) has doubles from €90, excluding breakfast. The design of the 36 modern rooms plays upon the 17th-century building's former use as an eye hospital. 
Den Bosch
Experience the south Netherlands gezellig (cosy/convivial) culture of enjoying food and drink in Den Bosch. The historic centre is at its liveliest on Saturdays, when stalls are erected on the cobbled market square. Pause from sightseeing for coffee and a Bossche bol – a round, fist-sized chocolate éclair – in one of the many cafés.
See copies of Hieronymus Bosch's paintings and models of his grotesque creatures in the former church that's now the Jheronimus Bosch Art Center (above; 00 31 73 612 6890; jheronimusbosch-artcenter.nl; €7). You'll also spot the colourful models along the canals.
The city ramparts provide an excellent focal point of a walk. Peek inside the citadel (9am to 4pm, Tuesday to Thursday and on the first day of each month; no charge) and find more information at the recently restored Bastion St John.
The hip Duke Hotel (00 31 73 369 0332; thedukehotel.nl) has doubles from €90, excluding breakfast.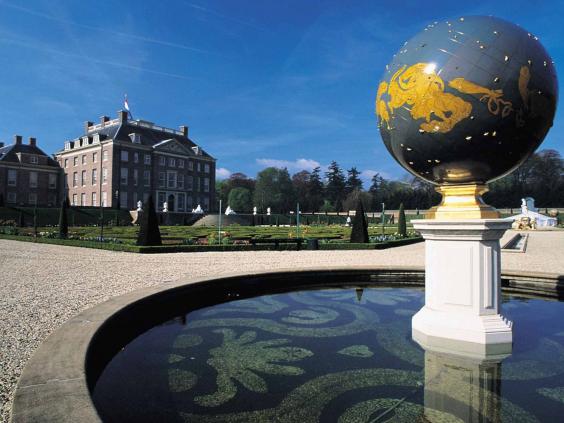 Apeldoorn
Cycling is very much part of Dutch life; last year Utrecht hosted the Tour de France's Grand Départ, and on 6 May Apeldoorn will host the Giro d'Italia's opening stage. The peloton will roll through Gelderland, from Arnhem to Nijmegen and back, over the following two days.
Inside De Hoge Veluwe National Park (hogeveluwe.nl; €9.15) pick up one of the free-to-use white bicycles to explore the dunes and heathland (no registration needed). The park is home to the Kröller-Müller Museum (00 31 318 591 241; krollermuller.nl; €18.30) where you can see the world's second largest collection of works by Vincent van Gogh (after Amsterdam's Van Gogh Museum) and a sculpture garden with pieces by Auguste Rodin and Henry Moore.
It takes 90 minutes to tour Het Loo Palace (below; 00 31 55 577 2400; paleishetloo.nl; €14.50). Walking around its 17th-century gardens – where fountains spring from April to October – and park can occupy the remainder of a day.
Hotel Thermen Bussloo (00 31 55 368 2640; thermenbussloo.nl) has rooms from €119.50pp, including breakfast and two days' sauna entry.
Reuse content