The sea really is beautiful," said my companion, Francesco, as we considered our predicament: should we take a dip from our boat into aquamarine water now or first have a glass of the local ansonica white wine that someone had just taken out of the cold box.
I chose a dip. The sea looked inviting, but it was a bit on the chilly side. If I was tipsy, too, who knows, I might have drowned. I almost did drown once, in Forte dei Marmi, another part of the Tuscan coast, but a million miles away from the pristine waters of Elba. Here the sea looks like it does in the Maldives. In Forte dei Marmi, on the mainland, it resembled minestrone. I remember thinking back then, after being dragged out of a riptide by four burly lifeguards who'd rowed out to save me, that I might yet perish from all the briny soup I'd swallowed.
That Francesco complimented the exquisite colours and clarity of the sea was significant because, as a proud Salentino, any seashore would usually come up short compared with his native coast in southern Puglia.
Other Italian islands, such as Capri, are beautiful too, but celebrities and C-listers visit them to be seen. They head to Elba to relax. Our guide, Caterina, told us how Johnny Depp paid a visit a few years ago and local shop and bar owners were none the wiser about the identity of their star customer until they read about it later.
However, the VIP who continues to cast the biggest shadow on Elba is of course Napoleon Bonaparte, who was exiled here in 1814. The loveliness of the place won even his affections, and it's easy to see why. Elba is dazzlingly beautiful. The first big surprise is how green it is. The second is the variety of landscapes and shores, from lush valleys and green highlands to Mediterranean pine forests and white sandy beaches, just half an hour's drive apart. If the wind is blowing too strongly in one direction, pop to a beach facing the other way, as the locals do.
We stayed in the Grand Hotel Elba International, near the hilltop town of Capoliveri. In this low-level and refreshingly uncluttered 1970s-style establishment, space, light and function take precedence over the usual Italian hotel chintz. Germans are the most numerous foreign visitors on Elba. At 7.29am, two dozen are already queueing for the Teutonic breakfast spread, including slices of rye bread and cured meat, and various, improbable cakes. However, even the horror and indignity of the communal breakfast seems palatable with the sumptuous view out over Porto Azzurro.
In pictures: Hideaways for two
In pictures: Hideaways for two
Among the early risers are tanned, young Italians in Lycra. Elba is also cycling heaven and  hosts some important mountain biking competitions. With bikes of our own hired at Capoliveri, we followed a cycle path – a mix of asphalt and bumpy gravel tracks – around Monte Calamita, the iron-rich mountain that dominates this  south-east corner of Elba. My spinning lessons seemed to have paid dividends, at least until we reached the steepest climb. Francesco stopped more frequently, to smell the wildflowers and take photos, he said. The scent of cisto and ginestra bushes was heady, though the views down to the south-eastern tip of the island provided an incentive to peddle.
After a gently hair-raising descent, past old iron mines to the wild, deserted Cannello beach at Punta Rossa, we took a dip. The path down is a rusty red, with streaks of turquoise on the surrounding rocks: evidence of the iron and copper that supplied the ochres, browns and blues for many Renaissance paintings; and that made Elba a key mining area, until 30 years ago, when cheap imports closed the pits for good. The beauty of Elba also proved magnetic for Swiss chocolate magnate Theodor Tobler. Egged on by his Austrian mystic friend Rudolf Steiner, Herr Tobler believed this corner of the island, heavily magnetised by the iron ore, held gateways to other realities. Maybe that explains the triangular chocolate bars.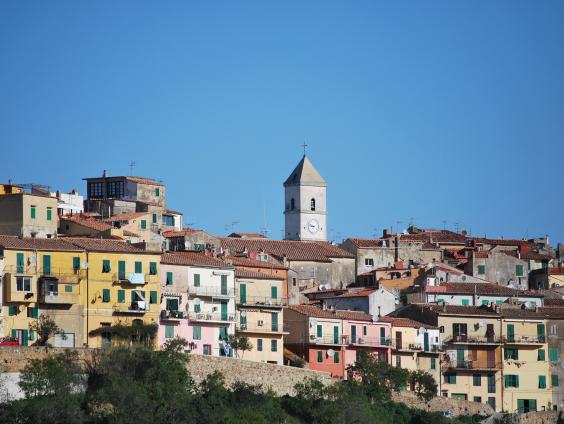 Tourism is Elba's lifeblood these days. Relatively few Britons have discovered the island, apart from a few ahead-of-the-crowd types who happened upon the Cotswolds green of the north-west Marciana zone, and became regulars or, in some cases, bought second homes here. We drove up to the cool, wooded slopes of Mount Perone, which look down on Marciana, though the main reason for the little detour was to see the dozens of butterfly species that congregate on the shady trails.
But the one thing you must do in Elba is take a boat ride around the island to see the astonishing variety of forms and colours of its shorelines. Unlike most of the Italian mainland, which has been carved up by beach mafias, most of the Elba shore remains public, so you can stop more or less where you fancy.
We sailed around the southern coast with the Mandel Diving Center, which offers cheap boat trips and dives. Our skipper Giacomo, in fluorescent yellow-framed sunglasses, looked like a surfer in Ibiza. Unlike Napoleon, he wasn't in exile; he chose to move here from mainland Tuscany 10 years ago. "Why?" he said. "Because of all this." He pointed at a cormorant standing to attention on a nearby rock as the swell lapped its feet.
A few minutes later, when we'd stopped for a swim in a sheltered bay, Giacomo crumbled a few pieces of bread into the powder-blue water, and handed me some goggles. I braved the chilly water again but was rewarded by the sight of dozens of blue and silver occhiate fish appearing from nowhere to enjoy the meal.
On Elba you never have to look far to see something that delights or surprises.
'Being Berlusconi: The Rise & Fall, from Cosa Nostra to Bunga Bunga', by Michael Day, will be published by Palgrave Macmillan on 24 August.
TRAVEL ESSENTIALS
Getting there
Fly from Milan Linate to Elba between April and October. Alternatively, Pisa and Florence airports have car rental outlets for accessing ferries from Piombino to Elba (mobylines.com).
Staying there
Grand Hotel Elba  International, Capoliveri (00 39 0565 946111; elbainternational.it). Doubles start at €89.
Eating & drinking
L'Osteria dei Quattro Rioni in Capoliveri (00 39 0565 935022) offers excellent and innovative seafood. The carpaccio of palamita, a type of tuna, is worth the trip alone.
Ristorante Villa Ripalte in Capoliveri (00 39 0565 94211) : there might be a more delightful setting for an al fresco lunch, but I've yet to see it.
Enoteca Della Fortezza (00 39 3346 05 1174):  in the massive stone fortress of the capital, Portoferraio, this wine bar and restaurant provides a deliciously cool retreat. Charming staff serve locally sourced food and wines.
More information
Reuse content