Remember the Moomins – those carefree, white, hippo-shaped characters who live in Moomin- valley? If you do, chances are your immediate reaction will be, "awwww!" Which was exactly my reaction when my agent rang to ask if I'd like to be the voice of Moominmamma (the calm, loving, matriarch with the impossibly large handbag), in the new Moomins on The Riviera movie. What a joy to join Moominpappa, Moomintroll, Snorkmaiden, and Little My on their adventure from the beautiful simplicity of life under the stars in The Valley to the superficial, soul corrupting high-life on the Riviera.
There is something other-worldy and rather spiritual about the stories and drawings of the Moomin family. Their creator, Tove Jansson, was a bohemian artist in every sense. Born in Helsinki in 1914, she was brought up by free-thinking parents, and was later openly bisexual and by all accounts a pretty fantastic woman. She wrote and illustrated her first Moomin story in 1945 and they soon became a global phenomenon. Each character represents either an aspect of herself, a family member, or friend, all part of her experience of life in Helsinki, where she lived out her childhood (with summers at a rented cottage on the island of Porvoo).
Moominmamma was a delightful creature to inhabit, and in a bid to get to know her and Jansson's homeland, I took my eight-year old daughter and my husband off to explore Helsinki. The Finnish capital is one of those places whose name sounds exciting and hip. I knew I was on to something when The Cool Mum from school, a top fashion editor, heard that I was going and gave it her seal of approval, "Helsinki. I have always wanted to go there. Report back".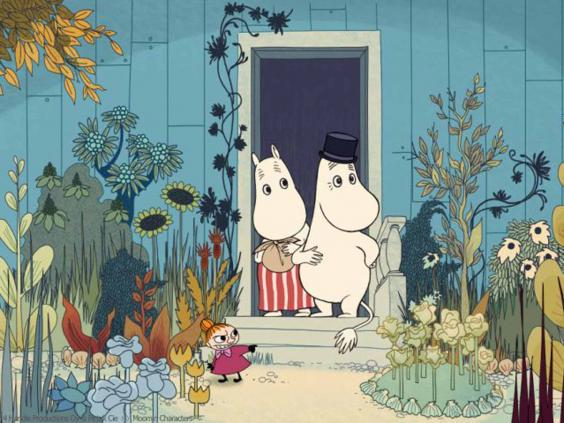 It didn't dissapoint. However, March is arguably not a great time to visit Finland. It's after the snowy, Northern Lights season, and before the long days of summer. Even so, it was a pretty special trip. We were based at the Art Nouveau-inspired Glo Hotel Art in the Design District, a cluster of 25 cobbled streets that are chock-full of creative cafés, art shops, and fashion. After a quick lunch at a café where you leave your mark by signing the scatter cushions on the banquettes (which my daughter inevitably loved), we headed out to explore. Top of the list was the Hogwarts-esque house in which Tove Jansson grew up, at 4 Luotsikatu. A brass plaque outside lists the notable residents of this salmon-pink apartment building in artistic Katajanokka district, including the Janssons.
From there, we made our way to the handsome Central Railway Station, designed by Art Deco architect Eliel Saarinen and opened in 1919, and the harbour-side Market Square with its bronze, Art Nouveau Havis Amanda fountain.
We were all particularly enamoured of the extraordinary Temppeliaukio, or "Rock Church", so called because in 1969 the architects basically quarried a hole out of the surrounding rock and covered it with a copper roof. It's perhaps the most modern place of worship I've ever seen, the copper roof glistening in the daylight. I wish I'd seen it at night, when tiny candles are lit on the jagged stone walls – by all accounts a mystical sight. By contrast we were also invited into Helsinki's historic synagogue, a yellow-stone building with tall arched windows, topped by a Byzantine-style silver dome. Its beautiful interior was ornate, but typically Finnish with clean lines.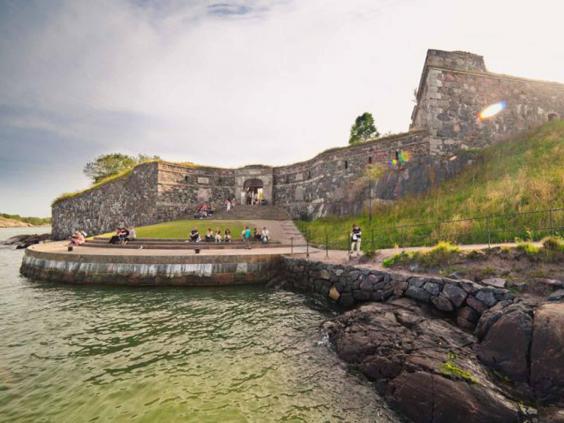 Dinner was at the trendy Juuri, which gives traditional Finnish ingredients a modern twist. The speciality is sapas, bite-sized tasters – our favourites were cold smoked pike chowder, perch cocktail, and golden beet with yoghurt and pine. However, they turned out to be for adult tastebuds only, unless you have a highly sophisticated gourmande for a child.
The next day we set off by ferry into the Gulf of Finland to the Suomenlinna Fortress. Construction of the Unesco World Heritage Site was started in 1748 when Finland was part of the Swedish kingdom; today, the place has a Game of Thrones vibe, not least the memorial to the fortresses's brave Swedish creator, Captain Augustin Ehrensvard, with its giant helmet, crossed swords, and heads of angels. The stone brewery, the working boatyard and old warehouses are like stepping back in time. During the summer, the island is full of swimmers and picnickers enjoying the rugged layout and cafés. In March however much of it is shut and we were absolutely freezing, laughing hysterically as we battled the bracing winds.
Then out of nowhere, we stumbled across a powder blue coloured wooden villa that turned out to be a pretty toy museum. Lovingly cared for by collector and owner Petra Tandefelt, it is stuffed with toys from the 19th century to the late 1960s.
Petra welcomed us with cups of black tea, poured from an original Russian samovar into elegant glass cups, with warm home-made biscuits. To watch alpha male Mr O daintily holding his steaming brew while oohing and ahhing over the sweetest collection of dolls houses was worth battling the elements outside.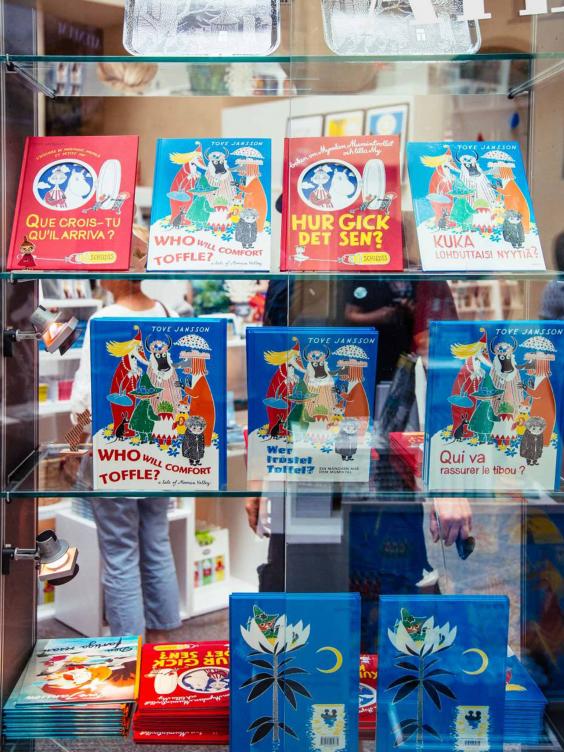 The museum was fascinating, explaining much about Finland's social history through its toys. The Russification period was marked by lavish Russian dolls' houses, ornate furniture, candelabras and delicate pianos with porcelain families trussed up in starched lace. The simpler, traditional Finnish dolls' houses, had plain wicker furniture, rustic decoration and wooden family members. To my delight, there were also original Moomin dolls from the 1950s, as well as surprisingly delicate toys from Nokia (yes, the Finnish phone giant originally made dolls), some Swastika-emblazoned playing cards and a boy-soldier doll, marking the uneasy relationship between Finland and Germany during the Second World War.
After taking the ferry back to the mainland, we indulged in a hearty lunch at Story in the newly renovated Hakaniemi Market Hall. Opened in 1914, the year Tove Jansson was born, the market is full of stalls selling cheeses, exotic spices, fine chocolate, fruits and veg.
In the evening, we took a leisurely promenade to eat at Kappeli, the stunning Belle Epoque conservatory overlooking the sea. The menu is very family friendly and we were surprised to discover that reindeer meat is pretty delicious.
From Helsinki, we took the train to Tampere in the Finnish lake district. This was the Moomin part of the trip, not least because of the Moominvalley-style setting of the train journey – vistas full of pine trees, lakes and rivers. My daughter was partciularly excited to see the Moominvalley Museum. It houses dozens of Tove Jannson's original drawings and is laced with little boats and interiors for children to play on. The centrepiece is an impressive five-storey model Moomin house, built by Jansson and her partner Tuulikki Pietila, that brings the books to life.
We also visited the Vapriikki museum centre, on the site of a former industrial complex at the edge of the Tammerkoski Canal. Although the last of Tampella quarter's factories shut down during the 1990s, their red-brick walls remain as a testimony. Here the Natural History Museum led us on a journey of Finnish wildlife and Moomin-esque landscapes, complete with stuffed moose and wolf. I have long had a fixation with terrifying dolls, and Vapriikki Museum of Childhood houses a startling selection of some of the most frightening exhibits I have ever seen. I could have quite happily spent the entire day roaming through the chilling exhibits.
For an evening overview of the lakeside city, we headed up to the Nasinneula Observation Tower. It is the tallest free-standing building in Finland. At its highest point – 168 metres above ground – is a revolving restaurant. The views were breathtaking as the sun set over the frozen lake and the forest beyond.
Inside the 1970s-Bond retro interior, we tucked into the magnificent Finlandia menu – mildly seasoned salmon, fennel sorbet, reindeer and liquorice pie with lime. My daughter did not complain once during the two and a half hours it took to finish the meal.
Finland lived up to expectations and fed all of the senses. I want to go back to see the Northern Lights in winter, but we are also planning a trip for the summer to go sailing, for a proper Moomin-style adventure.
Tracy-Ann Oberman is the voice of Moominmamma in 'Moomins on the Riviera', which is released in cinemas on Friday (moominsontheriviera.com).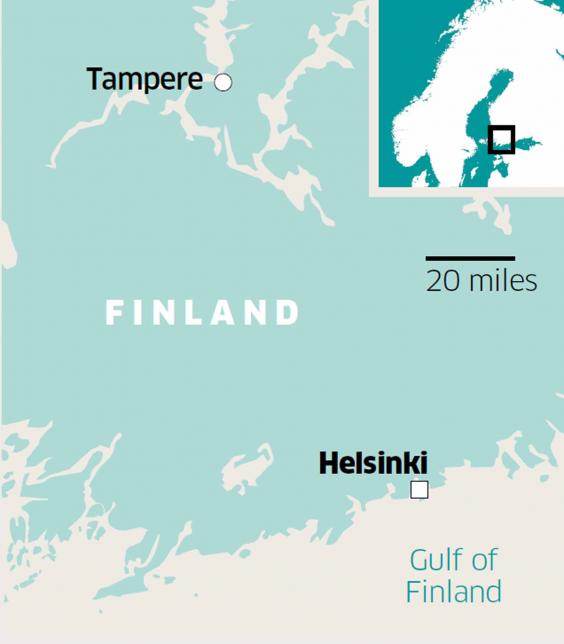 Getting there
Tracy-Ann Oberman travelled with her family as a guest of Visit Finland (visitfinland.com). She flew to Helsinki with Finnair (0870 241 44 11; finnair.com), which flies five times daily from Heathrow and twice a day from Manchester. Norwegian competes from Gatwick.
Staying there
Glo Hotel Art, Helsinki (00 358 10 3444 100; glohotels.fi). Doubles from €109 (£78) including breakfast.
Visiting there
Suomenlinna Fortress, Helsinki (00 358 295 338 410; suomenlinna.fi). Admission free.
Suomenlinna Toy Museum, Helsinki (00 358 40 500 6607; lelumuseo.fi). Adults €6 (£4.30), children €3.
Juuri Restaurant, Helsinki (00 358 9 635732; juuri.fi/en)
Restaurant Story, Hakaniemi Market Hall, Helsinki (00 358 10 666 8458; restaurantstory.fi).
Moominvalley museum, Tampere (00 358 3 5656 6577; muumilaakso.tampere.fi). Adults €7 (£5), children €3.
Vapriikii Museum Centre, Tampere (00 358 03 5656 6966; vapriikki.fi/e). Adults €10 (£7.20), children €4.
Restaurant Nasinneula, Tampere (00 358 207 130 234; sarkanniemi.fi/nasinneula).
More information