As a child who grew up watching Duck Tales, I'd thought swimming in gold was the ultimate statement of wealth.
But while it was fine for Scrooge McDuck to dive into his hoard of sparkling coins in the Disney cartoon, by the age of six I had written off the idea.
Firstly, because I decided splashing through a pool of metal would be painful; then, in later years, I realised I'd probably never own a gold vault.On entering the low-lit spa of the new Park Hyatt in the heart of Vienna, however, I realised I shouldn't have given up so easily.
For 92 years this protected building had served as one of the Austrian capital's grandest banks until, in 2008, when it closed. It has now emerged after a five-year conversion as a five-star hotel, with no expense spared inside its marble walls.
The Art Nouveau cashier hall is now an elegant restaurant, the offices have been transformed into hi-tech guest rooms and the former bank's underground vault could only become one thing: a gold-lined swimming pool.
Looking onto the pool through the original armoured door – still with its huge antique locks – before tip-toeing into the water and standing on tiles shimmering with gold leaf, I couldn't feel anything but grand.
The pool is one of Park Hyatt Vienna's most nakedly upmarket attractions. And yet, this is not an ostentatious hotel. Luxury is imparted by matching the building's period detail with stylish, low-key modernity.
The interior has maintained many of the original designs of the bank, but careful artistic additions, inspired by early 20th-century jewellery, mean you don't feel as if you are staying in the Innere Stadt branch of HSBC.
The leather seats and dark wood of the whisky and cigar lounges are an intimate setting for a night cap, and the restaurant's high ceilings and brass fittings give meals a classy setting. The poached eggs at breakfast were a little hit and miss, but the buffet was supreme. And while my chips could have been a little hotter at dinner, my steak was perfect.
In the spare hours before my taxi ride to the airport, I also decided to check out the Zen-like spa and capitulated to a "surrender back massage".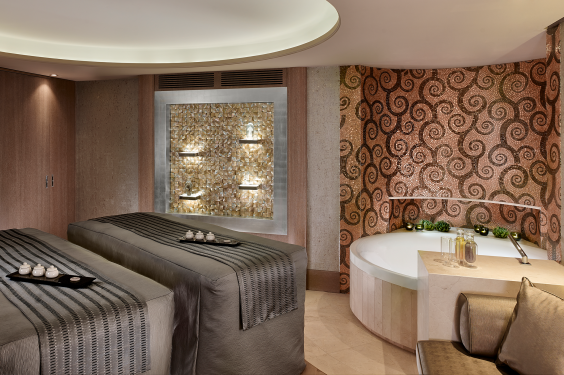 I hadn't reckoned on just how intensive it would be. "You need a medical massage," the dexterous Sacha advised, looking rather concerned. "I need another holiday," I thought. The gold-lined pool wouldn't be a bad place to start.
Location
Despite being in the middle of Vienna's historic first district, the Innere Stadt, the hotel's doors open on to Am Hof which receives little attention from tourists.
Just around the corner, Bognergasse is the city's home of designer fashion, but boutiques and high-street brands – along with the major attractions – are within easy walking distance.
Most shops close on Sundays, but you could, like me, spend an hour in the nearby globe museum, which does what it says on the spherical-shaped tin.
Comfort
To many, the Park Hyatt brand is synonymous with the Tokyo branch immortalised in Lost In Translation.
Like Bill Murray's Bob Harris, I struggled with the technology initially, incapable of making the lift go up, unaware my blinds could open at the touch of a button, trying to work out how to run a bath. But later, I was impressed.
My standard double room was large and opulent, done out with parquet floors, rich wood, marble and mother-of-pearl. There was no view to speak of, but a plethora of channels on a TV behind a mirror was distraction enough.
Park Hyatt Vienna
Am Hof 2, Vienna, Austria (00 43 1 2274 01234; vienna.park.hyatt.com)
Doubles start at €375 room only.
Reuse content