Hanover has been celebrating this year. It's 300 years since local boy George Ludwig went to London and founded a royal dynasty. There have been events on both sides to mark the occasion. More unconventionally, photographer Martin Parr has been commissioned to find traces of Britishness in and around the capital of Lower Saxony, the results of which are now on display at the Sprengel Museum at a newly opened exhibition, "We Love Britain". Look out for portraits from Hanover's Lady Di Club.
So, in this spirit of mutual appreciation, I set out to explore the city that gave us the adjective "Hanoverian", from its medieval origins through to its current position as a blossoming north German cultural hub.
Thanks to its regal flambuoyance, Hanover was once said to be the schönste Stadt der Welt – "most beautiful city in the world", but 80 RAF bombing raids largely destroyed the centre during the Second World War. It's been painstakingly restored in parts (including some over-imaginative reconstructions) but also replaced by ungainly modern blocks elsewhere. Fortunately the Hanoverians' home town has been blessed with lots of parks, most notably a German riposte to Versailles: the Herrenhausen Gardens, north west of the city. Even though the trees look bare in November and December, these are excellent months to visit: the city has no fewer than three Christmas markets.
I began my exploration at a joyous symbol of modern Hanover: the Nanas, three colourful acrobatic figures by the French artist Niki de Saint Phalle. They're big and busty and very popular, so much so that in 2000 Niki was made an honorary citizen and donated a lot of work to the Sprengel Museum. She also decorated the grotto at Herrenhausen, George I's one-time summer, Neoclassical residence.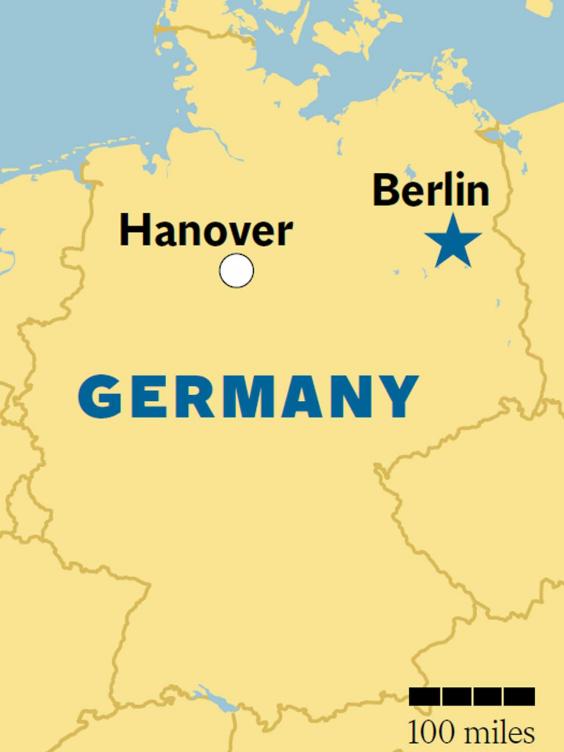 This section of town is known as the New City of Calenberg. The name comes from 17th-century immigrants from Calenberg (200km south west) who settled outside the old city walls on the opposite side of the River Leine, when their duke, an ancestor of George I, moved his capital to Hanover.
I followed the Leine south past Leineschloss, the 17th-century city palace of the Hanoverian Electors, which backs decoratively on to the river. It was blown up by the RAF despite pleas from George VI, great-grandson of George I. Today, it's back in mint condition, restored as the home of the Lower Saxony Parliament. Marking the start of the old city is a dramatic statue commemorating seven Göttingen professors who stood up for intellectual freedom against Queen Victoria's reactionary uncle, King Carl Augustus of Hanover. It was created in 1990 by the sculptor Floriano Bodini as an indirect tribute to the troubled life of German liberals in the 20th century.
Further ahead is Holzmarkt, the old timber market that's now home to the Leibniz House, an extraordinarily intricate building in Obernkirchen Renaissance style that is promoted as the home of the famous Hanoverian mathematician and philosopher, Gottfried Leibniz. His house was also bombed, but as it originally stood in Schmiedestrasse, this €22m reconstruction is of a building that wasn't actually here in Leibniz's time. Artistic licence abounds.
For more re-imagining of history, I continued to Burgstrasse. Just ahead is the most authentic street of medieval half-timbered houses in the city; after the RAF carpet bombing, the citizens brought together what few houses still stood and reassembled them on one street.
In search of the town hall (Neues Rathaus), I walked south past the bombed-out, ruined skeleton of the Aegidienkirche, which features modern plastic stained-glass windows by Inge-Rose Lippok that are illuminated at night. The church displays a Hiroshima bell to commemorate its twinning with the tragic Japanese city.
The Neues Rathaus survived the bombing and marks the start of Machsee, the city's long, artificial lake. The huge copper-domed palace is an eclectic mix of styles that works well by dint of its size. The building's superb, lofty Victorian lobby contains models of Hanover at various stages in history. The blackened 1945 diorama with very few buildings standing is painful to see, one of the less positive British impacts. It's nice then, that the Hanoverians are celebrating us once again.
Travel essentials
Getting there
Flybe (0371 700 2000; flybe.com) flies to Hanover from Manchester and Birmingham; BA (0844 493 0787; ba.com) flies from Heathrow; and Germanwings (0330 365 1918; germanwings.com) from Stansted. Adrian Mourby travelled with Railbookers (020 3327 0869, railbookers.com), which has a two-night break from £239pp, with return rail from London, three-star B&B accommodation.
Staying there
Grand Hotel Mussmann (00 49 511 36560; grandhotel.de). Doubles €119.
Visiting there
Sprengel Museum (00 49 511 168 43875; sprengel-museum.de). Herrenhausen (00 49 511 168 47576; herrenhaeuser-gaerten.de). Leineschloss (www.landtag-niedersachsen.de). Leibniz House (uni-hannover.de). Aegidienkirche (aegidienkirche-hannover.de). Neues Rathaus (hannover.de).
Reuse content