Elbows propped against the parapet, I leaned forward and squinted towards the blurred horizon.
Behind me piled the fractured bones of Hyères' ancient castle; beneath, tumbling picturesquely down the hillside, spread the church towers, terracotta roofs and winding alleys of the medieval walled city, segueing into neat Belle Epoque boulevards lined by palms swaying in sweet-scented Mediterranean zephyrs.
But something rather critical was missing. Where, I inquired, is the sea?
"Ah. Well. It's out there." Julie waved apologetically towards the south-east. "Just a little hard to make out through the haze – about 4km away."
Sorry – four kilometres? What kind of coastal town isn't even on the coast?
The answer: a forgotten one. At least, forgotten by Brits. As the Côte d'Azur seaside resort without a seaside, perhaps the fact that Hyères slipped off our radar– for a century – is no great surprise, but it is a boon for those not wedded to a sea-view room.
It was this that had attracted me to "Les Palmiers", nicknamed for the 7,000 palm trees shading the town's streets and gardens; I was curious to learn what became of the first-ever resort on the Côte d'Azur.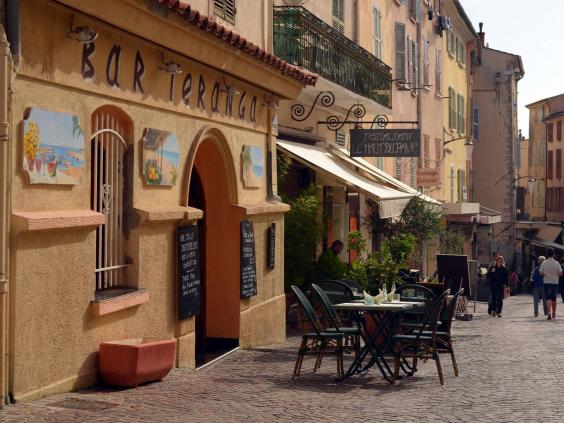 In the late 18th century, aristocratic travellers – notably from the UK – arrived in search of winter warmth. ("The sun shines 300 days a year," claimed Julie Cuisinier of Hyères Tourist Office, my shepherd for the weekend.) In 1860, Tolstoy came. Then other writers: Dumas, Conrad, Edith Wharton. "I was only happy once," sighed Robert Louis Stevenson, "... and that was at Hyères."
After Queen Victoria's sojourn in 1892, the English elite followed. Ranks of ice cream-hued mansions and grand hotels sprang up along broad boulevards. But fashions change. Promenades and balls were overtaken by sun-soaking.
Hyères is not so very far from the sea, but far enough: its star waned as those of Nice and St -Tropez soared. Yet, as Julie was happy to demonstrate, it has been doing very nicely in the hundred or so years since fickle British heat-seekers spurned its charms.
Julie had brought me to the old castle, founded by the Knights of Fos in the 11th century, not to appreciate its architecture or aesthetics – Louis XIII's destructive tendencies wrecked those four centuries ago – but because its perch on a rocky knoll is ideal for getting one's bearings.
To south-west and east, verdant hills are scattered with the homes of the wealthy, including the extraordinary Villa Noailles; designed in 1923 for influential patrons of the arts (Mondrian and Giacometti contributed to decor, Cocteau, Man Ray and Dalí filmed here), it floats on the hillside like a Cubist superyacht moored alongside the old town.
Julie directed my gaze across the glimmering salt pans – a centuries-old source of income – to the Med and the Iles d'Or just offshore. Long havens for pirates, today Porquerolles' beaches and wineries attract holidaymakers, while Port-Cros, France's smallest national park, offers delightful hiking trails.
We ambled down to Castel Sainte-Claire, Edith Wharton's former home. Hyères is renowned for its gardens, both private and commercial – cut flowers are still big business here – and those created by the American author are spectacular. Designed to flourish year-round, cactus and agave dominate the upper terraces, with huge magnolias and a big araucaria tree below.
Indeed, many of the upper lanes of the walled old town are proxy gardens, ablaze with bougainvillea, wisteria and magnolia adorning colourful Romanesque and Renaissance façades.
Snaking through cobbled and stepped alleys, we reached the main square, Place Massillon, dominated by the Tour des Templiers. It's an imposing tower humbled by history; after the Templars disbanded in 1319 and their heirs, the Knights of Malta, also let their grasp slip, it became a granary.
Today it hosts exhibitions, but its external might and rooftop vistas are more memorable than interior displays. The square itself is annexed by tables spreading from surrounding cafés and restaurants, hemmed in by the shopping bags of market-goers recharging with a glass of rosé after a morning's bartering.
As we descended along pedestrianised Rue Massillon, a heady blend of aromas beguiled me into the double-fronted Côte Sud, an emporium of Provençal goodies. One half, redolent with the scent of lavender from piled Marseille soaps, sells orange wine and pastis from the keg, while its siamese twin is an épicerie cramming the essence of a North African souk into one claustrophobic shop: dates, almonds, olives, candied fruit, spices and yet more spices.
"As a child, I would dream of the autumn, when quince was in season," Julie told me, picking up a squidgy, red wine-coloured block. "My pocket money went on pâte de coing – quince cheese."
I was also enchanted by a retro-looking biscuiterie, its window stacked with boat-shaped orange navettes, croquants a l'orange and orange macarons. There is, as you'd guess, no shortage of orange trees in these parts.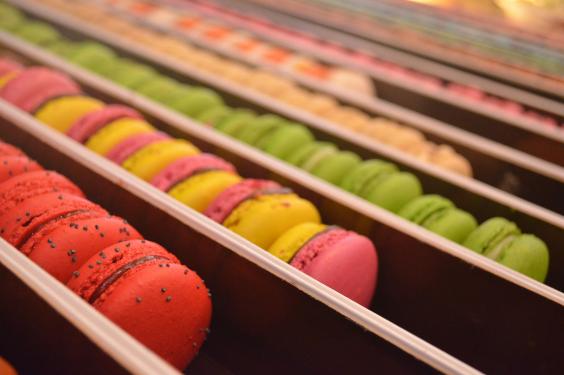 Outside the Porte de l'Horloge, the main gate piercing the medieval walls, more unfamiliar fruits were piled on market stalls stretching along the thoroughfares of the new town. Here, at Julie's urging, I tried kaki (persimmon).
Smooth-skinned and orange as an unripe tomato, it exploded at first bite, spattering pips and juice down my chin as I slurped its plum-sweet flesh.
At Dominique 1888, Julie introduced me to a more sophisticated Hyères speciality: Princesses d'Iles d'Or, dark truffles heady with pungent orange, among the wonders conjured up by chocolatier Christophe Chapalain. Complementing two dozen or so flavours of bite-sized chocolates are macarons and cakes of almost unbearable beauty.
This is affordable art: a modest-sized cake – a micro-masterpiece in confectionery, gleaming with yellows, greens and reds, topped with berries – costs just €3 plus change.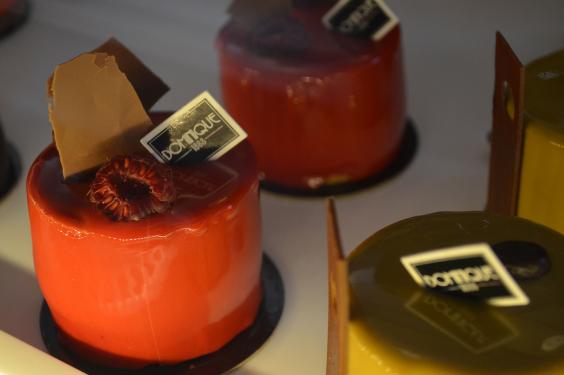 Fuelled by kaki and chocolate, I was ready to explore further afield, and joined local cyclists Frédéric and Carine to tour the city's southerly highlights. We started at Giens, a foot-shaped  peninsula jutting into the Med, linked to the mainland by a "double tombolo" – an isthmus comprising two sandbars that enclose a lake and saltmarsh.
Pedalling north along the car-free Route du Sel (Salt Road), we paused to admire the kite-surfers soaring improbably high above Almanarre Beach to our left.
To our right, the Etang des Pesquiers lake gave way to glistening, squared-off patches: the Salins des Presquiers saltworks, studded with pink exclamation marks – a couple of hundred pink flamingos that arrive in summer from the Camargue or Africa.
Salt has been extracted here for over two millennia, and produced on an industrial scale from the Middle Ages, until production halted as recently as 1995.
"Today the water level is controlled," said Frédéric, "to ensure optimal feeding for the flamingos and other birds." We stopped to climb a viewing platform and watch egrets nesting in the canal encircling the marsh – originally a moat constructed to protect the salt.
That white gold was among the treasures that attracted Greek sailors around 400BC; they founded the trading post of Olbia, sited where the isthmus meets the mainland. We pulled over to peer through a fence at the remains of the port, currently being excavated; more buildings and amphorae still lie underwater.
The Greeks' successors decided that the risks of coastal living outweighed the benefits – hence the castle and town being founded on an inland hill. What might Hyères be today if they had stuck by the sea? Another Nice or Cannes? Perhaps – but its charm is enhanced by its reticence. It's time Brits revisited our former playground.
Like that forgotten favourite toy you find at the bottom of the games box, or the album you used to love that slipped behind the CD player, Hyères is a gem that amply rewards rediscovery.
Getting there
Paul Bloomfield travelled from London St Pancras to Lille by Eurostar, then by TGV to Toulon, courtesy of Voyages SNCF (0844 848 5848; voyages-sncf.com). Return fares start at £119.
The closest airport is Marseille, served by easyJet (0843 104 5000; easyJet.com) from Bristol and Gatwick, Ryanair (0871 246 0000; ryanair.com) from Stansted, and British Airways (0844 493 0787; ba.com) from Heathrow.
Staying there
Castel Pierre Lisse (00 33 4 94 31 11 18; castel-pierre-lisse.com), a small mansion once owned by Edith Wharton, offers doubles from €100 (£80) including breakfast.
More information
Office de Tourisme Hyères:  hyeres-tourisme.com
Reuse content