Last night's dinner seems a universe away: eight courses of Asian-inflected wonderment at Tantris, Munich's remarkably glamorous Barbarella-does-degustation 1970s pop-art-orange design landmark. There were countless amuse-bouches, palate cleansers, and wine pairings; it took four hours, and I left the table stuffed and skewwiff.
Tonight, in contrast, I've had a small bowl of thin soup, dinner is done by 6pm and I'm in bed at 8pm. As I lie here alone, the realisation looms over me like the stuff of night terrors: I have made a terrible, terrible mistake. Seven days of this? Doubt whispers in my ear: "You won't make it."
Shortly after my arrival at Lanserhof Tegernsee – the €70m (£52m) Alpine austere, state of the art mountain resort, spa and Mayr-driven LANS Med Concept clinic above Lake Tegern – my assigned doctor, head to toe in meticulous sci-fi white garb, warns me of the "cure crisis" that some guests experience. Apparently it's common around day three. I wonder if I've got it in a record four hours. I want to go home already. The last supper at Tantris aside, I am prepared: I cut out alcohol, sugar and nearly all carbs two weeks ago.
But my portion control still hasn't quite been what it should and, crucially, I haven't kicked coffee. This, I realise, could be a problem in a place where caffeine is verboten. At least half of my daily liquid is filtered through coffee beans, and it's been thus for more than 20 years.
I try to focus on the positive: my bedroom at Lanserhof Tegernsee, the super sleek sibling to the original Lanserhof in Austria, is my dream home. The look is wall-to-wall institutional mod chic, decked in pristine whites and greys. There's a hi-tech Japanese Toto toilet, a vast bath, two showers and a bigger walk-in wardrobe than I will ever own. The view from the terrace is spectacular: roiling steam comes off the heated outdoor salt water pool and the Bavarian mountains are snow capped.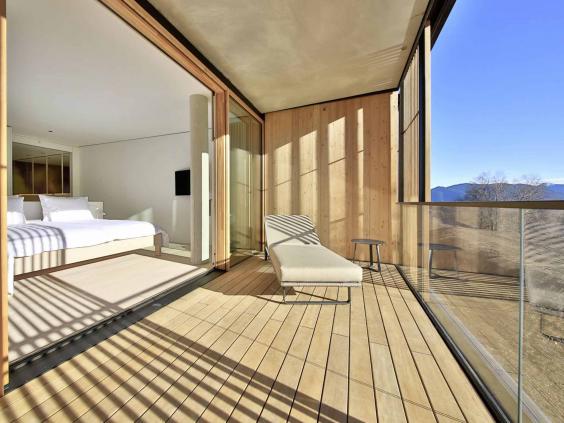 The scenery might be a feast for the eyes, but on the afternoon of day two I'm hungry. I'm on the 2/1 Energy Cuisine program, so I get a bowl of oatmeal for breakfast; two boiled potatoes with a drizzle of linseed oil and a sliver of trout for lunch. Dinner is the aforementioned bowl of soup. Each meal comes with a small spelt roll and the instruction to chew each bite 30 to 40 times. I'm famished, but I'm also, as one of my check-in tests pointed out by way of a frowning emoticon above a coloured graph, a stone and a half overweight.
When I started seeing a personal trainer in London recently, he asked me to keep a food diary. He laughed out loud when he read the results. As literary endeavours go, it sits somewhere between Charles Bukowski's memoirs and a cookbook by the Duchess of Devonshire. So … here I am. 
Things could, I appreciate, be worse: The 0 diet – which I watch people endure with ghoulish fascination in the dining room – gives you nothing more than a pot of tea, some honey or maple syrup, and a spoon, three times a day. My cinnamon oatmeal is genuinely delicious. I learn to chew everything the required number of times, and slow my consumption of small portions right down. By early evening I'm utterly exhausted – "this is normal", I am told. I fall asleep during a lecture about the importance of the predawn stretching classes that take place on the edge of the woods.
I go on to spend most of my days in a giant fluffy white robe and slippers, moving between massage rooms and the fireside loungers of the "Silentarium" by the pool, where I devour paperbacks and drink gallons of herbal tea. I swim, sweat it out in the fragranced sauna and steam rooms and then head for the Close Encounters disco shower stall that flashes different coloured lights while spraying hot and cold jets on you simultaneously. I realise, by day three, that I love all this. I could float in the pool and stare out at the Bavarian Alps indefinitely.
And while a TRX class in the gym underscores just how little energy I have from my diminished daily calories, I actually stop feeling hungry. I try to untether from work. There's no phone or wi-fi signal beside the pool area, which rules all emails out. After two days of rationed internet I am calmer as well as a little slimmer.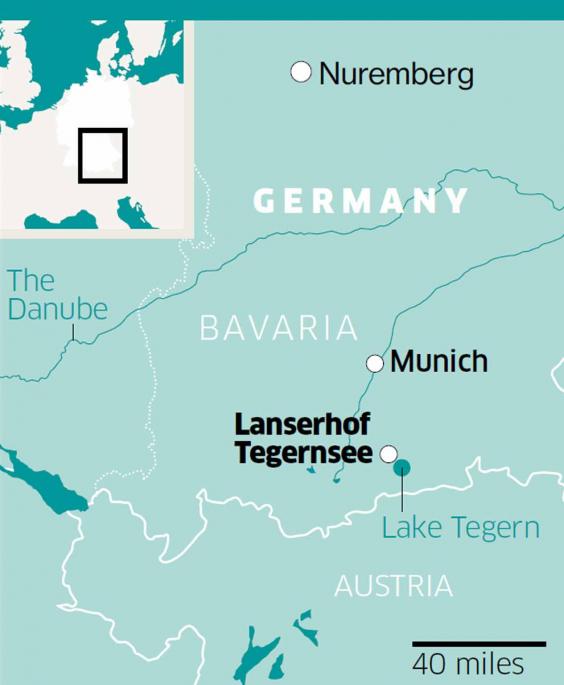 I am surprised by who else is at Lanserhof Tegernsee. I had expected Mister Creosote-sized oligarchs on their last legs, but my fellow guests are largely young and svelte. There are some older European couples who are regulars, a group of ladies from the Middle East who have the sauna designated women only for an afternoon, and a few Russians who seem to think using their mobile phones at the dining table is fair game. There's also a young man who I find out has been here for six weeks, addressing a long-term mysterious malady.
Generally, you are advised to come for a minimum of seven days, but 10 is preferable. There are elements of the LANS Med Concept and Mayr Cure that I don't buy into. I don't believe in the term "detox", because our livers do that job. But there's no denying that alcohol, caffeine, carbs and sugar have a detrimental effect on mood and energy. Austrian physician Franz Xaver Mayr developed a holistic medical philosophy at the start of the 20th century focused on intestinal cleansing, flushing toxins from the stomach. Everything comes back to the gut. You avoid raw foods because they are hard to digest. You eat nothing after 6pm and you start the day with a glass of Epsom salts to help italicise the flushing element of the Cure (this is where that Japanese electronic toilet comes into its own). At Lanserhof Tegernsee you end the day in a sunken lounge next to the library, drinking your herbal tea with live piano accompaniment, flicking through a stack of art books. If you threw in brandy and cigars, it would be a totally different, but quite perfect evening.
Not everything is flawless: given that you may want to spend some time vegging out in private, I would have expected better English-language inroom entertainment. The movie streaming selection is minimal, and €5 (£3.70) a go. I also encounter some confusion among the staff in the restaurant regarding the precise details of my diet. Next to my food supplements is a card with my "2/1" program written on it, and the word "getreide" next to it, with a circle and a cross through it. On day five I finally think to ask what it means. It turns out I shouldn't have been served the oatmeal that had been the highlight of my day, at all. The mistake doesn't, ultimately, seem to have a detrimental impact: by the end of the week I have lost 11lbs and my blood pressure has gone from a post-Tantris "high" to normal. Remarkably, I haven't put the weight back on. And while I don't, predictably, chew anything 30 times in the real world, my personal trainer doesn't give a theatrical eye roll when I hand him my weekly food diary.
Of everything on offer at Lanserhof Tegernsee (and the optional treatments go on for pages and pages and can run into the thousands upon thousands of euros), the design of the resort – conceived as a modernist take on a monastery, with routes between spaces intended to make you walk more than might be otherwise necessary – and the scenery that surrounds it are the real standout features.
On my fifth day on a particularly bright and beautiful morning, I cycled around Lake Tegern. This was no small achievement, given the 14-mile circumference, and the phenomenal hill that needs to be tackled on the return journey. I couldn't have done it without the e-bike that I was given, which provides a motorised boost when you need it. It was still tiring, but as experiences go, it was one of the most wonderful things I've ever done. This region of Germany is extraordinarily beautiful – full of vast traditional houses festooned with flowers, pretty churches and locals in Lederhosen and matching hats. I cycled through forests and along country lanes, swerving around cows, chickens and, tellingly, top-end BMWs and Porsches.
I also, crucially, impressed myself. Riding through towns with an abundance of dining opportunities (including nearby three-Michelin star restaurant Überfahrt), I wasn't tempted to stop for anything – I didn't want any knödel, brotzeit or weisswurst. I was fine. I didn't even want a coffee. 
Getting there
British Airways (0344 493 0787; britishairways.com) flies between Heathrow and Munich seven times a day, from £54 one way. Munich is also served by easyJet (0843 104 5000; easyjet.com), Lufthansa (0371 945 9747; lufthansa.com), Singapore Airlines (0844 800 2380; singaporeair.com) and Flybe (0871 700 2000; flybe.com).
Staying there
Lanserhof Tegernsee, Marienstein, Waakirchen, Germany (00 49 8022 18800; lanserhof.com). A week's accommodation, including the basic LANS Med concept, starts at £2,475pp.
More information
Reuse content