They say in space, no one can hear you scream. Likewise, when you're revving a snowmobile across a frozen lake, above the Arctic Circle, at a quarter to midnight, no one can hear you sing. I couldn't help it – the situation just called for a joyous burst of "Winter Wonderland". Luckily the snowmobile's purr swallowed most of my warbling; any discordant notes that did escape beyond my balaclava fell on to a forest displaying icy disinterest. Besides, there was no way I could stop myself singing: I was zooming through a wild world of white, adrenalin pumping, snow shimmering, stars twinkling, and I'D JUST SEEN THE NORTHERN LIGHTS!
A potential glimpse of the Aurora Borealis is what draws many to the polar regions – in my case to Nellim, in Finnish Lapland, 68 degrees north and a few kilometres west of the Russian border. It's one of the country's best spots for aurora watching. My motivation for visiting was no different – I wanted to see the lights, of course – but one of my viewing methods was. New this winter, the family-run Nellim Wilderness Hotel now has three Aurora Bubbles. These wooden pods have curved Perspex ceilings, so you can watch the skies while snug as a bug in a reindeer-skin rug. And that's quite a luxury when winter temperatures here frequently plummet to minus 25C.
The Bubbles are both simple (no running water, no television, a composting toilet) and rustically romantic: their compact bedrooms come with mood lighting, scatter cushions, a bottle of fizz, excellent central heating and, potentially, the most heavenly view. I was totally sold by the prospect of gazing up at the Northern Lights without having to pull on my thermals or even leave my bed.
But that would have to wait. I was booked into a Bubble for only the last of my four nights. Before then, there was a lot of "Winter Wonderland" to sing about. Learning to cope with the cold is a necessity when you live in Lapland, but the Finns don't just cope – they relish and embrace. The dark, chilly period from November to April isn't a time to cower inside; it's a time (if you're properly dressed) to hop on snowmobiles, mush huskies, fish from ice holes, ride sleighs and stay out late to search for the Northern Lights.
Nellim's night-time snowmobile safari combined the best of everything. After a hearty, reindeer-based dinner I returned to my room to squeeze as many of my own layers as possible under the hotel-issued overalls and mittens. Thus swaddled, I plodded down to the frozen lake at 9.30pm to board my machine.
Fortunately Nellim's snowmobiles are easy to master. Even more fortunately, they have heated handlebars. Within minutes, our small group – led by our guide Rambo – was skimming across the sparkle. The moon was near full, spotlighting the hoary landscape, which in turn reflected the lunar glow right back. I could see foxy footprints leading into the trees and logs that had been Damien Hirst-ed, their trunks encrusted with diamond-like ice.
After a while we stopped, the thrum of our engines replaced by ... nothing. Nothing bar the crunch of boots on snow and the thunk of axe on wood as Rambo built a fire. The land dropped away to the north and so we began our vigil, gazing up at a big, cloudless sky, clutching hot berry juice to stave off the cold.
We waited. And we waited. We took turns by the flames, hopped from foot to foot and willed the revontuli (fox fires in Finnish) to play. But our stares and prayers were not enough. Eventually it was time to move on. Of course, mere minutes after we'd given up and set our snowmobiles for home, the sky gave a promising flicker. Could it be? We stopped and gazed up again.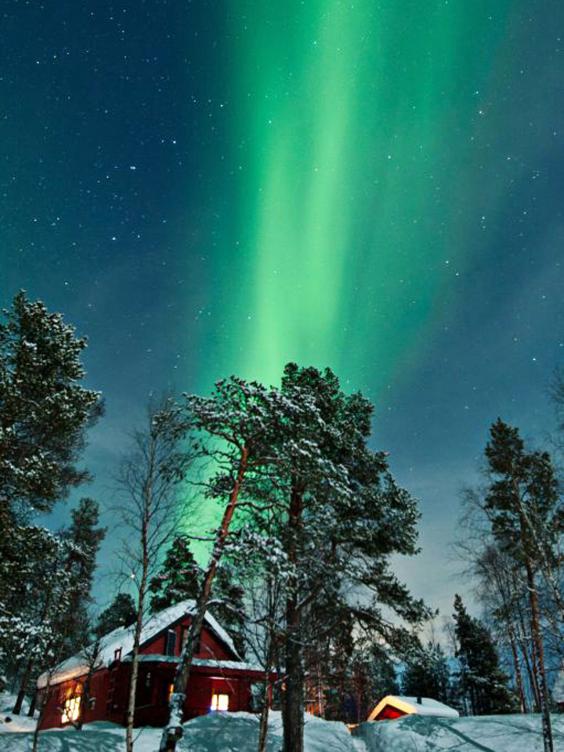 I won't lie, it wasn't the most vivid display. The colour was grey-green rather than emerald; the reality looked nothing like the luminous images being captured by cameras set with long exposures. But the movement of the aurora was mesmerising. What started as a steady stream, pumping left to right, variously became a whirling cyclone, a gushing tap, a spiking electrocardiogram and a molecular murmuration. This aurora was experimental, fooling around as if unsure what shape suited it best.
After 20 minutes, perhaps exhausted, it faded, faded, faded ... and was gone.
That's why I felt the need to sing to the starry skies at midnight. It was a reaction borne from childlike glee, which became pretty much standard as the days progressed. Being whizzed over Lake Inari by five ebullient huskies? I was giddy as a schoolgirl. Tramping between pine and spruce in snowshoes? Pure fun! Snowmobiling into the forest during the brief window of dusky, pink-flushed daylight? Just beautiful.
So, it was with some excitement that I entered my Bubble. Set apart from the rest of the hotel, to ensure privacy for we guests-behind-glass, the domes look over a lake, frosted treetops and a whole lot of sky. Inside, the world sounded different, like my head was in a bowl – which I suppose it sort of was. That is, an extremely cosy, womb-like bowl I never wanted to leave. I flicked off the lights, lay back on the bed, snuggled into my reindeer-print cushions and grinned my biggest grin yet.
Above me spread ... potential. I could see moon, stars and a clear, dark canvas just waiting to be daubed. I felt like I'd been invited to a private showing of the night sky, an astronomical movie playing just for me – the action was a bit slow but the cinematography and dramatic tension was top-notch. However, as the night wore on, tension turned to disappointment: the aurora refused to appear. Eventually, even the moon deserted me; a shroud of cloud smothered both the heavens and my optimism.
I woke frequently throughout the night to glance up, just in case the cloud had crept off and the aurora had snuck by. It never did. However, I still slept with a huge smile on my face.
Travel essentials
Getting there
The Aurora Zone (01670 785012; theaurorazone.com) offers an active four-night "Nellim: Northern Lights Over Lake Inari" trip from £1,680pp. This includes Finnair flights from Heathrow to Ivalo via Helsinki, as well as transfers, four nights' full-board accommodation (including one in an Aurora Bubble), cold-weather clothing, guides and all activities (husky safari, ice-fishing, snowmobiling, aurora snowmobile hunt, snowshoe hike, Aurora Camp, reindeer farm and snowmobile safari). Departs until April.
More information
Reuse content