Travel essentials
Why go now?
Smaller but livelier than its better-known neighbour Geneva, the French-Swiss town of Lausanne – or Lousanna, as this area was named in Roman times – is an old city kept young by its significant student population. Halfway along the north shore of Lake Geneva, it thrives in summer, when the lakefront throngs with sunbathers and outdoor terraces spring up all over town. From now until the end of September, Lausanne Estivale (lausanne.ch/lausanneestivale) presents 450 free concerts and events all over the city. On 1 August, Lausanne celebrates Switzerland's national day (a public holiday) with various festivities including a fireworks display by the lake.
Touch down
Located in the canton of Vaud, Lausanne is a 40-minute train ride along the lake from Geneva airport 00 41 227 177 111; gva.ch). There are around five trains an hour and tickets cost Sfr26 (£17) one way. The main airline to Geneva is easyJet (0843 104 5000; easyJet.com), with flights from a range of UK airports. British Airways (0844 493 0787; ba.com) and Swiss (0845 601 0956; swiss.com) compete from Heathrow, Gatwick and London City. Darwin Airline (01223 851480; darwinairline.com) flies from Cambridge, and Jet2 (0800 408 1350; jet2.com) flies from Leeds/Bradford. Trains arrive at Gare de Lausanne (1), from where it's a short uphill walk (or metro ride) into town.
Get your bearings
Lausanne cascades down a hill from the medieval Cité at the top to the shores of Lake Geneva at the bottom. The centre is a muddle of cobbled streets, pretty squares and 17th-century houses, while just below sits the busy thoroughfare of Rue Centrale and the regenerated warehouse quarter Le Flon, once a riverbed, (it was filled in 1874) and now packed with bars, shops and restaurants. Residential streets tumble south towards the pretty lakefront district of Ouchy, housing Lausanne's marina and the headquarters of the International Olympic Committee (2).
The m2 metro line gets you swiftly from top to bottom, with the train station (1) halfway down. All hotel guests receive a free Lausanne Transport Card valid for free travel on metro, bus and train services. The city has two tourist offices (00 41 21 613 7373; lausanne-tourisme.ch; 9am-7pm daily), one in the train station and the other by the Ouchy metro station (3).
Click here to see a bigger image of the map
Check in
The luxury Beau-Rivage Palace (4) at Place du Port 17-19, Ouchy (00 41 21 613 3333; brp.ch) is one of the original Palace hotels opened during Switzerland's late 19th-century tourism boom. Doubles from Sfr660 (£432), room only. In Le Flon, L'Hotel (5) at Place de l'Europe 6 ( 00 41 21 331 3939; lhotel.ch) has airy, minimalistic rooms and a rooftop bar. Doubles from Sfr130 (£85), room only. Lausanne isn't cheap, but the Lausanne Guesthouse & Backpacker (6) on Chemin des Epinettes 4 ( 00 41 21 601 8000) has simple private rooms from Sfr93.80 (£62), room only, in addition to dorm bunks.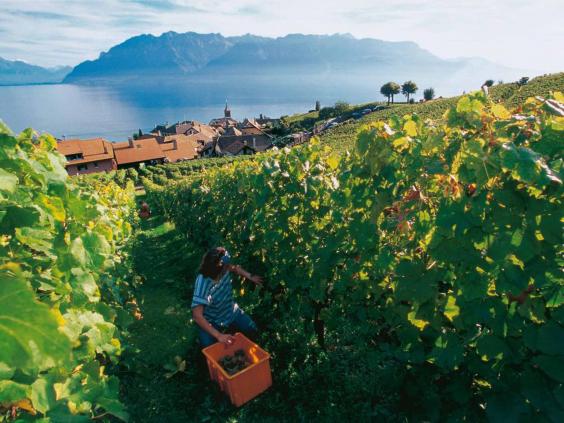 Day One
Take a hike
Start your walk in the oldest part of Lausanne, the Cité, a fourth-century hilltop refuge which, by the Middle Ages, had grown into a highly prosperous town. From the cathedral (7), walk down the Escaliers du Marché, a 13th-century covered wooden walkway built to link the town's two markets.
On the lower half of the walkway (it's divided by Rue Pierre-Viret), the 16th-century buildings to the right are some of the prettiest in town. Occupying one is Le Barbare (8), a café/restaurant serving Lausanne's best hot chocolate (00 41 21 312 2132). From here, take Rue Mercerie into Place de la Palud, a pretty cobbled square with the 17th-century Town Hall (9) distinguished by its steeply sloping roof and gargoyles, plus the town's oldest fountain, Fontaine de la Justice. Time your visit to watch the mechanical clock by the fountain whir into life for its hourly animation describing the history of canton Vaud. On Saturday mornings, the square and surrounding streets host a colourful market.
Walk down Rue du Pont, across Rue Centrale and up the hill into Place Saint François (10), with its medieval church. To the left is Rue du Bourg, where the city's well-heeled lived during the 17th and 18th centuries. Its elegant buildings are now filled with designer boutiques and high-street shops.
Lunch on the run
The popular Bleu Lezard (11) at Rue Enning 10 (00 41 21321 3830; bleu-lezard.ch) serves contemporary Swiss-French dishes including beef tartar and perch filet. At Sfr19 (£12), its lunchtime dish of the day isn't bad value for Switzerland.
Window shopping
Big brands, modern art and vintage goods are found in the renovated warehouses of lively Le Flon, while the pedestrian streets around the Town Hall (9) and Place Saint François (10) house high-street names and independent shops. Find local edible specialities at La Ferme Vaudoise (12) at Place de la Palud 5 (00 41 21 351 3555; lafermevaudoise.ch) and fine chocolate at Blondel (13) at Rue de Bourg 3 (00 41 21 323 4474; chocolatsblondel.ch), which also does extremely good chocolate ice cream. Note that most shops are closed on Sundays.
An aperitif
Switzerland isn't well known for its wine because it exports so little, so a glass of local chasselas or Plant Robert comes as a pleasant surprise. Try one at the oldest pub in town, La Pinte Besson (14) on Rue de l'Ale 4 (00 41 21 312 5969; pinte-besson.ch; closed Sundays), which was set up by a wine merchant in 1780.
Dining with the locals
A Lausanne institution on Place Saint François (10), Café Romand (00 41 21 312 6375; cafe-romand .ch) serves Swiss specialities including fondue (Sfr24/£15), rösti (Sfr26.50/£17) and choucroute (Sfr21/£14) in a traditional brasserie setting. For more summery fare, grab an outside table at Le Nomade (15) at Place de L'Europe 9 (00 41 21 320 1313; restaurantnomade.ch), which offers light, contemporary dishes such as duck breast, pan fried with strawberries (Sfr40/£26) and avocado ice cream (Sfr8/£5).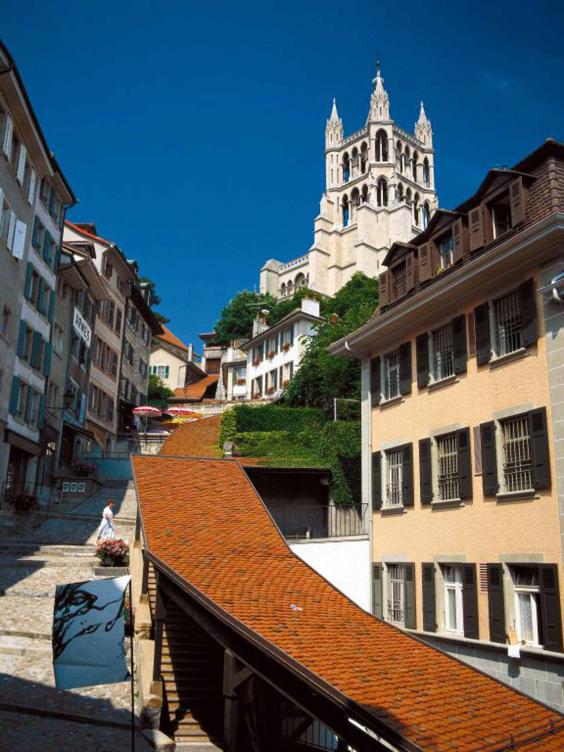 Day Two
Go to church
Lausanne's 13th-century Gothic cathedral (7) (00 41 21 316 7160; Monday to Friday 7am-7pm, Saturday & Sunday 8am-7pm, closes 5.30pm in winter) is the largest in Switzerland. Sitting on a plateau in the medieval Cité, it overlooks the town centre and the lake beyond. Improve the view by climbing the 225 steps of the belfry for Sfr4 (£3). Sunday morning service starts at 10am.
Out to brunch
Below the train station in Grancy, Café de Grancy (16) on Avenue du Rond-Point 1 (00 41 21 616 8666; cafedegrancy.ch; open from 10am on weekends) is a popular meeting spot. Brunch (set menus from Sfr16/£10) includes Swiss Bircher muesli, pancakes, salmon tartar and cooked breakfasts. Free Wi-Fi.
A walk in the park
West of Grancy, the Montriond Ridge is a landscaped hill formed by a glacial moraine. The botanical gardens (17) are here (00 41 21 316 9988; botanique.vd.ch; daily 10am-6.30pm May to October, free) with 6,000 plants. Walk to the top of the hill for views of Lake Geneva and the Alps.
Take a ride
Take the No 2 bus from Place Saint François (10) or via the m2 metro line (one-hour ticket Sfr3.50/£2.30, day pass Sfr8.80/£6) to Ouchy station (3). Ouchy, a former fishing village, is the place to stroll along the shore or sunbathe. Ferry services run by the Compagnie Générale de Navigation (0041 84 881 1848; cgn.ch) depart from Place du Vieux Port (18) to various destinations around the lake.
Cultural afternoon
Home to the IOC and myriad international sporting associations, Lausanne proclaims itself the "Olympic capital". The Olympic Museum (19) at Quai d'Ouchy 1 (00 41 21 621 6511; www .olympic.org, open daily 9am-6pm in summer, closed Mondays October-April, Sfr18/£12) was built by the IOC in 1993. It was renovated last year for £36m and is now a slick exhibition space reached through a landscaped "Olympic park". Its permanent exhibition mixes memorabilia, archive footage and video interviews. An exhibition exploring links between time and sport runs to 18 January 2015.
Icing on the cake
Take the No 9 bus from Place Saint François (10) to the village of Lutry. From here, it's a short (but steep) stroll into the vineyards of Lavaux (lavaux.ch), one of Switzerland's oldest wine-making regions and a Unesco World Heritage Site. A scenic path extends as far as Montreux, with wine cellars often open for tastings on the way.
Click here to view tours of Switzerland, with Independent Holidays.
Reuse content