The queue outside L'As du Fallafel is long – by my reckoning 20 deep. A woman in front of me, catching me counting, confirms what I already know. "It's always like this," she says in an Australian accent. "But it's worth it."
She's right – crunchy, garlicky and abundant, this is food with an international reputation, and while this place (00 33 1 48 87 63 60) faces strong competition from Mi Va Mi (00 33 1 42 71 53 72) across the road, it's the best falafel I've tasted. What's more, as it's a crisp and cloudless spring day, I'm able to eat it on the move in the open air, while ambling down alleyways and peering into shop windows.
It's on bright days like these, that Le Marais really clicks. When winter's chill recedes and the café clientele spills on to the streets, the fashionable locals shed their coats and the buds in the many public gardens begin to blossom.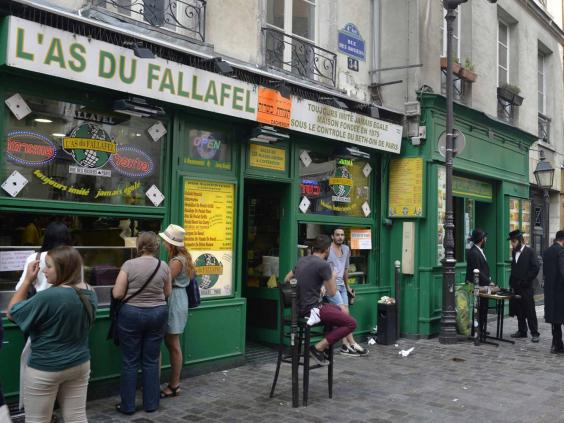 On the Right Bank of the Seine, covering parts of the 3rd and 4th arrondissements, Le Marais ("the marsh" was developed in the Middle Ages) is an area that warrants patient exploration. There are none of Haussmann's imposing boulevards here. Picture instead a bohemian warren of medieval streets and secret courtyards, stuffed with bookshops, boutiques, galleries and bars – even its museums are cool, from the excellent Musée Picasso (00 33 1 85 56 00 36; museepicassoparis.fr), to the iconic, inside-out Centre Pompidou (see Don't Miss).
Yet for all its hipster credentials, Le Marais has plenty in the way of timeless attractions. There's an abundance of history, from Paris's oldest surviving buildings and the largest stretch of the old city wall, to 16th-century mansions such as the Hotel du Sully. And at its heart is the Places des Vosges, a perfect square of tree-lined greenery, framed by four lofty rows of 17th-century houses – one of which is Maison de Victor Hugo (00 33 1 42 72 10 16; maisonvictorhugo.paris.fr), the former home of the celebrated French writer.
Meanwhile, the gentrification process that has revitalised a region once marked for demolition has coincided with its emergence as an LGBT village, home to popular clubs such as Open Café (opencafe.fr) and Café Cox (00 33 1 42 72 08 00; cox.fr) and the legendary LGBT bookshop, Les Mots à la Bouche (00 33 1 42 78 88 30; motsbouche.com).
Once primarily regarded as the city's Jewish heartland, Le Marais has emerged as many other things besides: its bohemian heart, one of its most fashionable areas, and, of course, its falafel capital.
Unpack
While it lacks big-name hotels, Le Marais does a good line in space-efficient boutique accommodation, and Hotel Jules & Jim (00 33 1 44 54 13 13; hoteljulesetjim.com) is one of the best. Named after a Truffaut film, this is a lively hotel with artistic pretentions – the reception doubles as a photo gallery and there are even occasional film screenings in the cellar.
The action centres around a pleasant courtyard, heated by an outdoor fireplace in cold weather, while extras include tours in either the hotel's vintage Citroën DS or a cruises in a former Vietnamese water taxi. Doubles from €240 (£172).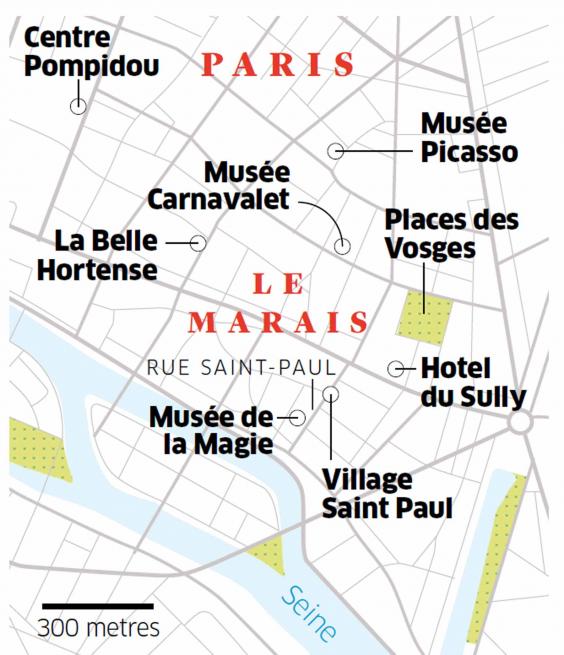 Think Local
Situated between the Rue Saint-Paul and Rue Charlemagne, the Village Saint Paul is all too easy to miss, especially for first-timers. This series of four interlocking courtyards is home to numerous antique shops, each with its own speciality, be it carved furniture, old linen or vintage photographs.
A handful of cafés with terraces make it a great place to wander, particularly when the sun's out, while on its periphery you'll find the curious Musee de la Magie (00 33 1 42 72 13 26; museedelamagie.com) – an atmospheric museum of magic, housed in the creepy cellars of the Marquis de Sade's old house, complete with a tiny theatre space where old-fashioned magic shows are performed. Open Wednesday, Saturday and Sunday.
Eat
If you want to sample Le Marais at its most offbeat, try The Blind Pig (face book.com/blindpigparis). Hidden behind an unmarked green door, this former garage hosts a different food truck every week, serving high quality street food to self-aware locals, who sprawl out on cushions, old chairs and even a swing.
Similarly quirky, Derrière (00 33 1 44 61 91 95; derriere-resto.com) is another restaurant hidden away behind an unmarked door, this time serving modern French cuisine in what's ostensibly a bohemian home, with guests dining in a host of cluttered rooms, including a bedroom with a mosaic mirrored ceiling.
Spend
While it's increasingly known for its fashion boutiques, Le Marais's real strongpoint is vintage clothing, or fripes, as they're known here. King of Frip (00 33 1 42 78 33 72), Frip'irium (33 1 40 29 95 57) and Free 'P' Star (00 33 1 42 77 63 43; freepstar.com) offer a large selection of affordable threads from yesteryear, while Vintage Bar specialises in retro accessories. However Kilo Store (00 33 9 67 13 79 54; kilo-shop.fr) is perhaps the most interesting of all, as it sells its fripes by weight.
Drink
Who says nights out need to involve loud music and sticky floors? For an altogether more cerebral – and, let's face it, Parisian – experience, head to La Belle Hortense (00 33 1 48 04 71 60), a late-opening bar-cum-bookstore where people come to talk art and literature or just sit, drink wine and read.
Alternatively, the recently opened Little Red Door (00 33 1 42 71 19 32; lrdparis.com) is a snug speakeasy with extremely friendly bar staff, who take great pride in explaining the cocktails to their tipsy clientele.
Don't Miss
The opening of the Centre Pompidou (00 33 1 44 78 12 33; centrepompi dou.fr) in 1977 marked the beginning of Le Marais's artistic renaissance, and today, it's the headline attraction in an area full of excellent museums.
While it might not be as internationally known, Musée Carnavalet (00 33 1 44 59 58 58; carnavalet.paris.fr) is every bit as fascinating. Located in two converted townhouses, it's a museum and art gallery that charts the history of Paris from 4600BC to the present day, in more than 100 lavishly decorated rooms. Like so many of the historic buildings in Le Marais, it has an exquisite manicured garden. Its current exhibition examines Napoleon's complex relationship with the French capital.
Getting There
Eurostar (08432 186 186; eurostar.com) links London St Pancras with Gare du Nord, a 20-minute walk from Upper Marais.
Airlines serving Paris from the UK include Air France (020 7660 0337; airfrance.co.uk), British Airways (0344 493 0787; ba.com), CityJet (0871 221 2452; cityjet.com) easyJet (0330 365 5454; easyjet.com), Flybe (0371 700 2000; flybe.com) and Jet2 (0800 408 1350 ; jet2.com).
More Information
Reuse content