It seemed an inopportune moment. Just as we started descending one of Funchal's narrow, near-perpendicular roads in a 1935 Austin 10, driver Joao announced: "The brakes take longer to react than in modern cars; they're like a bicycle's, they rely on tiny cables."
My uneasiness wasn't helped by Paulo, Joao's brother. Noticing my glance at the car's speedometer, he joked: "It shows a maximum speed of 120km/h. Don't worry, that's impossible, unless the brakes fail." Thankfully, Joao retained a low gear, treating his 80-year-old pride and joy, resplendent in racing green, with respect. "This car is special. Our grandfather bought it in 1949 and it's remained in the family. We try not to push it too hard and avoid the steepest hills."
Joao, 31, and Paulo, 41, run Two Ten Classic Tours, offering visitors trips around the Madeiran capital in a fleet of classic cars, including a 1966 Singer Vogue, acquired by their father and grandfather. The Austin 10 Open Road Tourer – shipped to the sub-tropical island, 500 kilometres west of the Moroccan coast, soon after rolling off the assembly line at Austin's Longbridge Plant – takes some handling.
"The gearbox isn't easy and there is no power steering," explained Joao, hauling the muscle-building steering wheel frantically to negotiate a bend. "If you can manage this car, you can drive anything."
In many other ways, Madeira retains an old world charm and sense of tradition. Symbols of a bygone era pop up all around, including on the roads, not least the 800 classic and vintage cars, many imported from Britain, registered on the island.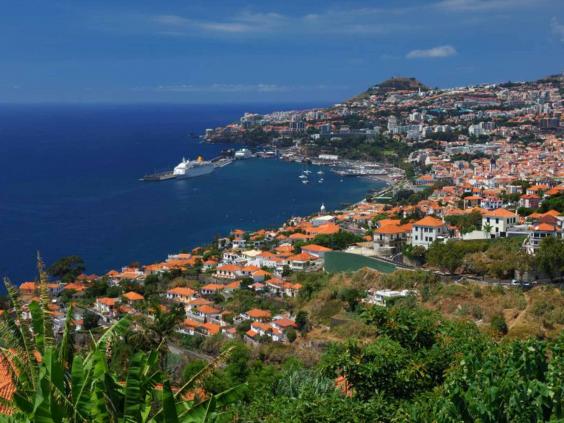 The Perneta brothers' Austin 10, with its polished paintwork and gleaming mahogany dashboard sparkling in the afternoon sun, is a fine example, drawing admirers around every corner that we turned. I felt like royalty as people smiled, waved and stared in awe at Austin's bestselling model of the Thirties.
The engine screamed, as if in agony, while negotiating another steep incline. Mind you, many an 80-year-old would struggle to climb hill after hill. Just as I started to worry that I might have to get out and push, we pulled in at Pinaculo, to the east of Funchal, one of many belvederes on the island. Built in the 1930s, these strategically located platforms offer stunning views of the island's vertiginous contours and the sparkling Atlantic beyond.
I peered through a bougainvillea-draped pergola, perched 283 metres above the sea. To my right, the sweep of the bay and the city bathed in sunlight, to my left cliffs standing tall along the southern coast. On the horizon was the serrated outline of the Desertas Islands, shimmering in the heat haze. Among the last wild spots of Europe, these barren lumps of rock are uninhabited, save for a few wardens, birds and a colony of endangered monk seals. On Deserta Grande, the main island, venomous wolf spiders live among the crags of Castanheira Valley; happily, they aren't found on benign Madeira.
Turning my attention back to the island, it was easy to see why Madeira is dubbed "the floating garden in the Atlantic".
With a warming breeze blowing off the mirror-flat ocean, the orange-headed Aloe arborescens adorning the roadside and cliff edges swayed as we drove along. Although the 1930s suspension meant we felt every pothole, the coil-springed leather upholstery did its best to cushion the impact as we continued our tour.
Soon after passing a reserve dedicated to the rare dragon tree and the steep-sided Joao Gomes river valley, we drove along Levada Road, flanked by 19th-century villas. Once an upscale quarter of Funchal, many of these grand old houses had become a shadow of their former selves, their colourful façades fading in the sunlight, but the majority have now been restored.
Soon after, we stopped at Quinta do Poco. Built in 1932, this oasis serves not only as Funchal's underground reservoir but as the nursery for the city council's parks and gardens. We wandered across to a belvedere, offering yet another dramatic view of Funchal. Just then, Paulo announced he had a surprise; he grabbed a picnic basket from the boot, spread a blanket on the grass and produced homemade sugar cane syrup cake and 1992 Justino's Malmsey – a rich, sweet Madeiran wine that went down a treat.
It would have been easy to settle in our lush spot, but I persuaded the brothers to drive me to Camara de Lobos, some 9km west. With this year marking the 50th anniversary of Winston Churchill's death, I wanted to follow in the footsteps of the former prime minister, who fell in love with Madeira on visiting the island in 1950. We snaked our way along the coast using narrow roads flanked by hillsides awash with exotic flowers and banana plantations.
Churchill was so enamoured of Camara de Lobos, with its red tile-roofed houses and sheltered harbour, that he spent many hours here painting – a plaque marks the spot where he placed his easel. The fishing village owes its name to the seals that once populated the bay, but today all that bobs about in the harbour are the multi-coloured wooden fishing boats. Nevertheless, this picturesque village, surrounded by vineyard-clad hills, has retained plenty of charm.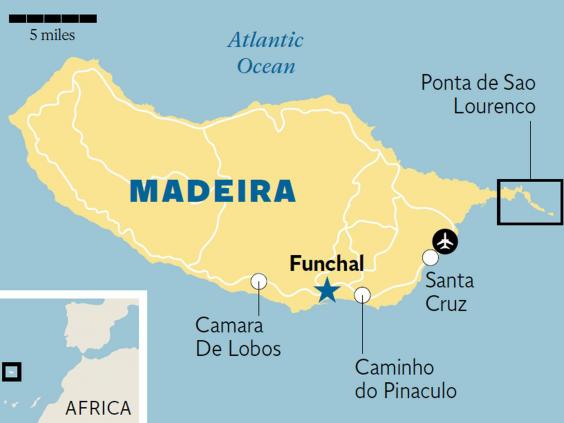 I strolled around the old town's maze of alleyways and admired cobblestone squares before heading for the harbourside, where locals and tourists relaxed at cafés, indulging in a glass or two of poncha, a local brew of lemon, honey and sugar-cane spirit.
The next day, I delighted in getting behind the wheel of another classic beauty – this time a 1951 Riley RM. Its proud owner, Austrian painter and Madeira resident Gerald Bretterbauer, has painstakingly restored three Rileys with two more in the pipeline for the classic car tour company, Ondaclassica.
"Go on, overtake, go!" Gerald shouted, encouragingly, as we headed east along the highway. After spending several kilometres driving timidly in the inside lane, I began getting a feel for the vehicle, reputedly the first Riley registered in Portugal. I pushed down the accelerator, the engine growled and we were off, leaving more modern vehicles in our wake.
En route to the east coast, we detoured into Santa Cruz, but not before swapping seats as I didn't want to risk scratching Gerald's prize possession while negotiating the fishing town's tight streets. We drove past a decoratively paved promenade flanked by palm trees and into the town centre, with its whitewashed, 16th-century church enriched with Manueline stonemasonry.
We were soon racing along the highway again to our final destination, Ponta de Sao Lourenco, marking the most easterly point of the island. At the car park, high above Abra Bay, I hauled myself up from the tan leather seat to admire the rocky finger of the peninsula stretching into the distance. In contrast to the lavishly green, heavily vegetated landscape elsewhere, this corner of Madeira is more reminiscent of rocky headlands gracing the Cornish coastline.
It's a notoriously windy spot and I enjoyed the Atlantic breeze buffeting my face for a few minutes before checking my watch. "What's next on your itinerary?" asked Gerald, who'd taken the opportunity to polish the chrome door handles. "Afternoon tea at Reid's, I think." After all, it's a tradition not to be missed when visiting this part of the world – and I'm sure that Churchill, who stayed at the hotel, would have enjoyed the timeless elegance on his sojourns in the Madeiran sun.
Getting there
Richard Webber flew with easyJet (0843 104 5000; easyjet.com), which serves Funchal from Bristol, Edinburgh, Gatwick and Manchester.
Monarch (0333 003 0107; monarch.co.uk) flies from Birmingham, Jet2 (0800 408 1350; jet2.com) from Leeds/Bradford and Manchester; British Airways (0844 493 0787; ba.com) launches flights from Gatwick on 11 May.
Staying there
Vidamar Resort Madeira (00 351 291 717 700; vidamarresorts.com) has doubles from €175, half board.
Visiting there
Two Ten Classic Tours (00 351 967 292363; twotenclassictours.com)
Ondaclassica (00 351 291 931 191; ondaclassica.com)
More information
Reuse content