I pulled into the stark new concrete station of Figueres-Vilafant on the Costa Brava aboard a train from Paris, and did something that felt very novel. I remained in my seat. Then I gazed out at the darkness for four minutes until the train accelerated smoothly away to continue its high-speed journey south.
Until very recently, I would have disembarked and crossed the platform to a Spanish train to complete the journey. The new service ends 150 years of Spanish rail isolation (with the exception of a short experiment in the 1960s) which resulted from the fateful choice, in 1844, of a wider gauge track – six Castilian feet wide – than George Stephenson's standard gauge, as adopted by the French. The Figueres link is the final element in a long process – Eurostar, French TGV, Spanish AVE, new tunnels, stations, sections of high-speed line – that have whittled the journey time down to the point where it is now possible to breakfast in London, lunch in Paris and dine in Barcelona.
So that is what I did. My journey began around 10 hours earlier in London. The route to Barcelona is now a blend of the ultra new and the richly historic, featuring sleek, new TGV stations and classics of early railway architecture, with the historic eating and sleeping facilities associated with such monuments. In London St Pancras, the grandest and most convenient option is the St Pancras Renaissance Hotel, a reincarnation of the old Midland Grand and a Grade I-listed Gothic jewel. Built in the 1860s but suavely modernised – like St Pancras station itself – the hotel is connected via a glass lift directly to the departures hall. My room lay at the top of a magnificent oxblood-and-gold staircase and was dressed with silk curtains and tassels. Below my window was the silent station platform and a row of sleek Eurostars. Breakfast in the panelled Booking Office restaurant, consited of a selection of foods from all the lands I was about to travel through: Cheddar, chorizo, Charente butter ....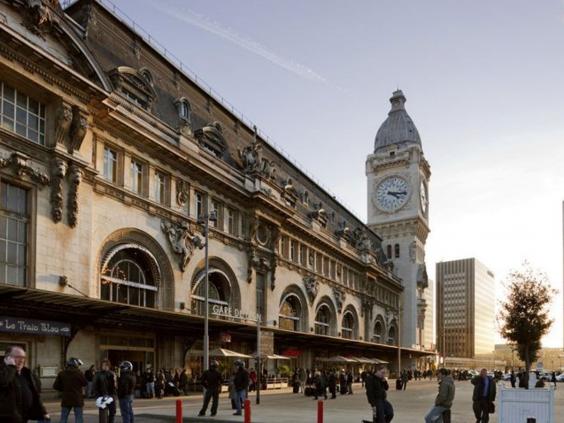 A hotel porter then escorted me through Eurostar's calm check-in process and on to the train.
At 8.19am we left, the Eurostar rushing on its way down High Speed 1, across the North Downs, over the Medway viaduct. Suddenly, the warehouses bore names like Conforama and La Maison Picarde. Southern England's gone a bit French, I thought. Then realised I must have dozed off.
We shot across Picardy's Minnesota-like plains, dotted with church spires, wind turbines and roads with lonely cars. Then we were into the Paris banlieues: Garges-lès-Gonesse, Pierrefitte, Stains, St-Denis, tower blocks dwarfing lost 1920s villas. An intensifying layer of graffiti covered shades of grey, shouting in capitals: KEUF, SHEAT, BRO, and once, unless my eyes deceived me, DIOR. A glimpse of the white cupola of the Sacré Coeur and we crept into the Gare du Nord at 11.47am. I now had almost two and a half hours in Paris.
Gare du Nord  is the busiest station in Continental Europe and a contemporary of St Pancras, its majestic façade similarly augmented by a modern glass extension, but grubby and rough by comparison. 
Despite this, the row of restaurants opposite maintains a strong northern French ambience: Aux Villes du Nord, Au Rendez-vous des Belges, above all the beautiful 1930s Terminus Nord brasserie.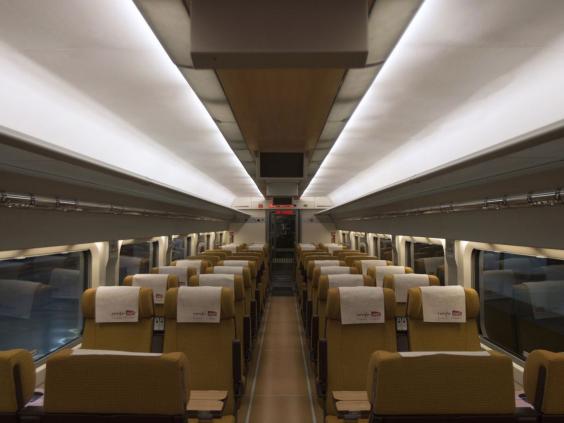 Station buffets constitute a glorious sub-category of the French brasserie tradition, and I was heading onwards, to the most magnificent of them all. Down into the bowels of the RER, three stops under Paris, and up into the glass-and-wrought-iron Gare de Lyon. Built for the 1900 Exposition Universelle, it is equipped with a replica Big Ben clocktower, and serves as gateway to the south.
Up a curving double staircase, is the station restaurant, Le Train Bleu. Its great semi-circular windows overlook the platforms on one side and the concourse on the other. It was named after the Paris to Marseille express, and was saved from demolition by the writer-politician André Malraux.  I sat on a banquette beneath gilt-framed murals of Marseille and Fréjus, illuminated by hundreds of lightbulbs reflecting off brass fittings. I ordered côte de veau foyot, a thick veal chop topped with a grilled layer of Gruyère béchamel. Around me bustled a mix of tourists, business people and elderly couples observing the ritual of Sunday lunch.
A quick espresso later, I collected my case from the smart bagagiste, strolled down the platform and up the stairs to the top deck of the 2.07pm Barcelona TGV.
We set off. The south-eastern banlieues gave way to deep countryside as we passed through the Seine et Marne. I was in the very latest TGV, an aluminium 700 series Dasye Duplex, equipped with all-wheel brakes and copious luggage space, big comfortable seats in royal blue upholstery, each with its own power point.
As the train hit top whack (not all of the line is yet high speed) we hummed through the rolling wooded farmland into Burgundy. The colour of the cattle on the lush slopes changed from Charolais cream to Auvergne chestnut, and I glimpsed solitary walkers on country roads and herons by ponds. I tracked our route as best I could with a tableful of maps. High-speed rail travel is a cross between train and plane – the top speed of a TGV exceeding take-off velocity of a passenger jet – and the latest TGV is rather like a 1950s Caravelle, from the era when airliners still had space, big windows and saloons. Taking in visual detail isn't easy, with passing station signs requiring a high-speed head rotation to read as you hurtle past.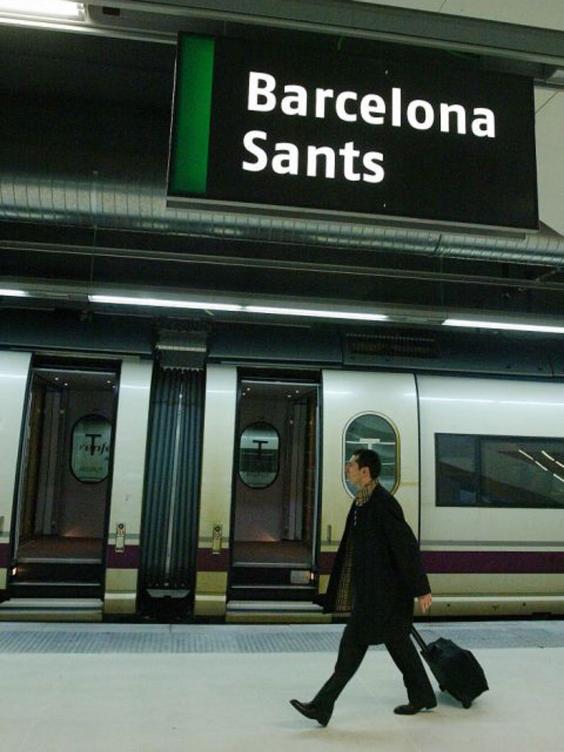 At around 4pm we passed the first vineyards at Mâcon, then flashed through the département of Rhône in 90 seconds. After a pause at Valence's modern TGV station, we sped on down the Rhône valley. Just before Nîmes, the second stop, I spotted the first black bulls, then the earliest red-tiled roofs, umbrella pines and palm trees of the south.
We reached the Mediterranean at Sète, rolling slowly past fish restaurants on the quays, across the iron bridge on to the causeway between the sea  and the shallow flamingo-dotted étangs.  I resisted the temptation to whistle "La Mer" as we crossed the Bassin de Thau, where Charles Trenet wrote his chart-topper on a train 70 years ago.
A low sun gilded the plane trees of the Canal du Midi and Saint-Nazaire cathedral at Béziers as we passed slowly on the way to stops in Narbonne, and then at the Gare de Perpignan, described by Salvador Dalí as the centre of the universe.
Approaching the border, Catalan joined the trilingual train announcements. We swooped into the new Perthus tunnel, bypassing the rocky coves around the old border station of Portbou and a century of railway history. Out of the darkness, Las Vegas-like, a cluster of lights appeared at the new frontier point of La Jonquera: lorry parks, supermarkets, hotels, warehouses, a ruined castle, the neon-signed mega-brothels peculiar to the region. We sped on to Figueres, then had another quick stop at Girona, and a long, slow curve around the bulk of Montseny and the hilly outskirts of Barcelona.
At 8.30pm we pulled into a brightly-lit subterranean platform at Barcelona Sants. This was to be the symmetrically luxurious end to my trip: another lift straight up to my hotel room. However, everything else about Sants was as dissimilar to St Pancras as possible. A hulking 1970s concrete pile, topped with a dozen floors of hotel, the Barcelo Sants, has recently been kitted out in a gleaming white designer airport theme. Though smart and convenient, it was a touch antiseptic for my last supper.
The lovely old Siete Puertas café by the magnificent 1920s Estació de França, where French trains once arrived, would have been perfect, but going to a different station felt like cheating.
Ten minutes by taxi from Sants was the solution. The bustling 1930s Bar Velódromo combines Spanish unpretentiousness with Catalan avant garde. The kitchen is overseen by Jordi Vilà, of the very smart Alkimia, but excels in plain, honest grub. A starter of pan con tomate; I can never quite believe bread rubbed with oil and tomato can be so delicious. Then habas a la Catalana, one of the writer Manuel Vázquez Montalbán's three pillars of Catalan cuisine, which consists of tender new broad beans stewed with a little botifarra sausage. Then gratinated Barcelona canellons: fat pasta cylinders filled with a rich paste of pork, veal, chicken and sheep brains. And a glass of cool white Penedès to toast the success of the trip.
Twelve hours from breakfast to dinner. Yes, it takes longer and costs more than a budget flight. But for comfort, relaxation, sightseeing and all-round travel finesse it's the clear winner. As for lunch, the possibilities are enough to make a Ryanair passenger throw down his Pringles and weep with envy.
TRAVEL ESSENTIALS
Getting there
Philip Sweeney travelled as a guest of Eurostar (08432 186 186; eurostar.com) and SNCF (0844 848 5848; voyages-sncf.com). Returns from London to Barcelona start at £172.
Staying there
St Pancras Renaissance Hotel (020 7841 3540; stpancrasrenaissance.co.uk). Doubles start at £250. Eurostar VIP Transfer Service is complimentary for guests in Chambers rooms. Barcelo Sants Hotel (00 34 93 503 53 00; barcelosants.com). Doubles start at €105.
Eating and drinking there
Le Train Bleu, Gare du Lyon, Paris  (00 33 01 43 43 09 06; le-train-bleu.com). Restaurante Bar Velódromo, Carrer de Muntane, Barcelona  (00 34 934 30 60 22).
More information