Growing up half German in England in the 1980s, supporting the Nationalmannschaft was the love that dared not speak its name. Germany was the old enemy, its football team was England's fiercest foe. Not any more. Last time Germany won the World Cup, in 1990, beating Argentina 1-0, just as they did last Sunday, I kept my Teutonic allegiances well hidden. This time, Germany seems like every football fan's second-favourite team.
So what's changed? Well, the football, for one thing. Germany were always very good, but they used to be good at winning ugly. "Ruthlessly efficient" was the common cliché – and, like a lot of clichés, there was some truth in it. Today, even the most jingoistic Little Englander can hardly fail to enjoy German football. With a young multicultural team, playing with verve and flair, this Nationalmannschaft really does seem like the new Brazil.
However the biggest change was the 2006 World Cup. When I went to Germany a few months before that tournament, to interview German "Ultras" for The Independent, there was talk of potential trouble between English and German fans. Thankfully, it was all hot air. Germany hosted a super party, and Ingerland supporters had a ball. Here was a place a world away from the crude stereotypes of the British red-top press: a great footballing nation – a lot like England (albeit with decent public transport and better beer).
And now the German National Tourist Office (germany.travel) has devised an epic road trip called the German Football Route. This 800km trail runs right through Germany's football heartland, from Bielefeld to Aachen. Clearly signposted throughout, it's suitable for bikes as well as cars, and every city en route boasts its own Bundesliga team.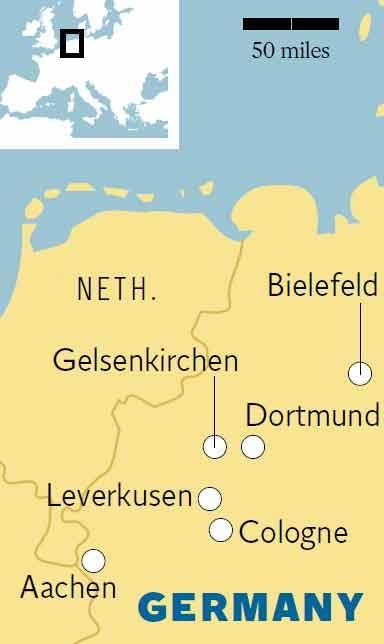 Like English football, German football was a by-product of the Industrial Revolution, and its biggest concentration of football clubs is still in its industrial north-west. Like England's North-west, this isn't the prettiest part of the country. Its heartland is the Ruhrgebiet, Germany's enormous rustbelt, and many of its towns, like Gelsenkirchen (home of Schalke) have clearly seen better days. Yet the Ruhrgebiet is famous for its tasty Imbiss (fast food) and friendly Kneipe (cosy bars), and travelling in this gritty hinterland feels like a real adventure. It's in old steel and mining towns such as Gelsenkirchen that football is most important. This is the working man's opera, and its theatre and ballet too. Dortmund may be a bit run down, but its Westfalen Stadium attracts the biggest crowds in Germany. The team they all come to see, Borussia Dortmund, features World Cup winner Mats Hummels, and rising stars such as Marco Reus. The BayArena in Leverkusen is much smaller, but the atmosphere in this compact stadium is electric. The resident team, Bayer Leverkusen, will compete alongside Schalke and Dortmund in this year's Champions League.
Every conurbation along the German Football Route has a first-class football team, but there's lots of other stuff to see and do along the way. FC Koln's Rhein Energie Stadion was a World Cup venue in 2006, but Cologne is even better known as a centre of the arts. Ditto Duisberg and Düsseldorf, both renowned for their galleries – and football teams. All along this 800km trail, you can spend the morning in a magnificent museum, and the afternoon in a splendid football stadium. What better way to spend a Saturday? And what better way to get a closer look at the new world champions?
The good news is, you don't need to wait until the next World Cup to enjoy more German football. The new Bundesliga season starts on 22 August, barely a month away, and a weekend trip to a German league game is a great way to get a true taste of Germanic culture (their roadside sausage stalls also beat our burger vans hands down).
Unlike their English rivals, the biggest German clubs have been allowed to retain some standing areas, and the atmosphere is a lot livelier as a result. These hi-tech terraces are extremely safe, and even hardcore fans are very welcoming, especially to Brits – despite their recent triumphs, they still regard England as the home of football. These stadia are full of noise and colour, but I've never seen any trouble. It feels like English football in the 1980s, but without the aggro (or the filthy toilets).
For British supporters familiar with Premier League prices, Bundesliga tickets are incredibly cheap. At Borussia Mönchengladbach, admission starts at €14.50 standing, or €27.50 seated. Tickets are usually available for all but the biggest games. A lot of clubs let you print your ticket, which doubles as a local train ticket. No wonder the Bundesliga enjoys the biggest attendances in Europe.