While I love city breaks, I always worry prior to arrival that my destination will live down to its stereotypes. I'd come to Hamburg rather fearing a Beatles' revival experience – the Fab Four memorably made their name in the gin joints of the Reeperbahn in the 1960s. But that was then, and surely a city can't rely on nostalgia tours from its vivacious hey-day for ever? The answer, fortunately, in Hamburg's case, is a resounding no. The city has moved on in swashbuckling fashion, making the most of its greatest commodity, water.
Seventy miles from the North Sea it may be, but Hamburg is still Europe's second-biggest port, after Rotterdam. This city is dominated by water: 20 canals dissect its heart and its 2,436 bridges exceed Amsterdam and Venice combined. "Water, water, water," says my charismatic guide, Jorn. "People like water, they like bridges, that's enough reason to come to Hamburg."
Next weekend is party time in the city as it celebrates its maritime heritage with a huge harbour festival along the River Elbe (hafengeburtstag.de). Events likely to catch your eye include a sail past of tall ships and a tugboat ballet, when the working tugboats dance pirouettes to musical accompaniment.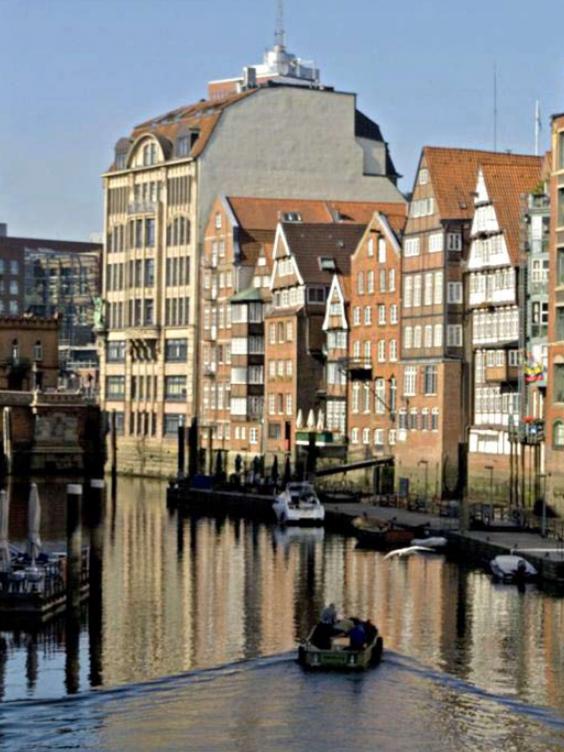 The festival is reason enough to visit Hamburg, but I'm keen to explore the watery nooks and crannies away from the main hubs. The twin central Alster lakes are beautiful, but come the evening their edges are clogged with promenaders, so I escape the crowds by nosing around Hamburg's hinterland, in particular, the Speicherstadt Quarter and its elegant 19th-century warehouse gems. I spend a pleasant early evening moving from cobbled streets to dead-end canals, via lattice-arched bridges. I'm hemmed in by Hamburg's ensemble of distinctive red-brick architecture, which may this year be granted Unesco World Heritage status. Later, I stumble upon the Chile House, a 1920s Expressionist gem, built like the prow of a ship.
UNPACK
Henri Hotel, Hamburg's newest, opened last year, in the shell of a 1930s city-centre office building. The owners were keen, explains Eckart Buss, the manager, to retain its original features such as the chequerboard tiles in the bathrooms. "We tried to not make it feel like a hotel, but somewhere with a cosy atmosphere with stylish features," he says. The 65 rooms are roomy, light and feature tasteful wood panelling. (Bugenhagenstrasse 21; 00 49 40 554 357 557; henri-hotel.com). Doubles from €128/ £105, breakfast €14/ £11.50.
THINK LOCAL
Europe's largest inhabited river island, Wilhelmsburg, is enjoying the benefits of a visionary regeneration project. "We're to the south of the city, and we're like the wing tips of a bird," is the slightly enigmatic interpretation of urban designer and resident Kai Dietrich, who shows me around. First, we head for the Energy Mountain (iba-hamburg .de), an industrial landfill site that has been transformed into the best view of the city. We move on to the Algae House – the façade is made of glass tanks containing algae – an eye-popping project opened last year that shows that you really can live in a flat powered by bio gas from seaweed. Our final stop is the Energy Bunker, a converted wartime air-raid shelter that uses thermal energy to power 1,000 homes. On the rooftop, 100 feet up, Cafe Vju (vju-hamburg.de), is an unbeatable stop for a coffee and cake.
EAT
I ask Jorn for a new dinner recommendation. He takes his hat off and scratches his head. "To eat in Hamburg, you really have to head for the suburbs," he advises. Inwardly, I groan, but then I remember this is Germany, the promised land of public transport. The S-bahn takes just eight minutes to whisk me to the suburb of Altona, home to Lila Nashorn restaurant (00 49 40 18122383; lilanashorn.wordpress.com) at Friedensallee 7-9. For €30/£25 I get three courses of fine dining, including veal ravioli and a glass of wine, in a restaurant hewn out of the shell of an old warehouse.
DRINK
A good example of the taming of Hamburg's once notorious red-light district, the Reeperbahn, is Clouds Bar (00 49 40 30 99 3280; clouds-hamburg.de), located on the 23rd floor of the twin skyscrapers known as the Dancing Towers. I order a cuba libre at the moodily-lit bar and make my way up to the roof terrace on the 24th floor for a magnificent view across the city.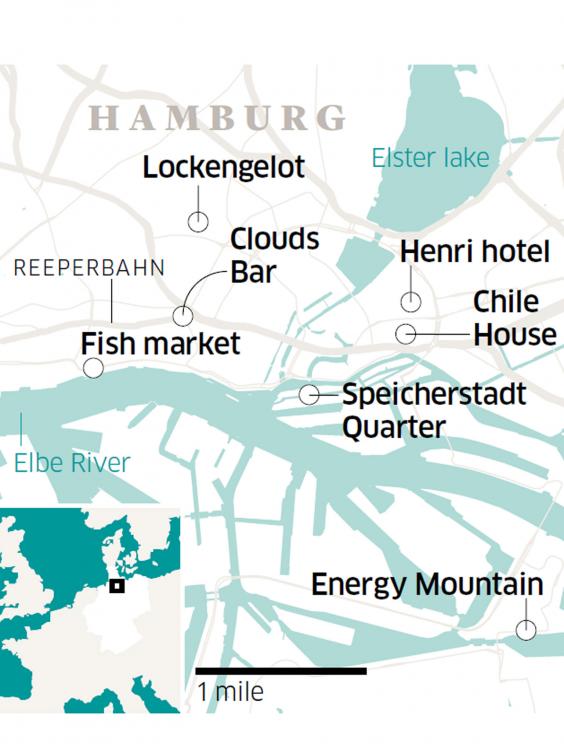 SPEND
George Harrison and John Lennon would spin in their graves at the tourist-spectacle that the Reeperbahn has become, but they might have raised a wry smile at Lockengelot (00 49 40 89001326; lockengeloet.com) at 119 Marktstrasse. This shop in the St Pauli district imaginatively recycles discarded vinyl LPs. Among the clocks, dinner plates and smoke alarms, I pick out my favourite, a toilet roll holder: a new meaning to an album being panned.
DON'T MISS
Sunday mornings don't usually begin at 6am. But I'm prepared to make an exception in Hamburg, as Sunday is St Pauli Fish Market day. Fish plays only a small part here. A rock concert is still going strong in the auction hall, where survivors from a night on the Reeperbahn are swigging beer or coffee. Sellers push their cheeses, baskets of fruit and sailor hats. Finally, I find the fish stalls: piles of halibut, eels, mackerel, calamari and North Sea crab. I opt for a salmon baguette.
GETTING THERE
Mark Rowe flew with Bmi regional (0844 4172 600; bmiregional.com) from Bristol to Hamburg. Germanwings (0906 294 1918; germanwings.com) flies from Birmingham, Heathrow and Manchester; easyJet (0843 104 5000; easyjet.com) from Edinburgh, Gatwick, Luton and Manchester; and British Airways (0844 493 0787; ba.com) from Heathrow. Hamburg airport is on S-Bahn (suburban railway) line S1.
STAYING THERE
Scandic Hotel Emporio (00 49 40 4321 870; scandichotels.com/hamburg) at 19 Dammtorwall, has double rooms from €80/£65 per night, room only.
More information