Nobody on Narodni Trida is planning a revolution. It is a standard Saturday morning, and the citizens of Prague are flitting in and out of the shops that flank this major avenue – which forges away from the river on the east bank of the Vltava, separating the medieval lanes of the city's Old Town (Stare Mesto) from the big spaces of the New (Nove Mesto).
Nobody is remembering revolution either. In fact, there is so little acknowledgement of the events of 25 years ago that it takes me a while to find the memorial. Finally, I locate it in a small covered arcade. A plaque on the wall salutes a date in plain numerical form: 17.11.1989. Above, eight hands are set in bronze. Some time ago, somebody entwined a now-dead rose around two fingers. Maybe they also burned the candle that lingers on the floor in three pink splats of wax. Either way, it has been a while since anyone halted here.
If Prague seems complacent about its freedoms, this is perhaps because its liberation from communism has been such a success. True, the Czechoslovakia that emerged from behind the Iron Curtain in November 1989 had fragmented into Slovakia and the Czech Republic by January 1993. But by 2004, both halves of this former whole were EU members – countries at the heart of a Europe from which they had been ostracised.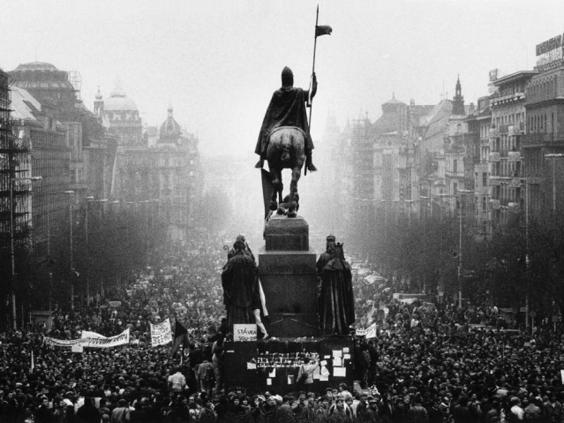 However, what occurred in Prague a quarter-century ago remains a crucial slice of recent history. The Velvet Revolution was arguably the most significant of the seismic shifts of late 1989. East Germany had the iconic image of the tumbling Berlin Wall; Romania had blood on the cobbles in the firing-squad execution of dictator Nicolae Ceausescu. But Czechoslovakia had what communism was meant to be: a show of people power.
It began on 16 November with a student protest in (the now-Slovakian capital) Bratislava, but it really gained momentum when a similar march headed through Prague the next day. It soon met violent resistance on Narodni Trida and reports swirled that a young man had been killed by police. Not so, it emerged later, but the fire was lit.
The memorial at No 20 Narodni Trida marks this ignition. The main events played out half a mile east in Vaclavske Namesti – Wenceslas Square. Over the next fortnight, Prague's key public plaza would be a sea of demonstrators. On the nights of 21 and 23 November, the crowd was addressed by the popular choice for an elected leader, dissident playwright Vaclav Havel. By the year's end he would be president.
The effects of 25 years of capitalism are visible as I enter Wenceslas Square – its familiar chainstores awash with customers. But the balcony from which Havel spoke is still there. In 1989, it was part of the Melantrich publishing house, an Art Deco building which produced the newspaper for the Czechoslovak Socialist Party. Now the balcony hovers above a branch of M&S. You can, though, sleep in history; the rooms behind are part of a cluster of three-star apartments, to rent.
It is only at its south end that Wenceslas Square revisits its former bleakness. A marker on the pavement pays tribute to two victims of oppression – Jan Opletal, a medical student who was shot while protesting against the Nazi occupation in October 1939, and Jan Palach, a 20-year-old history undergraduate who set himself ablaze in the square in January 1969: a protest at the Soviet stranglehold on his country. Here, there are flowers and wreaths – two sacrifices not forgotten.
In some ways Prague is unsure how to relate to its former troubles. At the Museum of Communism, on the long drag of Na Prikope, the iconography of the Fifties – posters of staunch workers toiling for the common good; Eastern Bloc athletes crushing Western rivals – is displayed next to truthful photos of an injured Palach dying in his hospital bed, and riot police beating demonstrators in 1989. Yet there is a wistfulness too – recreations of Sixties classrooms and kitchens stocked with now-obsolete brands, which seem to mourn the death of the restrictions and certainties of old.
I cross the river to find a more biting perspective. On the edge of the Vltava, in a former mill, the Museum Kampa houses striking art works that wouldn't have been seen under communist rule. They were gathered in the dark decades by Czech-American collectors Jan and Meda Mladek and include pieces by luminaries Josef Sima, Frantisek Kupka and Eva Kmentova. The latter's Woman In The Sun – a bronze nude, head tilted hopefully upwards – is in the museum's lovely courtyard. On the wall above, the words of Jan Mladek: "If a nation's culture survives, then so too does the nation."
A short walk away on the Mala Strana avenue of Ujezd, the Memorial to the Victims of Communism is arranged as 11 concrete steps. Six versions of the same male figure stand upon them and, as he recedes up the stairs, he falls to bits. The last sculpture is a stump of legs. You are left to interpret the symbolism, but the plaque below is an unequivocal dedication to "all those whose lives were ruined by totalitarian despotism".
The memorial sits at the base of Prague's leafiest spot, Petrin Hill. It is worth clambering to the summit to visit the Petrin Tower – a mini tribute to the Eiffel Tower, built in 1891. In the communist era, it was topped by a TV transmitter, pumping out state propaganda. Now it offers a wide glimpse of the city. A view, rather better minus the static.
Getting there
Several airlines fly direct to Prague from a range of UK airports: British Airways (0844 493 0758; ba.com), easyJet (0330 365 5000; easyjet.com), Ryanair (0871 246 0000; ryanair.com), Wizz Air (0907 292 0102; wizzair.com) and Jet2 (0800 408 1350; jet2.com).
Staying there
Apartment 403 (the "Havel Apartment"), Vaclavske namesti 36 (00420 603 111 991; pragueapartment.cz). From €95 per night, room only.
Four Seasons Hotel Prague, Veleslavinova 2a (00 420 221 427 000; fourseasons.com/prague). Doubles from €380, room only.
Parnassus Travel (020 3417 9839; parnassustravel.com) offers two-night breaks at the Four Seasons from £352pp (two sharing), with flights, transfers and breakfast.
Visiting there
Museum of Communism, Na Prikope 10 (00420 224 212 966; museumofcommunism.com). Daily 9am-9pm; 190 Czech Koruna (£5.40).
Museum Kampa, U Sovovych Mlynu 2 (00420 257 286 147; museumkampa.cz). Daily 10am-6pm; CK260 (£7.35).
Petrin Tower, Petrin Hill (00420 725 831 633; muzeumprahy.cz). Daily 10am-6pm; CK120 (£3.40).
More information
Reuse content