I step to the edge of the precipice and peer over to jagged cliffs below. I feel off-balance, but for no good reason; I'm safe behind a wall of glass at Corones, a museum atop the ski resort of Kronplatz, northern Italy. 
For the past 13 years, the legendary climber, Reinhold Messner, has devoted himself to creating a series of six mountain museums across the South Tyrol, an immense project in which he says he wanted to "tell the story of traditional mountaineering", focusing on humans' relationship with peaks.
Over the past few days I've been skiing past this spaceship-like structure, dug into the rockface at Kronplatz, recognising it more for its designer, Zaha Hadid, than its instigator. Today, though, my thighs couldn't take any more downhill action, so I stopped to visit Messner's tribute to traditional Alpinism, where he explores the "250-year-old contest between man and the mountain" through art, philosophy and contributions of pioneer climbers, many of whom were British.
I've always preferred whizzing down mountains on skis to wheezing up them on foot but as I wander through the cool grey tunnels and ramps of Corones, I'm drawn into the intensity of serious mountaineering, marvelling at the extraordinary risks climbers take to scale peaks. 
Peering into a case containing the flimsy boots and threadbare ropes of early climbers, I realise how dramatically the sport has expanded, from a brave few scaling the world's tallest mountains to today's Gore-Tex-clad athletes chronicling their exploits on Facebook. And then there are the hordes of everyday people who, thanks to lighter equipment and better tents are able to ascend those same mountains with little or no experience.
Mountaineering has gone mainstream since Messner's day, bringing profound changes to the landscape and, arguably, the spirit of the sport. In 2012, a photograph of climbers queuing for their turn to ascend the final 40 feet of Everest went viral and illustrated just how popular high-risk climbing has become. Last autumn's proposal to close the world's tallest peak to inexperienced climbers underlines just how far mountaineering has come from being the preserve of elite sportsmen.
"All those people hiring guides are tourists," Messner tells me on the phone from his office in Bolzano, South Tyrol's largest city. "A tourist follows a trail; a mountaineer finds one. A true mountaineer takes responsibility for him or herself and goes where no one else is going."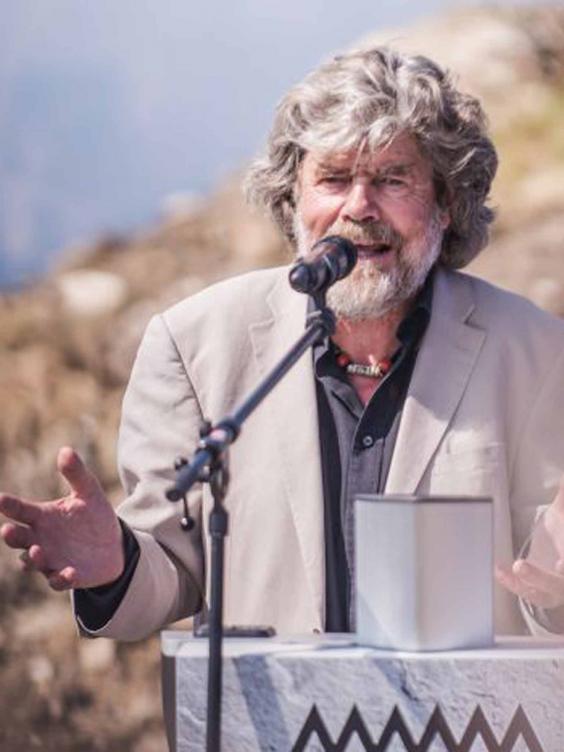 That element of depending on oneself and facing real danger is what Messner believes distinguishes mountaineers from sports tourists. "The only possibility to have a knowledge of both the Earth's nature and our own internal nature is through traditional climbing when you go on your own, far from safety, and encounter the unknown."
Climbing without self-reliance not only has implications for the spirit of mountaineering but for the mountains themselves. "If someone has prepared the mountain for you, you don't develop the same sense of responsibility as when you find your own way," says Messner. "When you are helicoptered in and have an underlying infrastructure, there is a danger that you feel stronger than the mountain. On your own, relying on yourself, you will never feel you are stronger than the mountain, and your respect for the peak grows."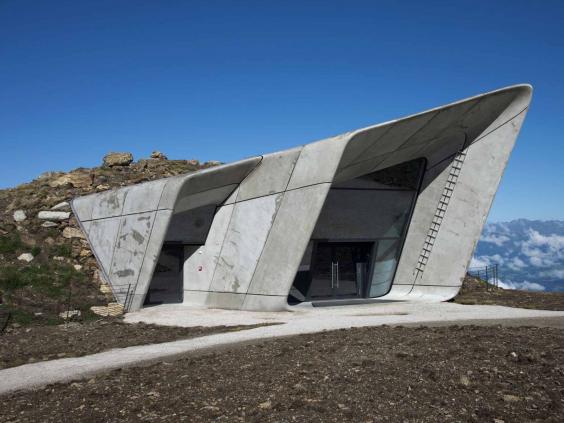 The potential repercussions of not bonding with the mountain are highlighted at Firmian, the largest outpost of Messner's ambitious project. Located just outside Bolzano, the museum is ingeniously integrated into the 10th-century Sigmundskron Castle. After winding my way through turrets and tunnels and clambering up and down steep stairs on a trail that mirrors the challenges of a mountain ascent, I come to a large Plexiglas case filled with "Everest refuses": empty oxygen canisters, aluminium cans, and discarded cooking utensils and pans. The display of waste shows what can happen when mountains are merely a means to an end.
Messner, who in 1980 completed the first solo ascent of Everest – with just a small pack and no supplemental oxygen – and was the first to conquer all 14 "eight-thousanders" (peaks above 8,000m), certainly set a high standard for self-reliance. His "ABCs": "no artificial oxygen, no bolts, no communication" are beyond the reach of most of us. But like many top-level mountaineers, he recognises that failing to reach the top is a fundamental aspect of the experience. The absence of that acknowledgement might be one of the most unfortunate shifts in today's popular mountaineering culture, when "bagging peaks" becomes more important than the journey itself.
On my last day in the Dolomites, I join the queue of brightly-clad skiers waiting to be ferried up the mountain. I wonder if it is time to attempt hiking up, and engage properly with the mountain rather than skimming over its surface. I might only get half-way but I will go alone, and I might find out, in Messner's words, "what happens to us deep inside when we abandon ourselves to the mountains".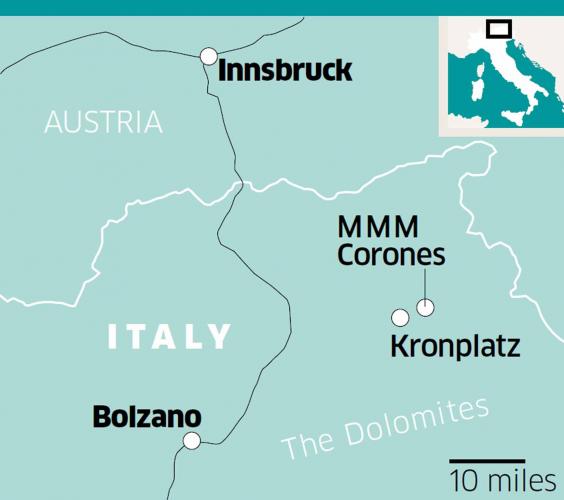 Getting there
The closest airport with UK links is Innsbruck, served in winter by British Airways (0844 493 0787; ba.com) from Gatwick; easyJet (0330 365 5000; easyjet.com) from Gatwick, Luton and Bristol; Monarch (0333 003 0100; monarch.co.uk) from Gatwick and Manchester; and Thomas Cook (01733 224 330; thomascookairlines.com) from Manchester. Trains from Innsbruck airport to Brunico take about 2.5hrs.
Visiting there
The six Messner Mountain Museums (messner-mountain-museum.it) can be visited individually (from €7) or on a combined ticket (€35) that's valid for one year from the date of issue, available at all Messner museums. Not all museums are open all year round.
More information
Reuse content