It's Saturday evening in the little fishing village of Selimiye, on south-west Turkey's exquisite Bozburun peninsula. I'm strolling down a rustic road towards the harbour. The air is balmy, awash with the scent of pine trees. And the fat purple figs, hanging like tiny unlit lanterns from an avenue of bushes, are proving too tempting to resist.
I'm on the outskirts of the village now and there's not a soul in sight. I pass deserted smallholdings, their neat rows of sweetcorn and beans enclosed by rusty tangles of wire fencing. Wooden farm-shacks, loosely boarded-up for the night, rest quietly in the half-light. Their owners have vanished. Only a bearded black billy-goat observes our passing, raising his head for a brief appraising glance before returning to his foragings amid a heap of fallen pomegranates.
Where is everybody? The boat-building yard is a silent forest of planks of pine and mahogany, and a tumble of messy varnish-tins. The line of plastic sandals outside the village mosque stands untouched. It's beginning to feel as though I've been transported to a ghost town.
Then, I start to hear the pulse of rock music, and we round the corner into a blaze of light. A Turkish wedding is in full swing on a clearing by the Coskun Aile tea gardens. A small stage has been set up, backed by a waterfall of white lights like strings of crystals, surrounded by scores of plastic tables and chairs swathed in pink netting.
The place is heaving. The bride is gyrating on the dance floor, her giant meringue dress billowing like a blown rose amid the skin-tight mini-dresses and strappy gold sandals of her girlfriends. Elderly ladies in traditional knotted headscarves edged with beads or sequins sit stoutly at the tables, watching the antics of the scantily clad younger generation with bemused tolerance. Left of centre, a dishevelled bridesmaid, rather the worse for wear, conducts a tearful mobile phone conversation.
So far, this could be any wedding almost anywhere. Until suddenly the band stops, and a doleful wail from the mosque tower penetrates the night sky – a seemingly endless burst of congratulations from the imam. It's so lengthy that respect soon starts to teeter into impatience among the halted dancers. When the last melancholic strains finally fade away, the band strikes up again and the party restarts.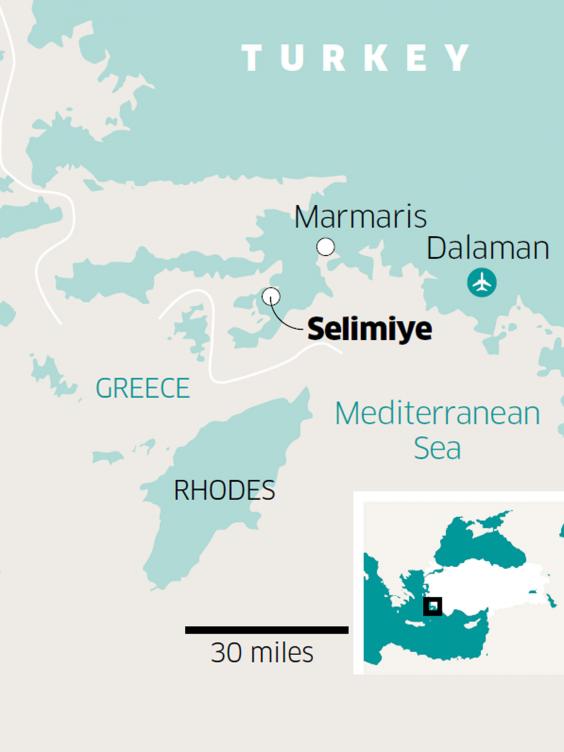 This could only be Turkey, I'm reminded – and rural Turkey at that. The Bozburun peninsula – a glorious wooded land mass studded with stunning coves and beaches – is less than an hour away from the tourist melee of Marmaris, but a world away in character. If you're in search of "real" Turkey, this is the place to come. And vibrant little Selimiye, with its picture-book horseshoe harbour (complete with ruined watchtower) and laid-back family atmosphere, is about as unspoiled as it gets.
As the wedding band launches into an ill-advised Abba set (and a solicitous crowd gathers around the weeping bridesmaid) I continue past rickety shops and houses enveloped in clouds and head for the waterfront. On the way, I pass a book stall, where I spot Turkish translations of Fifty Shades of Grey laid out in sealed plastic envelopes cheek by jowl with the works of Jane Austen. The smell of manti (Turkish dumplings) drifts from a string of inexpensive cupboard-sized restaurants, popular with locals. Wreathed in cigarette smoke, a group of men are playing okey, a domino-like tile game, over steaming cups of coffee and under the curious gaze of a one-eyed cat.
Down on the harbour front, Osman – the "Man With The Golden Teeth" – is waiting for me at his restaurant, Osman's Place (a big blue sign displays his nickname, alongside a gallery of blow-up photos of his gleaming gold gnashers). Baseball-capped, with a big belly and an even bigger smile, Osman has run his quirky restaurant for more than 10 years – now a cluster of tables gathered in a gravelled garden just behind the quayside beneath olive trees hung with fairy-lights, seashells and sponges.
There's a surprisingly wide choice of cafés and restaurants in Selimiye (although Osman's is definitely my favourite). In recent years, an impressive new wooden boardwalk has been built, running along the full stunning sweep of the village's waterfront. Lined with cocktail bars and upmarket seafood restaurants, with additional mooring space for visiting craft, it helps cater for the increasing numbers of yachts and gulets seeking anchorage in Selimiye's harbour. But, apart from at the absolute height of summer, there's still precious little in the way of bustle and bluster in Selimiye. The pace of life remains gentle, the mood relaxed. Stroll along the boardwalk under the moonlight, as the sea laps the pebble beach in lacy frills and you'll feel at peace with the world.
One welcome development for visitors has been the opening of a small scattering of discreet boutique hotels in the village (the absolute opposite, thanks to strict planning regulations, of Marmaris's multi-storey monstrosities). I'm staying at one of the newest, Badem Tatil Ev – a wonderfully stylish little complex of light and airy balconied rooms, set out within tumbling bougainvillea-filled gardens and groves of almond ("badem") trees. Perched atop a small hill at the edge of the village, the hotel has fabulous sea views across the bay – and the terrace of the infinity pool, we soon discover, is the perfect spot for sunset cocktails.
Days drift blissfully by in Selimiye. I soak up the sun, the sea, the atmosphere. I get to know the baker, the fruit and vegetable sellers, some of the fishermen. I feel a part of village life. On the final day of my stay I take the short boat trip across pancake-smooth water to our hotel's tiny private beach. It's sheer magic. The only sounds are birdsong and the merest tinkling of crystal-clear water trickling over pebbles. Giant butterflies float among the pine trees. The occasional fish or turtle glides past. It's all as far from a full-on "resort" holiday as you could hope to find, so if the simple life appeals to you, look no further than Selimiye.
Getting there
Selimiye is two hours by road from Dalaman airport. Linda Cookson travelled with Turkey specialist Exclusive Escapes (020 8605 3500, exclusiveescapes.co.uk) which offers seven-nights' B&B in Badem Tatil Ev from £800 per person, including flights and transfers from Manchester (£850pp from Stansted Private Jet Terminal or Heathrow). A complimentary day at sea on board a traditional gulet is also included in the price.
Reuse content