From the top of a grassy hill, a giant eye constantly stares down at the tiny village of Podgaric. It may sound sinister – like something straight out of Mordor in Lord of the Rings – but it's anything but. This is one of the spomeniks that dot the former Yugoslavia, and it has a stark beauty that's only enhanced by the silent, bucolic landscape surrounding it. The only things moving nearby are a curious farm cat and some sheep. You wonder what aliens would think this ambiguous item meant if they came to Earth and found it sitting here.
Spomeniks are super-sized sculptures (or sometimes whole buildings, like cultural complexes), which are pieces of public art with a clear meaning – normally memorialising events during World War II. This one in Podgaric, 90 minutes south east of Zagreb, is officially the Monument to the Revolution of the People of Moslavina. The huge aluminium plated eye with abstract concrete wings the size of a double decker bus is the work of Dusan Dzamonja. Podgaric was an area of intense partisan activity in the 1940s, where Yugoslav resistance fighters plotted against the Nazis and their cronies, the fascist Croatian government of the time. After the War, in Tito's era, dozens of these spomeniks were constructed across Yugoslavia – though, as the writer Owen Hatherley points out, it was often not him who ordered their construction, but rather locals in the places where these sculptures were erected. Tito was at Podgaric in 1967 to see the opening of this specimen – one of the most striking and popular with visitors. Maps of the spomeniks were even produced at the time and given out to Yugoslav tourists.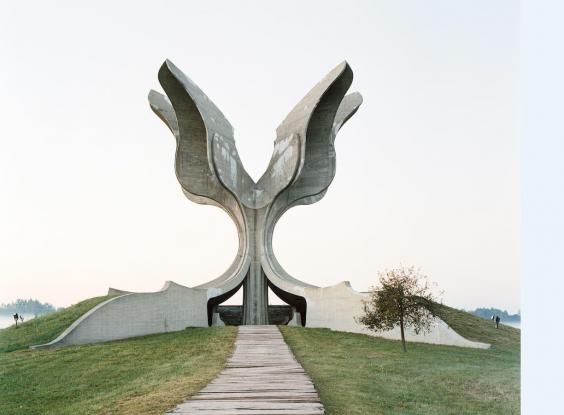 Their locations are, to put it mildly, isolated. Getting to Podgaric means hiring a car and tackling roads that seem unpromising, up mountainous hairpin bends, over unpaved roads and through forests. It's a real adventure; the silence and emptiness of the landscape evokes something of what it must have been like for the partisans back in the 1940s; watching, waiting. You'd need two weeks to see them all, but in a day you can see four of Croatia's key spomeniks.
I started the day in Zabreb at another Dusan Dzamonja spomenik in a park next to Dubrava Central Tram and Bus Station. This chilling, cubist bronze work commemorates the victims of the December 1943 killings and was completed in 1960. Next to Zagreb's Airport in the village of Pleso lies another spomenik, by the artist Marijan Burger. The Broken Ring is from 1978 – a combination of square and circle split at the top are rendered in concrete. Again it's in a park, though this time there's a plaque with the names of resistance fighters who bravely sabotaged the airfield, which was a German base in the war, as well as railway lines and other military infrastructure nearby.
It struck me that no one else was admiring or even looking at any of these wonders. As is so often the case with travel, people flock en masse to see the obvious attractions that appear repeatedly in guide books and on TV. Yet things which are of significant cultural and historical importance, as well as being profoundly beautiful – things like these spomeniks – remain largely unnoticed. Perhaps that is changing though. Belgian photographer Jan Kempenaers photographed many of the sculptures for an art project and book. And the excellent website spomenikdatabase.org is an absolute godsend for spomenik spotters, giving background information, and, crucially, maps and co-ordinates so you can find these often hidden beauties. With more time I'd have loved to visit the spomeniks at Kozara in Bosnia, Kolasin in Montenegro, Nis in Serbia and one at Krusevo in Macedonia.
But I did manage to make it to Jasenovac before sundown to see another of the key Yugoslav spomeniks. Bogdan Bogdanovic's 51-year-old flower is an elegant memorial to the thousands of innocent civilians who died at this, the site of one of the Croatian fascist regime's 1940s concentration camps. The monument towers over the brooding marshland, its gentle heft reflected in a lake. Of all the spomeniks, this one surely is the greatest testament to the power of the human spirit, and the bunches of fresh blooms laid inside the concrete flower bring the history of the place vividly to life. I'm heartened by the sight of other people visiting this imposing monument, too. Now is the time to join them.
Travel essentials
Getting there
Christopher travelled to Zagreb with Interrail (interrail.eu). Interrail Croatia Pass costs €59 (£50). Car hire supported by Visit Croatia. Car hire costs around £20 per day, plus highway road tolls.
Staying there
The Doubletree Zagreb (hilton.com) offers doubles from £62, room only. Crowne Plaza Belgrade (ihg.com) has doubles from £58, room only.
More information
Reuse content