I happen to know the cubic volume of Lake Geneva. This is because a prized possession of mine is a set of hydrographic surveys made between 1886 and 1889 by Monsieur Delebecque of the Ecole des Ponts et Chaussées (Paris's magnificent civil engineering school). This he did with Monsieur Hoernlimann, an officer, I imagine copiously moustachioed, from the Swiss Bureau Topographique Federal. The answer is eighty-eight billion, nine hundred and twenty million, six hundred and sixty four thousand cubic metres.
Only a novel by Julian Barnes could fully capture the comic opportunities suggested here, with rival French and Swiss claims to both lacustrine territory and to scientific method acted out as Messrs Delebecque and Hoernlimann tussled over the plumb-line in a rocking boat in a squall. But the contrast between Swiss and French personalities and the potential for conflict is clear.
The same contrast exists in Clinique La Prairie, the Lake Geneva spa where French concepts of hotel luxury rub up against Swiss concepts of a nuclear medicine laboratory. There is no clear victor. With its various treatments, its pools, lavage, steam rooms, showers, saunas, Kneipp paths and endless bottles of Evian, the Clinique is fortunate to have the ample reserves of Lake Geneva so close at hand. When I was there, I imagine we got through sufficient water to drop the levels of the lake by a millimetre or two.
Clinique La Prairie was founded in 1931 in the lakeside town of Clarens. It's that magical part of the world where you cross "dew-sprinkled grass to heights guarded by snow" as Wordsworth put it. And nowadays you have to cross a lot of black limos with Russian licence plates too.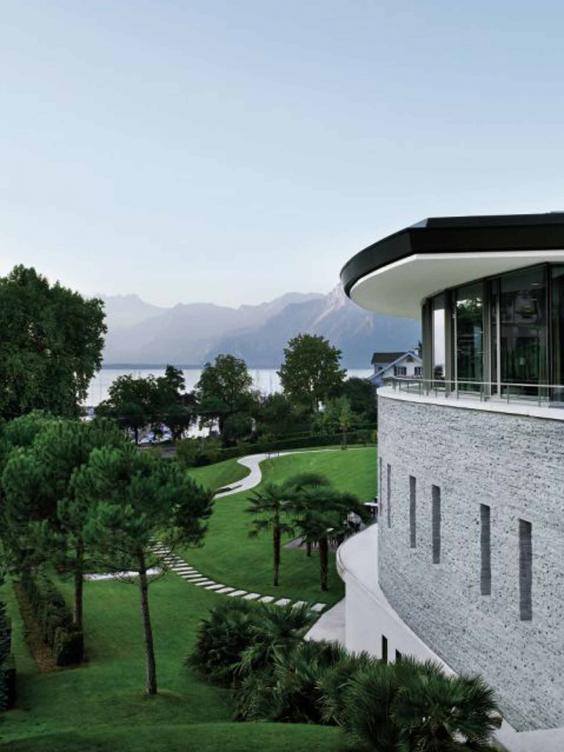 With all the Clinique's associations of fertility and aspirations towards revival and rebirth, it seems appropriate that Igor Stravinsky wrote the pagan Rite of Spring in Clarens. And with the equal associations of morbidity and black humour wherever cranky extensions of life are being engineered, it seems equally appropriate that Vladimir Nabokov is buried in the local cemetery. Speak Memory. If only.
The founder of the Clinique was Dr Paul Niehans, a pioneer of cellular therapy. His local predecessor was the marginally more sinister Serge Voronoff, a Russian whose belief in the restorative power of monkey testicles, grafts of which he inserted into patients' scrotums, enjoyed brief popular success and led him to open a monkey farm on the Italian Riviera run by a retired circus-master. Voronoff, who, despite the monkey glands, died in Lausanne in 1951, was faintly disreputable, but his Swiss successor was more respectable.
The Clinique's present reputation is based on the success of Niehans injecting rejuvenating cells from lambs' foetuses into his patients. Legislation no longer allows the use of foetal matter, but CLP (Clinique La Prairie) serum is a cellular extract still available to the rich and wrinkled and jet-lagged and chronically tanned.
Short-term side-effects are reported to be occasionally stupefying, so close medical supervision is required for several days. Emergency cords hang in even the least likely of places, making the squeamish nervous. (The cosmetics brand La Prairie was a spin-off of the serum production, but this is no longer owned by the clinic).
I have so many low-level complaints, the full resources of a global medi-spa might be required to eliminate even the most basic of them. Insomnia is, for example, a problem. Like Hemingway, I am afraid of going to sleep because I think my soul is going to leave my body if I lose consciousness. Like Proust, if I actually go to sleep, I wake up soon after worrying about whether I can actually get to sleep or not. Then there is stress and the inevitable, familiar lies and deceits about food and drink. Plus, I do a lot of exercise which, so far from making me feel better, just makes me hurt. So, I was curious to see what could be done for me.
But I was not bold enough to try the serum. Instead, I opted for conventional therapies. This is why half an hour before I am writing this, a stocky Thai woman had her white-socked foot firmly in my groin in a manner that was not in the least erotic. This, while she pulled a foot over my shoulder. Other treatments included being cling film-wrapped in a mousse of seaweed, a violent pedicure and a three-hour facial which included electrodes and some terrible puffing device said to encourage oxygenation.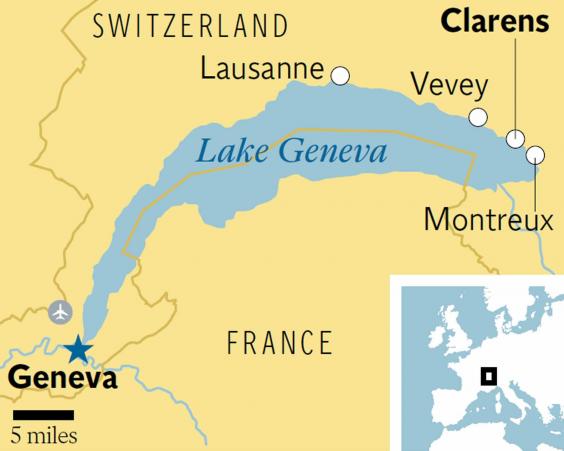 For half an hour one day I lay on a very French technological conceit called Most (Medical Opto Spectrum Therapy), a sort of Star Wars sunbed generating such powerful light that it penetrated black radiation blast goggles, four layers of towel and the back of my hand. My therapist had me on the "Stress Relief" setting, and it seemed to work. Or maybe I was just glad that it had stopped. Of course, dolphin sounds played throughout.
In Switzerland they say that everything which is not forbidden is compulsory and a subtle atmosphere of disapproval was hard to ignore, even as Clinique La Prairie aims not to be judgemental or puritanical with its patients. There is a lobby bar with a handsome terrace, though the bottles are displayed in deterrent style as if they were plasma or disinfectant. The bedroom mini-bars are stacked with water only, and breakfast in your room is compulsory. There is no all-you-can-eat buffet option.
The restaurant is vast, prim and humourless, as if clinicians had designed the first-class lounge in an airport. Food is designed so that penitents feel less penitential. Menus read well, if fussily, but tasted as if lab-prepared, rather like plane food. A lunch, for example, included squash tart with Parma ham chips, blood orange and ricotta. It was followed by roasted John Dory, crayfish bisque, smoothed lentils (a disgusting conception), purple carrots and artichokes. Then a creamy guanaja chocolate finger, praline crispy pastry and lime sorbet. Wine is available if you have the nerve to ask for it.
One meal had dried oysters in a champagne sabayon sauce and roast lobster, each of the shellfish having been mercilessly trucked in from Britanny then pitilessly dried-up in Switzerland. There were so few fresh vegetables, I had to ask for more. A worried-looking nutritionist joined me one lunchtime to explain the virtues of dietary balance. From this sometimes forbidding atmosphere, you need occasional escape. Out of season, the Clarens area cannot be mistaken for Sodom. Undeterred, the first night I walked into Montreux to Funky Claude's, the sole neighbourhood venue of note. There were no more than four other customers. Indeed, rush hour on the Route du Lac meant three cars at a stoplight.
The second night I discovered Le Bout du Monde in Vevey, a splendidly old-school bohemian dive, the sort of place you'd expect to find Van Gogh sipping absinthe through trembling lips. It may have been paranoia, but I felt a drone was following me to this place of disrepute. Nevertheless, the contrast was perfect and I kept returning. So eager was I for diversion, an evening of live trad jazz was tolerated.
On my last day I had lunch with Dr Adrian Heini, the Clinique's director. Obesity, he explained with the gravity of his predecessors measuring the volume of the lake, is nothing to do with enjoying food. It is an ugly compulsion. And the Clinique's services, he continued, are not intended to make you live longer, but to age better.
The atmosphere in Clinique La Prairie is strange. On the one hand, stripped-back luxury in the high-spec spa, on the other, a 1990s hospital. Moreover, the medical building is separated from the spa above ground, but connected by subterranean tunnels. So here's a metaphor of the transaction between beauty and mortality.
The strangeness continues. When so many guests, clients or patients are, one way or another, battling with the consequences of passing time, it seems mawkish to have so many promotional vitrines featuring classic Swiss watches. A set of diamond-encrusted dominoes in one glass cabinet was waiting to inspire someone's short story. And don't you think "Inside" is a terrible name for an in-house magazine for what is essentially a voluntary penal institution?
I like this part of the world and its roll-call of names: Lausanne, Ouchy, Rivaz, Chexbres, and La Tour-de-Peilz. As the Clinique's S-Class Mercedes-Benz rushed me passed them to Geneva airport, I began thinking about Byron and Shelley and the Villa Diodati at Cologny, not far from here. To compete with Mary Shelley's holiday writing project that became Frankenstein, Dr Polidori, Byron and Shelley's travelling physician, wrote The Vampyre. This was, of course, the first and best literary example of scientific intervention in human life: vital fluids being drained from one creature to regenerate another. A local tradition was established.
I felt terrific after a few days at Clinique La Prairie, during which I slept more and ate less than usual. I was very nicely scrubbed, buffed and relaxed. But to what extent these improvements were the result of expensive treatments I cannot be certain. My suspicion is that most benefit came (free) from the magical light and wonderful air of Lake Geneva itself.
Getting there
Geneva is served from a wide range of airports in the UK by easyJet (0843 104 5000; easyJet.com), British Airways (0844 493 0787; ba.com), Swiss (0845 601 0956; swiss.com), Jet2 (0800 408 1350; jet2.com) and Flybe (0871 700 2000; flybe.com).
Staying there
Clinique La Prairie, Clarens-Montreux, Switzerland (00 41 21 989 33 17; laprairie.com). The six-day Revitalisation programme starts at Sfr25,530 (£17,800), all-inclusive. Two-night weekend packages cost Sfr 1,100 (£765) per person, full board including spa treatments.
Visiting there
Funky Claude's, Montreux (00 41 21 962 1212; fairmont.com).
Le Bout du Monde, Vevey (00 41 21 921 40 04; leboutdumonde.ch).
More information
Reuse content