Eurostar is in its 20th year, and at last has started doing something that many travellers would have expected years ago: selling tickets from London to cities in Germany. The tickets include the Eurostar segment to Paris or Brussels and the connecting sector with Deutsche Bahn (German Railways).
The project is starting on a small scale: you have to choose from six German cities. Aachen, Bonn, Cologne and Dusseldorf all start at £49.50 single; Frankfurt from £79.50; and Munich from £97.50. The trip to Munich takes 10 hours from London, but you can reach Aachen in under four.
While Deutsche Bahn has long offered a wide range of destinations with print-at-home tickets, the fact that Eurostar is now selling Germany on its website and by phone is likely to spur a lot more interest in travelling to this fascinating nation by train.
And this is only the beginning. From 2016, Deutsche Bahn will be running direct services to Germany from St Pancras, making a train trip from London to Cologne almost as easy as a journey to Glasgow.
Long term, the political implications are profound. Historically, it's always been easier for Britons to travel around Britain than it has been for us to go abroad. Even foreign air travel hasn't changed this much, what with the time and trouble it takes to get to (and through) the bigger British airports. How will it change perceptions – and political persuasions – once Londoners can get to Frankfurt as easily as they can get to Edinburgh? In countries such as the Benelux states, where local trains criss-cross borders, national boundaries now seem almost irrelevant.
Where to go: Germany by train
Where to go: Germany by train
1/6 Munich

Munich's three Pinakothek Museums cover the entire history of European art

2/6 Dusseldorf

Gehry's Rheinhafen symbolises the creative verve of this upbeat metropolis

3/6 Bonn

If you're here in September, don't miss the Beethoven Festival

4/6 Aachen

Charlemagne is entombed in Aachen's Byzantine cathedral

5/6 Germany by rail

Fast track: high-speed ICE trains form the nation's backbone

Getty

6/6 Cologne

The city's culture is reflected in its colourful annual carnival
Travelling around Germany by train is almost always an uninterrupted pleasure. Tickets are affordable, prices are easy to understand and the carriages are clean and comfy. Interconnecting services are coordinated, even when the state network intersects with private steam trains. And trains nearly always run on time.
Germany's train journeys can be epic, too: from Hamburg to Rügen, along the windswept Baltic coast; from Cologne to Frankfurt, along the steep banks of the Rhine; Leipzig's futuristic Hauptbahnhof, like a scene from Fritz Lang's Metropolis; Berlin's Zoo Station, like a film-noir setting. The German nation was unified by its railways. Maybe that's one reason why its trains and stations still feel such a special part of Germany today.
If you're planning a Teutonic jaunt with Eurostar, the tips below should help you choose the right trip. These six single-ticket destinations comprise a good cross-section of western Germany. And if you'd rather venture further east, to Berlin or beyond, through tickets are already available from Deutsche Bahn (08718 808 066; bahn.com). Ask for a London-Spezial. Prices start from €59 one way.
Aachen
Aachen, the westernmost city, is the gateway to modern Germany, Yet most travellers pass straight through. They don't know what they're missing. A thousand years ago this was the capital of the Holy Roman Empire, and amid the drab post-war architecture some spectacular remnants of that golden age remain. Charlemagne is entombed in Aachen's Byzantine cathedral (00 49 241 4770 90; aachendom.de).
Aachen is a spa town established by the Romans, and is still renowned for its mineral waters. Visit bad-aachen.de for details.
Built on the foundations of Charlemagne's palace, Aachen's medieval Rathaus (00 49 241 4320; aachen.de; €5) is more stately home than town hall. Its walls are adorned with portraits of winners of the Charlemagne Prize for European Unity, including Churchill, Edward Heath and Tony Blair.
A palatial remnant of the Second Reich, the Pullman Hotel Quellenhof (00 49 241 91320; pullmanhotels.com) has doubles from €106, room only, with use of the gym and pool.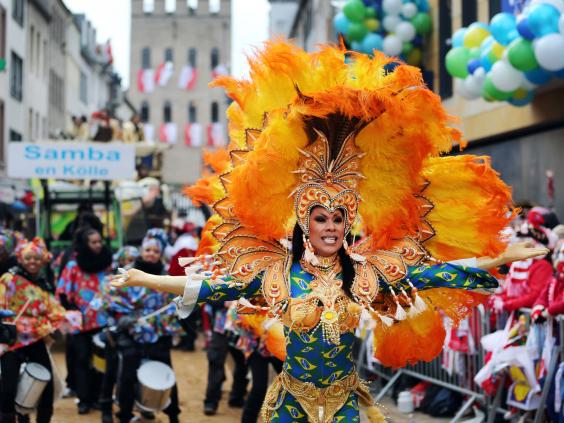 Cologne
Cologne's Gothic cathedral dominates the city skyline – even if you're not stopping, the view from the railway will quicken your pulse.
The city's Catholic culture is reflected in its colourful annual carnival. This year's festivities (koelnerkarneval.de) run from 27 February to 4 March, the highlight of which is "Rose Monday" on 3 March, two days before Ash Wednesday.
The city's distinctive heritage is also echoed in its dialect (which even other Germans often struggle to understand), and in local dishes such as himmel un aad – literally "heaven and earth", actually black pudding with apple and mashed potato.
Meanwhile, the Ludwig Museum (00 49 221 221 26165; museum-ludwig.de; €11) on Heinrich Boll Platz boasts the largest collection of Pop Art outside the United States, as well as works by Marc Chagall and Pablo Picasso.
A contemporary hotel artfully crammed into a water tower, Hotel im Wasserturm (00 49 221 200 80; hotel-im-wasserturm.de) has doubles from €130 including breakfast and minibar.
Dusseldorf
Modern, brisk and businesslike, Dusseldorf isn't the prettiest of cities, but at weekends it is full of life – especially in the atmospheric bars and cafés along the right bank of the Rhine.
It's an energetic place, with a youthful, fashionable population – Königsallee is one of Europe's smartest shopping streets. Gehry's Rheinhafen Centre – a haphazard huddle of high-rise buildings which looks as if it's about to topple over into the river – symbolises the creative verve of this upbeat metropolis.
Close by, in the heart of the redeveloped harbour district, the sleek high rise Hyatt Regency (00 49 211 9134 1234; dusseldorf-regency.hyatt.com) has doubles from €175, room only.
For something more traditional, Dusseldorf's Kunstpalast (00 49 211 899 0200; smkp.de; €5) at Ehrenhof 4-5 has a superb spread of Old Masters, from Giovanni Bellini to Paul Rubens, plus German artists such as Lovis Corinth and Joseph Beuys.
Bonn
For 40 years, provincial Bonn was Europe's most unlikely capital – seat of the West German government throughout the Cold War. When Berlin was reinstated as the capital of a united Germany, John Le Carré's "Small Town in Germany" sank back into relative obscurity.
Far too small and sleepy to feel like a proper capital, it's now resumed its rightful role as a lively university town, in a tranquil setting on the west bank of the Rhine. If you're here in September, don't miss the Beethoven Festival (beethovenfest.de; 6 September- 3 October), an annual celebration of the life and legacy of Bonn's most famous son.
Haus der Geschichte der Bundesrepublik Deutschland (00 49 228 91650; hdg.de; free) at Willy Brandt Allee 14 is a dynamic museum that charts the dramatic history of West Germany. A handsome Jugendstil villa in nearby Bad Godesberg, Villa Godesberg (00 49 228 830 060; villa-godesberg.de) offers double rooms from €160, including breakfast.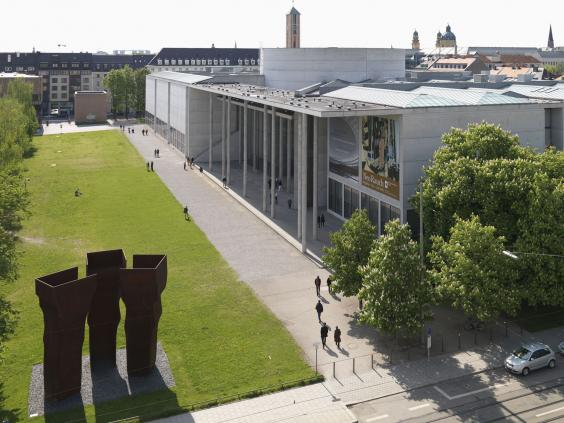 Munich
Never mind the Oktoberfest. For a few weeks each autumn (starting 20 September this year), the city is invaded by rotund men in lederhosen. At other times, Bavaria's capital is a highly sophisticated place. Its three Pinakothek Museums cover the history of European art, and its pedestrianised city centre is full of upmarket shops and restaurants.
However it's the landscape on its doorstep that makes Munich so special. On a clear day you can see the Alps from the city centre, and the lakes of Ammersee and Starnbergersee are half an hour away by U-Bahn.
The Allianz Arena (00 49 89 6993 1222; allianz-arena.de) at Werner Heilenberg Allee 25 is home to Bayern and one of the world's great football stadiums (tours €12). Tickets for 1860, Munich's other team, are a bit easier to come by.
Rocco Forte's five-star Charles Hotel (00 49 89 544 5550; roccofortehotels.com) has doubles from €270, room only.
Frankfurt
Often unfairly denigrated as a boring business destination, Frankfurt rewards visitors who bother to look beyond its corporate downtown. Sachsenhausen is the district to head for if you want to escape the merchant bankers. Beyond the museums on the waterfront (everything from ethnology to photography) are some authentic hideaways. Frankfurt is also home to two hotels in the quirky 25hours chain: 25hours The Goldman (00 49 69 40 58 68 90; 25hours-hotels.com; doubles from €67 room only) and 25hours by Levi's (00 49 69 25 66 770; doubles from €71).
Adolf Wagner (00 49 69 61 25 65; apfelwein-wagner.com) on Schweizer Strasse serves traditional apple wine (a delicacy in these parts) in a cosy wood-panelled room that feels like a throwback to the 19th century.
Works by Francis Bacon, Roy Lichtenstein, Robert Rauschenberg, Gerhard Richter form a stunning permanent collection in Frankfurt's Museum of Modern Art (00 49 69 212 30 447; mmk-frankfurt.de; €10) at Domstrasse 10.
Reuse content