Venice is high on many a traveller's must-visit list. Whether you visit in the height of summer or depths of winter, you certainly won't be the only one winding your way over the waterways, through the cobbled streets, and up and over the little bridges. Yes, it's full of visitors – thanks in part to the many cruise ships that dock here each day – but it is possible to get away from the usual tourist traps and sample a taste of local life. Here are a few tips for where you can mingle with the Venetians, share their city and dine at their tables.
"The 'ghetto' is a must-see destination for seekers of the true spirit and diversity of Venice," writes local Stacy. Our first restaurant recommendation lies in the heart of this popular area of La Serenissima, on the Campo Ghetto Nuovo. Ristorante Upupa is open for business from early in the morning until 11pm, making it a great spot even for breakfast. Local Alessandra is a big fan of their tagliatelle kneaded with chocolate and dressed with nut pesto, and also recommends their delicious fish dishes.
Given its location, it's no wonder that Venetian cuisine is well known for seafood. One of local Annamaria's seafood tips would be Osteria Al Cason, which specialises in fresh and locally caught fish. She heartily recommends the raw red snapper, shrimp and clam appetiser, the spaghetti Buranella, and prawns cooked with white wine and rosemary.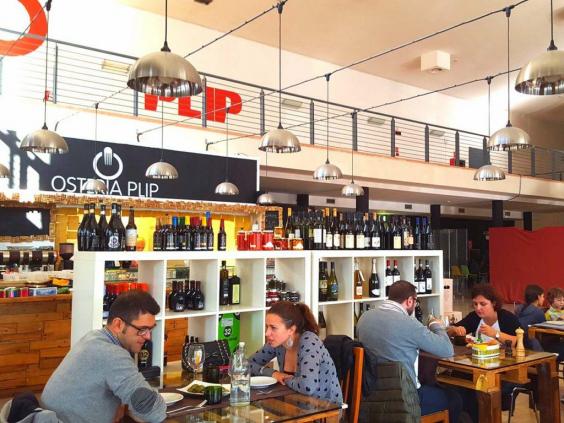 Al Cason is a great date spot, and so is Oltre il Giardino in Mestre. Their small kitchen serves daily fresh, organic dishes in a retro and warmly lit decor. Cuddle up. Another option for organic dishes would be local Nicoletta's favourite: Osteria Plip, where everything on the menu is delicious and seasonal.
When Nicoletta is looking for a place to eat typical Venetian dishes in a friendly atmosphere in the center of Venice, Cantina Do Spade is the first name to come to mind. What should you order here? Any of the fried fish/vegetable dishes and the seasonal risotto for sure.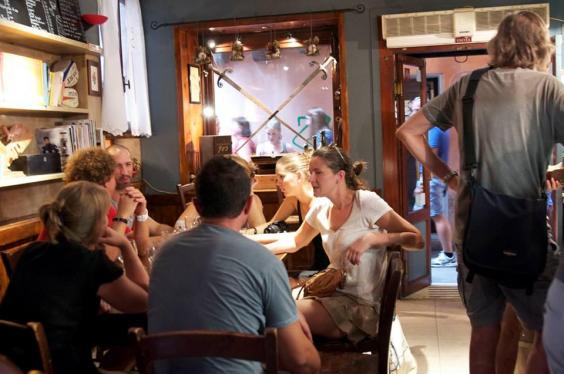 What would a visit to Venice be without dining all'aperto (outdoors) along the canals? Local Stacy and her chef husband love lunch at Casa Bonita. Settle down on the terrace by the canal, and order whatever the waiter recommends. Or stick with Stacy's favourites, Antipasto Big Bonito, a delectable, predominantly raw fish appetiser. Follow this with spaghetti alle vongole (spaghetti and clams) and then the grigliata mista di pesce (mixed grilled fish), and end it all with a tasty tiramisu.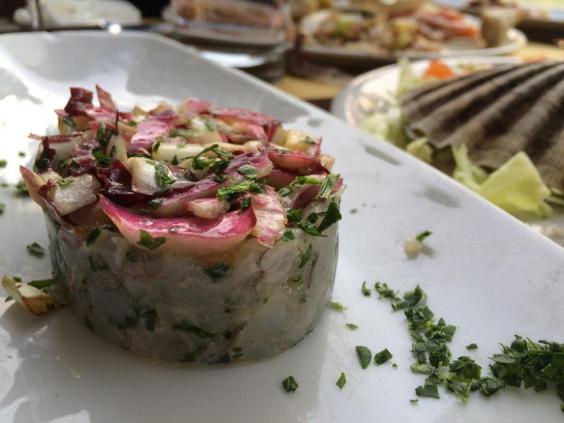 If the weather allows, Al Timon takes dining all'aperto one step further, with tables set up on two boats on the canal. It is the ideal place for an aperitif, thanks to its huge selection of wines and cicchetti, small Venetian snacks. Tip: go at sunset for the best views over the canal.
If you're not looking to sit down and would rather have a quick snack, the most famous street food you could try is mozzarella in carrozza. Be warned though, this "mozzarella in a carriage" is highly addictive, says local Enrica. Her boyfriend can't help but get one whenever he's near the Rialto Bridge. Though it's not a typical Ventian dish, Rosticceria Gislon is well-known for it.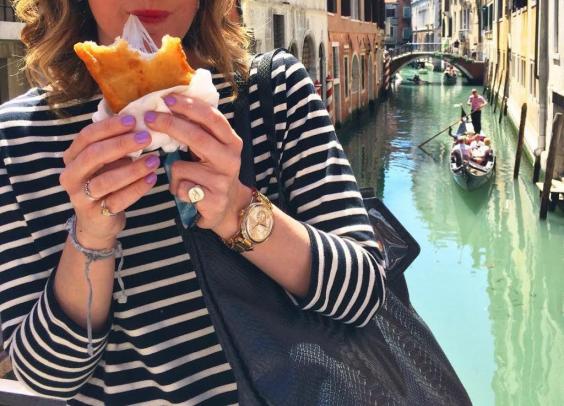 Spotted by Locals is a series of apps and blogs available on iPhone and Android devices with up-to-date tips by locals in 60+ cities in Europe and North America
Click here to view Italian tours and holidays, with Independent Holidays.
Reuse content