Arriving in Chioggia at the end of our fourth day I was caught up in Norwegian celebrations. The majority of cyclists on this Italian route are couples from Stavanger and Oslo who enliven meal times with hearty choruses of "O Tannenbaum". Now, having avoided falling into the picturesque canals of Chioggia, they stowed their bikes and made immediately for our boat's dining room to continue the celebrations.
It's still a mystery to me why cyclists are so friendly. My companions come from Norway, Denmark, North America, and New Zealand but, from the start, they have treated me like a family member just because I'm cycling from Mantua to Venice on an orange bike identical to theirs.
We're all sleeping and eating on board Ave Maria, a new purpose-built canal boat commissioned by Girolibero, the Italian company that leads cycling tours through the Veneto. Over five days our route has covered 230km. Every night we've been tucked up in 20 compact cabins with our cycles stored in special racks. It's a great way to see the birdlife of the Po delta and the Brenta and Adige rivers, as well as cities such as Chioggia, at the southern end of the Venetian lagoon, which I'd never visited before.
I join our group for a walk around Chioggia led by Martina, our tour guide. Martina takes us through the fish market (the biggest in northern Italy) and warns us about the locals. "The people here are slightly eccentric. Goldoni wrote a famous comedy about them, The Scuffle in Chioggia. You must never say that Chioggia is like Venice. They don't like Venice. They were here first."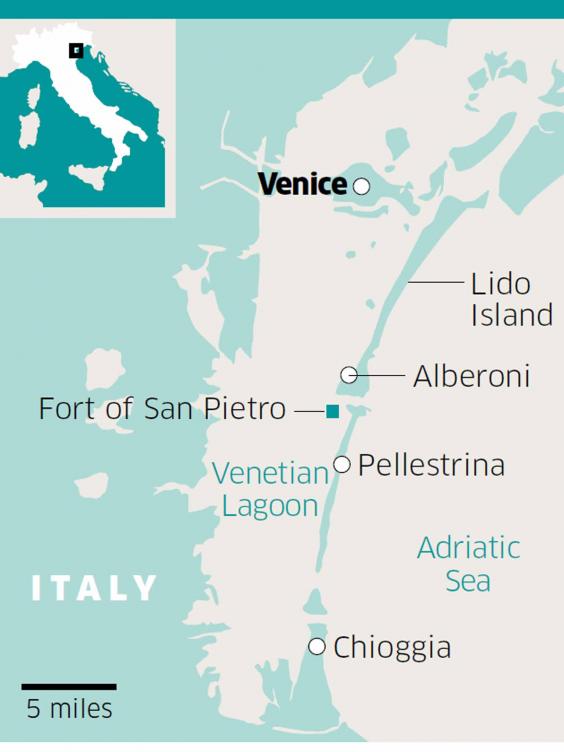 Say it or not, Chioggia is like Venice. It has canals and palazzi and rioterras and a cathedral designed by the man who built Santa Maria della Salute. It even has a very small Venetian lion on top of a column (known locally as "the cat" because the sculptor got the dimensions wrong). Chioggia is what La Serenissima would be like today if it hadn't become Italy's major tourist attraction. Instead of gondolas, Chioggia has fishing boats that moor in the centre of the city under a swarm of noisy seagulls. And unlike Venice it has a few narrow streets of traffic that arrives here across bridges from the mainland and gets horribly snarled up, horns blaring. ("As bad as Naples," claims Martina.)
Chioggia also has history. We're taken to meet Dr Luciano Bellemo, a jovial historian with eccentric teeth who is custodian at the clocktower of Chiesa San Andrea. The interior of the church is unusual, with plaster hacked off to a height of four metres (the result of salt seeping up from its foundations) but its Torre dell'Orologio contains the oldest working clock in Europe, constructed in 1386.
Two floors up Luciano shows us cupboards stuffed full of bundled vellum documents. He unfolds one and pushes it into the hands of a couple from Seattle. "This dates from the mid 15th century," he announces. "Before Columbus found America!" Other pieces of history are passed around for examination. In most countries these manuscripts would be behind glass but here they're just bundled into unlocked drawers. We're led to the fifth floor (past a picture of local saint Pope Pius X) to find the clock itself, which looks satisfyingly ancient, with two large white rocks employed as counterweights. Luciano encourages one of the Norwegian ladies to set the mechanism going by raising one on its rope. It ticks away obligingly.
Then to the belfry for a tremendous view of ancient Chioggia filling every inch of this tiny island and vistas north to the Alps. Suddenly 10am sounds and the peal of bells is deafening. Most of my fellow cyclists head rapidly downstairs, fingers in their ears, but I can't resist waiting till last and shouting: "Sanctuary!" Dr Luciano waits amiably. I doubt I'm his first guest to channel Quasimodo.
Back at Ave Maria it's now time to island-hop to Pellestrina, one of the long spits of land that act as a barrier between the Venetian lagoon and the Adriatic. She's a reliable, low watercraft, plodding along at 13kph (8mph). Captain Luciano, who also waits at table in the evening, drops us just south of the village of Pellestrina, where we offload our 20 orange bikes and set off behind Martina along the sea wall, while the Ave Maria heads for the Lido, where it will pick us up this afternoon. In a brightly painted village square Martina calls a halt in case anyone wants ice cream. I take a look at the church of Ognissanti which also has exposed brickwork, but has decorated its naked pillars with temporary tabards of red flocked wallpaper.
Heading on north in our orange convoy we pass fishermen working on their boats. Overnight huge prow-mounted conveyor belts have scooped up clams from the lagoon and now they're being parcelled up in bags for market. The ragazzi find it hilarious when several women dismount to photograph them at work.
And further on to the Venetian Fort of San Pietro in Volta, built to guard the lagoon from Genoese and Turkish attack. The going is very easy: few cars and no gradients whatsoever. Finally we reach the ferry for Lido Island and pile on board: 20 bikes, several cars, two buses and an ambulance for the 10-minute journey to the Lido village of Alberoni. Tonight we will get our first sight of Venice. In the past I've come here by car, plane and train, but this time the travelling will have been as much fun as the arrival.
Cruising there
Adrian Mourby travelled as a guest of Girolibero (00 39 0444 330724; girolibero.com) which offers seven-night cruises between Mantua and Venice, and Venice and Mantua, from €1,055pp (£834) based on two people sharing, including full board, tour leader, cycles, guided visits and transfers, but excluding flights.
Reuse content