Earlier this year, the BBC series Hotel India shone a spotlight on what is probably India's most famous hotel, the Taj Mahal Palace in Mumbai. It is renowned for its Victorian Gothic architecture, its prime position overlooking the Gateway of India, its impeccable service, and the saturation of luxury that contrasts so cruelly with the poverty that swirls around outside.
It is rightly celebrated, but if you look a little closer, you'll see tastes in the city are changing. Innovative boutiques such as Bombay Electric, Bungalow 8, and Design Temple cluster around the hotel with Pizza Express and Le Pain Quotidien outlets, signalling the eclectic and contemporary tastes of affluent young Mumbaikers. And, just around the corner, there's Abode – a new boutique guesthouse that would look quite at home in London or or New York.
The Bed
Previously the Regency Inn, Abode has seen its rooms thoroughly renovated. However, the 115-year-old building in which it sits demands that rooms remain on the cosy side. Australian designer Sian Pascale has worked her magic on the interiors, adding colour and texture to the bright white canvas with a considered vintage-modern Indian hybrid style. This means you'll find antique wooden furniture assembled with old Bakelite switches, mismatched patterned frosted glass panels in salvaged wood bathroom doors, framed vintage Indian books, polished concrete walls and colourful patterned floor tiles.
Beds are small but plump, bathrooms minuscule but fully kitted out with anything you might need (including ear plugs, becuase the rooms at the front are on the noisy side). Basic rooms have a shower but toilets are shared. The attention to detail that has gone into the rooms is so thoughtful that their size is merely a quibble.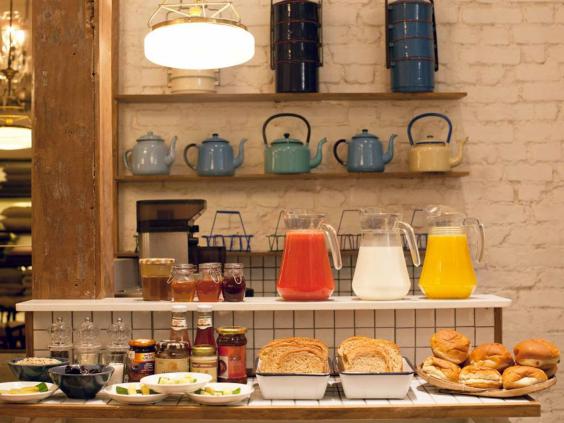 The Breakfast ...
… is similarly modest. Coffee, chai, and juice are supplemented by toast, curd, fresh fruit and egg bhurji (scrambled, with spices). It's served in the supremely stylish lobby (rose tinted mirrors, exposed brick walls, low chrome ceiling fans and Fifties-style fittings), underneath a remnant from the Regency Inn – a 200-year-old chandelier.
The Hosts
Abedin Sham is the son of the Regency Inn's owner, Essa Sham, and was responsible for its transformation. After several years in Australia, he returned to his home city with a new vision for the family business. He is now mulling over future locations for the Abode blueprint.
The family is no longer on site, but you're looked after by familial hosts Yuvraj and Asawari, who are usually found in the lobby and can help with anything from airport transfers to personalised walking tours and eating recommendations.
The Weekend
Abode is in Colaba, at Mumbai's southern tip – an area favoured by the British Raj whose legacy can be identified in the imposing architecture of the Taj Mahal Palace, Gateway of India and Prince of Wales Museum. A hand-drawn map of the area is offered, noting landmarks, shops, galleries, and restaurants and bars worth visiting. Abode can also arrange more esoteric treats: time with the city's best astrologer, cricket match tickets, or a behind-the-scenes Bollywood tour.
Make time to wander through the Oval Maidan to watch dozens of cricket matches taking place in this palm-lined park, sandwiched between grand Gothic edifices on one side and peeling Art Deco buildings on the other. Strike out to see Dhobi Ghat, the laundry district, as well as the Victorian Chhatrapati Shivaji train Terminus and Chowpatty Beach at sunset. For a day by the sea (useful if you happen to be catching a night flight), Juhu Beach is a sprawling stretch of sand close to the airport.
The Pit-stop
Café Mondegar (00 91 88820 90850) and Café Leopold (00 91 22 228 28185) are institutions that merit at least one Kingfisher in each. Once watered, wander around the corner to Bademiya (00 91 90 229 10466) on Tullock Road. Even if you're not hungry, the scent of grilling kebabs from this unassuming stall will tell you otherwise. For finer fare, Trishna (00 91 22 614991; trishna.co.in), in Fort, is widely regarded as the city's best seafood restaurant, although Mangalorean Mahesh Lunch Home (open for dinner, too) would contest that (00 91 22 228 70938; maheshlunchhome.com).
The Essentials
Abode, Lansdowne House, M B Marg, Apollo Bunder, Colaba, Mumbai, Maharahstra, India (00 91 8080234066; abodeboutiquehotels.com). Double rooms start at R4,109 (£42), with breakfast and wi-fi.
Reuse content