Earlier this week you may or may not have noticed a big blue house, reminiscent of the house in Pixar's Up, floating down the Thames being reported in the news. It was papped breezing easily past the Houses of Parliament, pretty unmissable to the general public.
The house was property of AirBnB, the online site that matches holidaymakers with quirky, unusual accommodation all over the world. Instead of staying in a generic hotel, why not stay with an actual local in the location of your choice and get the extra benefit of insider knowledge of your destination? It's been a runaway success in the travel sector.
So, they built a house and put it in a boat on the Thames. And it's delightful.
I had the pleasure of staying there with a friend on 19 May. We headed down to Canary Wharf to pick up the keys from our host, and were bowled over with excitement. It'd be easy to enough to dismiss the whole thing as a gimmick, but as we stepped through the front door, we realised that this was a fully functional, cute as hell little house.
12 best hotels in London
12 best hotels in London
1/12 The Hoxton, Shoreditch

The concept at this award-winning hotel is affordable accommodation with essentials from milk to Wi-Fi included, whilst luxuries like chocolate through to champagne at supermarket prices from the lobby. Expect simple, but chic rooms, but with an emphasis on sleeping well, thanks to important touches like excellent mattresses and duckdown duvets. A breakfast bag is delivered to your room and if you're still peckish, you can still eat pretty cheaply at Hoxton Grill restaurant. Book early for the best prices, as it works on an easy-jet style pricing system. The Hoxton, Holborn recently opened too, and is fabulous. Doubles from £69 hoxtonhotels.com

2/12 The Landmark London, Marylebone

Like many hotels built at the end of the 19th century, this was created around a large central courtyard, allowing horse-drawn carriages to drop guests in the heart of the property. That courtyard, now covered with a glass roof, remains the beating heart of this five-star hotel, providing a stunning setting for the Winter Garden restaurant. The comfortable, roomy bedrooms either overlook this courtyard or the street and you'll be hard pushed to find a better cocktail than in the Mirror Bar. Doubles from £300 http://www.ghotw.com/hotel/home/landmark-london.htm

3/12 Twenty Nevern Square, Earl's Court

This Victorian townhouse hotel has 20 individually designed rooms with influences that range from the Orient to Europe. Expect marble bathrooms, hand-carved furniture in contemporary and chic rooms and an excellent location for Earls Court Exhibition Centre and the tube station. The smaller rooms are as good as it gets price-wise for a four-star hotel in London with the same credentials and the hotel overlooks a pretty garden square. Or if you have more to spend, get a room with a four-poster bed or terrace. There's no restaurant but you get a full breakfast and sandwiches are also available to order throughout the day. Doubles from £120 www.20nevernsquare.com

4/12 St Martins Lane Hotel, West End

When this opened in theatre district in the late 80s, it was the toast of the town. The hip and witty decor, including gold tooth stools and giant chess pieces in the reception area, still attracts the in-crowd through the doors. But it's not only the super-cool who should visit this urban hotel. Asia de Cuba's fusion cuisine is superb, the bar is famed for its cocktails, and many people fall in love with the stylish white bedrooms, with their floor-to-ceiling windows and sleek bathrooms complete with toiletries from the spa at sister property Sanderson. Doubles from £289 https://www.morganshotelgroup.com/originals/originals-st-martins-lane-london

5/12 Myhotel Bloomsbury, WC1

Ideal for business stays, romantic breaks or family getaways, this classic Georgian townhouse hotel manages to cater for everyone. But the real stand-out point of this 78-roomed hotel is that despite being only a short walk away from Oxford Street and Soho, Bloomsbury is both quiet and pretty, a real haven when you want to escape the hustle and bustle of inner city life. Other things in this hotel's favour are that it's well-priced, tastefully decorated with crisp lines and lots of light. Gail's Bakery & Kitchen is a great retro-style diner that does excellent coffees and light meals. Doubles from £129 www.myhotels.com/my-hotel-bloomsbury/

6/12 London Hilton Metropole, Paddington

This place, which is conveniently located opposite Edgware Road tube station, is vast and there are often huge conferences taking place. But you still get a warm welcome and everyone from families to corporate visitors provide a loyal fan base. Fiamma, the ground floor restaurant is good, although Minako at the Met, on the top floor, needs attention, which it is apparently getting under new management. Bedrooms are comfortable and the deluxe ones are located on the higher levels for great views. Staff have a can-do attitude and nothing is too much trouble. Doubles from £157 www.hilton.com/londonmet

7/12 Claridges, Mayfair

Hotels don't get more luxurious, memorable or indeed famous, than this, with everyone from aristocrats to film stars and artists to statesmen still using it as their base for visits to the capital. Designed by the same architect that later built Harrods, it was given an Art Deco makeover in the 1920s. Suites are breathtakingly beautiful and the 203 rooms are all unique, boasting levels of comfort that most people would only dream of. But don't expect stuffiness – hospitality here feels sincere and friendly. Double rooms from £425 www.claridges.co.uk/

8/12 Nadler Kensington Hotel, Kensington

You'd think, from the address and grand facade and reception that this is a top-notch boutique hotel. Until, that is, you check the prices. The secret of the 65-roomed, four-star hotel is that there's no restaurant, bar or gym. Thanks to the lack of these costly overheads, the concept here is providing chic, streamlined - and most importantly affordable - accommodation in central London for people who don't want to pay for frills they don't need. Another hotel has recently opened in Soho. Doubles from £166 http://www.thenadler.com/kensington.shtml

9/12 Crowne Plaza, The City

Crowne Plaza hotels always have good facilities but are sometimes lacklustre in style, whereas this one boasts personality, glamour and an excellent location. Indeed, the seven-storey listed building is just north of Blackfriars Bridge and as such, well-placed for both the South Bank the City and not surprisingly, attracts mainly business people. Staff are friendly and efficient, facilities are great and all 203 rooms are modern and comfortable, including two fabulous British designer inspired suites. The Chinese Cricket Club is fabulous and a new rooftop restaurant and bar is launching in 2015. Doubles from £199 www.cplondoncityhotel.co.uk

10/12 Church Street, Camberwell

Say goodbye to dreary, corporate hotel rooms and check yourself into this is fun, atmospheric and spirited hotel, with a Spanish influence and a wonderful sense of optimism. Each bedroom, of which there are 31, are decorated with vibrant Latin colours and throws and the bathrooms (some of which are ensuite and some shared) are colourful and cheery, as well as being well-maintained. We also like the acclaimed Spanish restaurant Angels & Gypsies and new cocktail bar. Breakfast is organic and delicious. There's no tube nearby, but it's only a short bus ride away from Borough Market, Tate Modern and the South Bank. Doubles from £90 churchstreethotel.com,

11/12 The Ampersand Hotel, Kensington

Located just next to South Kensington tube, this vibrant and stylish boutique hotel has been named by TripAdvisor as the second-best new hotel in Europe and eighth most-highly rated in the world. It is fresh, quirky, welcoming and fun – no stuffiness or formality at all. The smaller double rooms are on the small side, but bigger ones are great and include great attention to detail. Mediterranean restaurant Apero is fabulously decorated with good value, delicious sharing dishes that make a trip to this hotel alone worth the visit. Doubles from £216 www.ampersandhotel.com

12/12 Browns Hotel, Mayfair

Conveniently located between Piccadilly Circus and Green Park tube stations, this luxury Mayfair hotel offers stylish interiors and an impressive modern art collection. Attention to detail is incredible, staff are lovely and Mark Hix restaurant serves outstanding British fare. Former guests include Rudyard Kipling and Agatha Christie, although they'd hardly recognise the hotel, following its £24m refurbishment in 2005. Consisting of 11 townhouses, there are 117 individually designed rooms, including 29 suites, our favourite of which is the Hellenic. Suits the young and old alike, and families too. Doubles from £390 www.roccofortehotels.com
It had full electricity, running water, a bathroom with a posh double headed shower and flushable toilet. It had two bedrooms, each with double bed and soft plush pillows. The living room was decorated to perfection, with a mustard yellow and nautical themes throughout including a vintage eyeglass on the coffee table, old school Penguin books with sea related titles on the side cabinet. It looked kitsch with a slightly Scandinavian vibe. There was even a steering wheel – is that correct nautical terminology? – next to the kitchen sink.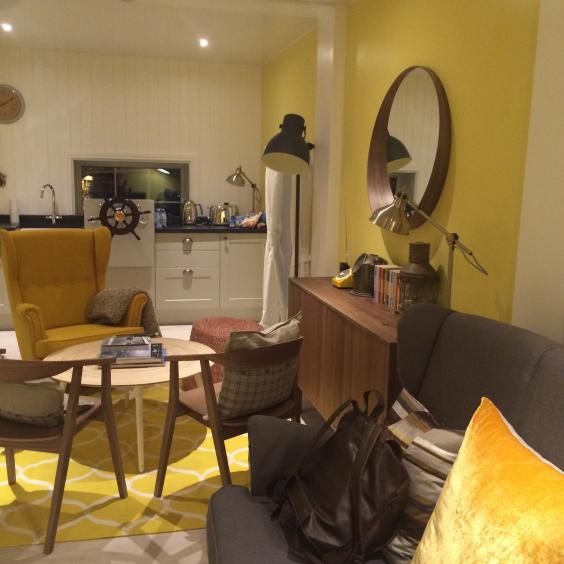 My friend and I settled in for the night, cotching in the living room in our pyjamas with blankets and a duvet and snacks to keep us going. Every five minutes we'd peek out the window at the buildings across from our humble abode. The juxtaposition of the big corporate tower blocks and our little cottage was mesmerising. It was strange to see people walking around their office floors at 1am, while we were winding down getting ready for bed.
It was an odd nights sleep. Firstly it was pretty cold. Despite the electricity, there wasn't much in the way of heating, so I slept pretty layered up. I also slept on high alert. Despite the presence of security to make sure no-one commandeered the boat, I was conscious of tourists or passers by trying to get into the garden to keep a closer look. Also being on water, every so often we'd rock or bump into the dock, making a noise prompting me to sit straight up in bed and assess the situation. Luckily nothing ever came of it.
Waking up the next morning was wonderful. It was a beautiful sunny day and sunlight streamed in through the windows and I sat in bed watching people head off on their morning commute to the Wharf.
It was an excellent experience spending the night on the house boat, and I'd definitely consider having a holiday adventure staying somewhere that wasn't just the norm hotel room. Who knows, maybe big ol' houses on the Thames could be a plan at solving the housing crisis that plagues London. If so, sign me up for a one bedroomed number please.
On 22 May a lucky competition winner will actually get the chance to spend the night on the house boat, as well as extra treats such as dinner in London and an on-board massage. To see the original listing, and other houseboats up for rent across the world, visit https://www.airbnb.com/night-at/floating-house.
Reuse content