Well, I know this is pretty obvious, but you really can smell the sea in Ramsgate. What with it being on the coast staring out towards France and everything. And that smell – a delicious, salty aroma with a hint of 99 ice cream that immediately brings to mind family holidays viewed from the back seat of a Ford Cortina – is definitely no bad thing.
So, once I'm in my room at the Albion House Hotel, I fling open my windows and take a large, deep, contented breath. In one direction is the beach, which seems tantalisingly close, just down the hill. In the other, the Royal Harbour, with little boats bobbing around and an arcade of shops on one side.
Albion House opened late last year and is owned and run by a young husband-and-wife team, Ben and Emma, she an architect, he an electrical engineer. The building dates back to 1791 and is furnished with French and English antiques, but doesn't feel at all stuffy.
A young pre-queen Victoria convalesced right here in the 1830s when she had typhoid. In more recent years, it was the seat of Ramsgate town council – in fact its Town Bar used to be the council chamber. The bar acts as a rather charming focal point, where you can sit and read the papers in a comfy armchair. There's a piano where, a couple of times a month, you might find Jon Nickoll, who also plays at the Savoy Hotel in London. On the other side of reception is the dining room. I ate there on a quiet Tuesday night, eavesdropping on a bubbly family who talked about friends "up north", which turned out to be Ipswich.
I'm quite prepared to criticise menus where necessary, but there's really nothing to quibble about here: my prosciutto-wrapped asparagus, hollandaise and poached egg starter, and smoked haddock main are both delicious. Gamely, I plough on, finishing with a chocolate fondant but gluttonously wishing I'd plumped for the Kentish cheeseboard instead.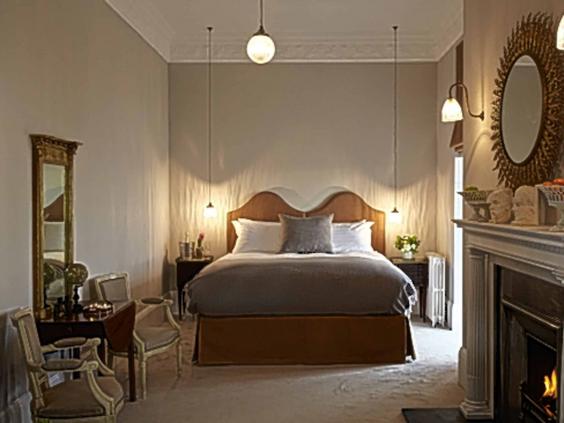 Location
It's a 15-minute walk downhill from the train station, or a quick hop in a taxi. Once you're at Albion Place, it's just a short stroll down to the long, sandy beach in front of the hotel, and five minutes to the harbour, with its shops and cafés in the arches (head to Peter's Fish Factory on Harbour Parade for the obligatory fish and chips). Close to the hotel you can explore the Ramsgate Tunnels (ramsgatetunnels.org), which reopened last year. In the Second World War, thousands sheltered there from Luftwaffe air raids.
A short walk back into town brings you to the quirky Micro Museum, dedicated to all things computer related. And, if the weather's up to it, you can take a boat trip to learn about the Royal Harbour's history, or see the seal colony on Goodwin Sands. If you want to earn that ice cream, walk along the coast to Broadstairs then take the bus back, and it's only 10 minutes by train to Margate, with its Turner Contemporary gallery and Dreamland amusement park.
Comfort
There are 13 rooms, with an accessible option opening soon (there's no lift to get you to the higher floors). My room, No 7, has lovely sweeping views. The beds are made in Devon, with a lambs' wool mattress that is supremely comfortable; I could have slept for ever, had it not been for the squawking seagulls early the next morning. (Were the earplugs by each side of the bed a clue?)
Overall, it's a blend of contemporary-antique, with a luxuriously soft carpet that I wanted to lie down and stroke, while the marbled bathroom, with separate bath and rainhead shower, seemed as big again as the bedroom. There's free wi-fi, HD television and coffee and tea if you want a lie in, or need something to throw at the seagulls.
All rooms have sea views, except the accessible one and No 4, while Nos 6 and 10 have a shower only: important to know if a good soak in the tub is part of your break.
Travel essentials
Albion House Hotel, Albion Place, Ramsgate, Kent CT11 8HQ (01843 606630; albionhouseramsgate.co.uk)
Rooms ****
Value ****
Service *****
Doubles start at £165, including breakfast
Reuse content