Despite being a chain (Andaz is part of the Hyatt group), the hotel manages to balance the intimate and grandiose with great care. The beautiful redbrick Victorian building was originally home to the Great Eastern Hotel, which opened in 1884, one of London's original railway hotels, and shares architects with the very same who designed the Houses of Parliament.
While you won't find Prime Minister's Questions taking place here, what you will find when you enter the lobby is a selection of glowing iPads, punctuated by welcoming staff offering everything your travelled stomach desires, with a lounge and refreshments available to enjoy as you check-in.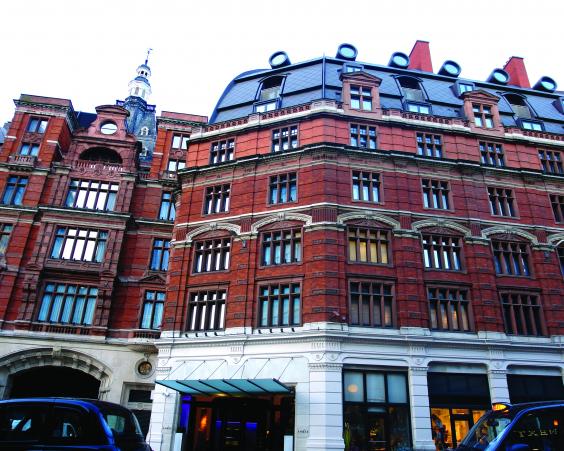 The Restaurants
Dining options are plentiful at the Andaz, with three bars and three restaurants to choose from. The Catch Champagne Bar & Lounge offers a wide selection of cocktails, wines, and yes, champagne. A cosy, informal space, an Old Fashioned with Maker's Mark will set you back £11, while a bottle of Italian Merlot starts at £23. The bar also serves a selection of fine bar food, with the crispy pork belly, beef sliders, and crispy duck being particularly tasty options. Breakfast is best taken at Eastway, complete with a Bloody Mary station - the perfect wake up treat.
The Room

The Andaz boasts 267 rooms and suites, four of which that are unique and unlike the rest. Inviting local artists, the hotel has embarked on its ambitious 'A Room With A View' project, bringing the stories and charm of east London straight into your room. Hand painted by local artists, Patrick Vale (of Empire State of Pen fame) and Paul Davis, a wonderfully intricate and detailed map of London's east side covers the 'One Day Walk' room. Combining the city's historic landmarks with its modern innovations, we're given a hotel experience that's sure to inspire both the artist and the traveller.
Excluding the room's main attraction, the king size bed is perhaps not quite as soft as some might prefer, but it is definitely large enough for even the most outstretched sleeper and their partner. Equipped with a large-screen television, Bose iPod dock (iPods are available on loan if you don't have one), and an ergonomic work desk with a Jacobson lamp, you can transition between work and pleasure at your convenience.
The bathroom is one of the room's best features, including a standalone shower which is guaranteed to wake up the weariest of travellers, as well as a bath which looks good enough to sleep in. Tiled from floor to ceiling, and featuring an eco-friendly lavatory and yukata robe, you can revive yourself just in time for dinner after a long day of business meetings or exploring east London.
Wi-fi, local phone calls, minibar snacks and soft drinks, and 24 hour access to the Andaz Health Club are all complimentary.

Travel Essentials

Andaz Liverpool Street London
40 Liverpool Street, London, England, EC2M 7QN (+44 207 961 1234, london.liverpoolstreet.andaz.hyatt.com).
Rooms: *****
Service: *****
Value: ****

Andaz Liverpool Street's Room With A View Large King rooms start from £252 on weekends (Friday & Saturday) and £378 on weekdays (Sunday to Thursday night)
Reuse content