It is a truth universally acknowledged, that a visitor to Bath in possession of a good sense of style must be in want of well-priced, central, chic accommodation. Jane Austen was, admittedly, ambivalent in her feelings about the place, but she was in the minority; tourists and city-breakers are flocking here in increasing numbers this year as Britain celebrates 300 years since the dawn of the Georgian era.
The paint has barely dried on Bath's newest self-catering offering, a cluster of seven refurbished apartments just a hop and a skip from the Royal Crescent and Bath's other honey-hued highlights. The latest venture from Giles Thomas - impresario behind the knowingly boutique Halcyon Hotel, Circo cocktail bar and similarly fresh-faced resto-bar The Porter - has rescued a set of tired flats in a superbly located Georgian townhouse, adding an updated cosmopolitan sensibility to those soaring ceilings, sash windows, attractive cornices and mouldings.
THE ROOMS
The seven apartments range from compact to spacious, sleeping between two and six; most have generously sized open-plan living-dining-kitchen spaces, while larger units have separate kitchen-diners. The style echoes your favourite overhauled gastropub: soothing olive-grey shades, engineered wood floors, mismatched leather and cowhide armchairs, original artworks, dark-wood tables and comfy tweed sofas. But there's originality at play, too: orchids in bell jars, the odd piece of industrial chic to ward off any hint of chintz, plus quirky touches - game of Bath Monopoly, anyone?
And while those Georgian features still sing, not least the four vast sash windows in our living room, facilities are decidedly 21st-century. Kitchens are sleek and surprisingly well-equipped. There's a 24-hour concierge service, free Wi-Fi, iPod dock, large flat-screen smart TVs with complimentary Netflix subscription and airy bathrooms with White Company toiletries.
Snug bedrooms in the smaller units are compensated for by space elsewhere, and are luxurious enough, with Egyptian cotton linen and more plump cushions than any bed needs.
It's an adult-focused set-up, but cots, highchairs, changing mats and a range of other baby and toddler paraphernalia are available gratis.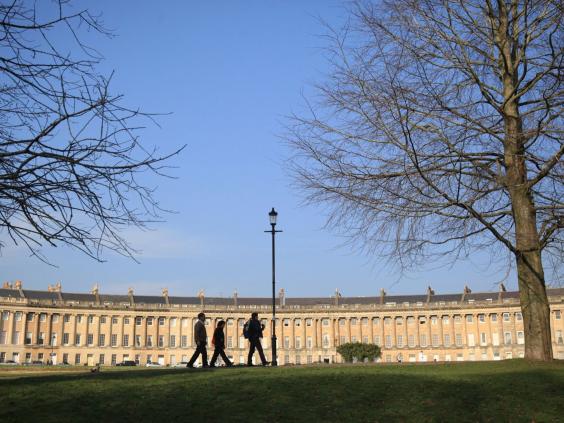 OUT AND ABOUT
Darcy-philes rejoice: the Jane Austen Centre (01225 443000; janeausten.co.uk) is just steps from the apartments. More Georgian treats beckon just 100 paces or so hence: the Circus, architectural masterpiece of John Woods elder and younger; the Royal Crescent, where the museum at No 1 (01225 428126; no1royalcrescent.org.uk) has recently reopened; and the Assembly Rooms, home to the Fashion Museum (01225 477789; museumofcostume.co.uk).
Not that anything in Bath is far. A soak in the mineral-rich waters of Thermae Bath Spa's (01225 331234; thermaebathspa.com) rooftop pool is de rigueur, while a visit to the Roman Baths Museum (01225 477785; romanbaths.co.uk) offers a fascinating counterpoint. For something more hands-on, tackle a class at Bertinet Kitchen Cookery School (01225 445531; thebertinetkitchen.com) where French émigré Richard Bertinet bakes the region's most lauded bread.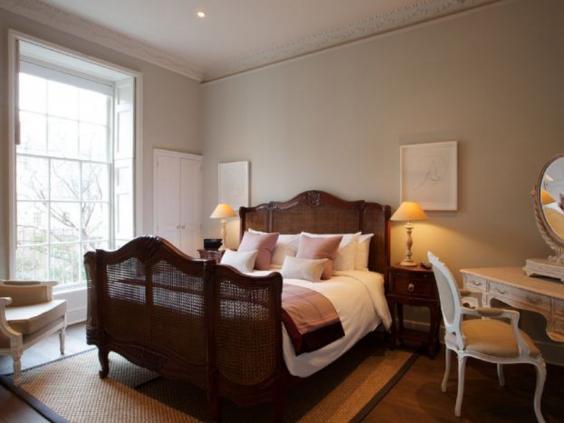 FOOD AND DRINK
Supplies in the apartment are limited, though a gastronomic breakfast is complimentary at The Porter next door. Shelves at the Chandos Deli (01225 314418; chandosdeli.com), just across the road, are groaning with artisan bread, olives and other such delectables. Sizeable branches of Waitrose and Sainsbury's are no more than five minutes' walk. On Saturday mornings there is a farmers' market (bathfarmersmarket.co.uk) in Green Park Station.
Excellent eateries abound. Clayton's Kitchen at The Porter (01225 585100; bit.ly/ClaytonK), manned by the eponymous and Michelin-star-winning chef, dishes up exceptional British fare with a Mediterranean accent; preface with cocktails or craft beers in the lounge bar upstairs.
The Circus Café and Restaurant (01225 466020; thecircuscafeandrestaurant.co.uk) is the kind of local most neighbourhoods dream of, with a similar mien (Brit-Med) but more of an event vibe. The Chequers (01225 360017; thechequersbath.com) and the Marlborough Tavern (01225 423731; marlborough-tavern.com), siblings and arguably Bath's finest gastro-pubs, are not much further. Bath's most fought-after tables are currently at Menu Gordon Jones (01225 480871; menugordonjones.co.uk) - book months ahead for the six-course surprise dinner menu.
THE ESSENTIALS
The Halcyon Apartments, 15A George Street, Bath BA1 2EN (01225 585100; thehalcyon.com/apartments). Apartments sleeping two/six from £120/£240. Dogs are welcome.