Bath often tops league tables – and not just in the style stakes. It has been named home of the UK's most expensive hotel rooms (2007) and the most expensive place to live in the South-West (2014), as well as scoring highly as one of the most expensive cities for students to live in (2014) and for property prices (2012). It's clear why this Georgian jewel can command a premium – it is a set-piece of period architecture, its neat crescents and squares just worn enough as to have real character.
There's now an opportunity to experience its grandeur at a palatable price. Slap-bang in the centre, this B&B recently opened in a beautifully restored Georgian townhouse. Dating back to 1748, it was designed by John Wood the Elder, architect of Bath's impressively ordered Circus and much more besides. It had been owned by the Freemasons for 200 years, let out to various tenants until the current owners bought it and spent 18 months rescuing it from neglect. They clearly cherish its history and have framed all the house's deeds – including the original, with John Wood's signature and wax seal – in the hallway, making sure that its past resonates with its future.
The bed
There are two bedrooms, the Linley and Elder suites, on the lower-ground floor. This allays any anxieties about encroaching on the family's space, since you feel as if you are retreating to your own quarters (though if you ask, they'll welcome you to spend time in their stunning library, complete with antique Hepplewhite sofa and colour-coordinated Penguin Classic collection).
Though both are priced the same, the Linley is clearly the deluxe option, with a four-poster and a circular bath big enough for two (the Elder comes with a showpiece stone fireplace and shower room). Anyone with an interest in interiors should enquire about the furniture's provenance, since each piece seems to come with an intriguing story. The four-poster, for instance, was picked up from a castle in Surrey. Meanwhile, the restful tones are heightened with considered details – azulejo-style floor tiles in the bathroom, dried sprigs of eucalyptus on the wall, chocolate truffles and a crystal decanter of water by the bed, a flask of hot water for tea in the morning (no plastic kettles here) and Bramley bathroom products.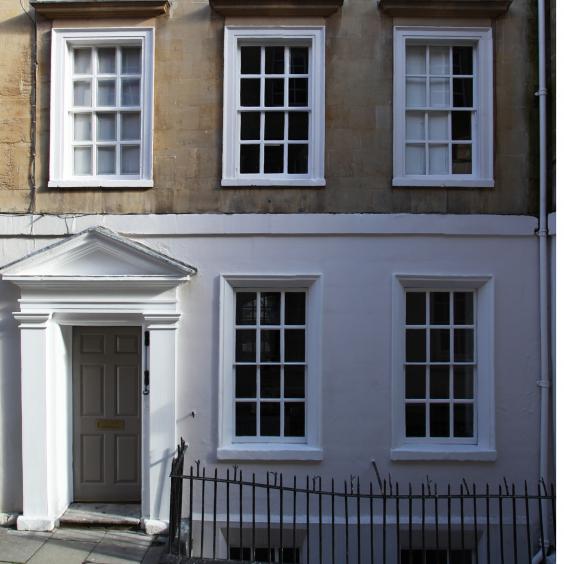 The breakfast
One of the owners was born in Istanbul, so you can – and should – opt for her full Turkish at least once (though the English and healthier granola-based options are exemplary, too). Croissants, orange juice and strong coffee launch into dainty dishes of sumac-dusted feta and zaatar-sprinkled poached eggs; grilled halloumi; pomegranate and tomato salad; and sigara borek stuffed cheese pastries.
The hosts
Neri and Patrick moved to Bath with their three-day old daughter Wren, two years ago. Istanbulite Neri is a photographer, Patrick an architect and this is not the first of his grand designs. After comprehensively re-modelling their flat above an old pub in east London, the couple sold up and moved west to a neglected Georgian townhouse in central Bath that they'd bought as offices and student digs. With no windows, roof or furniture around him, Patrick comprehensively rejuvenated this grand pile, bit by bit. The couple named their stunning home Berdoulat & Breakfast, after Patrick's architectural practice.
Now the house is complete, Patrick is often in London with work, but Neri and Wren are likely to be around the house, helped by a sweet Spanish couple, Alicia and Miguel.
The weekend
The perfect size for a weekend break, Bath is eminently walkable (don't bring a car, parking will either prove to be a headache or expensive). After sauntering through its elegant Georgian centre – making sure to take in The Circus and Royal Crescent – go for a soak at the Thermae Bath Spa (01225 331234; thermaebathspa.com; from £32) which employs the city's mineral-rich thermal waters on three levels – a giant rooftop Jacuzzi, a basement pool with lazy river and four scented steam rooms.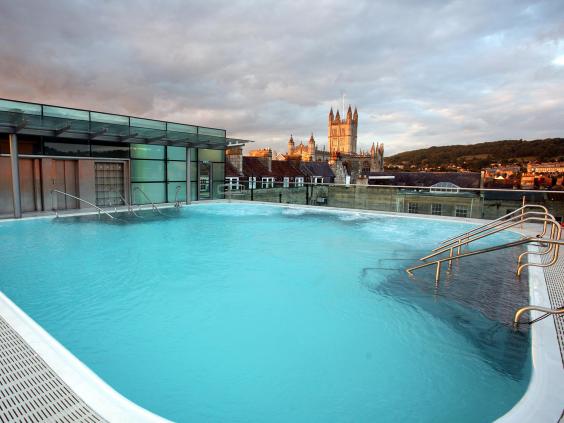 There's also a busy programme of events in the city; the International Music Festival gets under way on 15 May with 10 days of concerts that cover anything from gospel to Siberian throat singing (visitbath.co.uk).
The food and drink
There are enough options to eat your way through the week and around the continents in Bath. We had an above-par gastropub dinner at 18th-century inn The Chequers (01225 360017; thechequersbath.com) – curried lamb scotch egg, game pie and chips, haunch of venison and the like.
The Mint Room (01225 446656; themintroom.co.uk) east of the city centre, serves authentic Indian dishes, including Rajasthani classic, laal maas – a fiery chilli and lamb combination.
The essentials
Berdoulat & Breakfast, 5 Pierrepoint Place, Bath, Somerset BA1 1JX (01225 334 798; berdoulatandbreakfast.co.uk). Doubles cost £150 including breakfast.
Reuse content