Budget or boutique? Why not settle for a bit of both? Since the first Bloc opened in 2011, in Birmingham's trendy Jewellery Quarter, it has brought a touch of class to the low-cost hotel concept, and like all the best business plans, its best-of-both-worlds idea is basic but effective: bespoke flat-pack bedrooms, built off-site, are quick and easy to assemble; good design means you can fit lots of units into a relatively small space.
Doing without catering frees up more room for even more units, and these economies of scale mean Bloc can afford to kit out its "bonsai" rooms to a four-star standard, at two- or three-star prices. It's been a big hit in Brum, and now a second one has opened at Gatwick. So how does its first airport hotel measure up?
If you've ever spent a night at Bloc Birmingham, the Gatwick version will feel like home from home. The house style is virtually identical: uniformly dark and neutral but stylish. However, unlike Birmingham, Bloc Gatwick has a range of family rooms, complete with fold-down bunk beds. There's also a dedicated business floor, with flip-up desks. There's no food whatsoever (not even the vending machines you find at Bloc Birmingham) but at Gatwick that's not a problem. Giraffe and Caffè Nero are moments away – closer than the in-house restaurants at a lot of airport hotels. Guests get 10 per cent off at both, and also at the M&S near the airport's train station.
If you'd rather eat on site, you may prefer Yotel, with its funky café, around the corner. And if you only need a few hours to freshen up, Yotel's stylish cabins, for hire by the hour, may also be a better bet. However, if you have more time and need a bit more space, Bloc should be right up your alley. The rooms are small, but they feel like proper bedrooms, not cabins.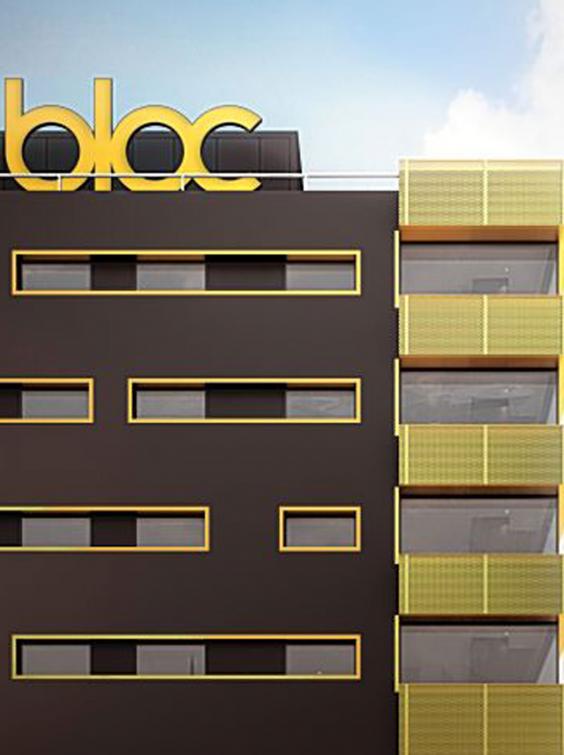 Location
Few things are more annoying when preparing for an early morning flight than discovering the so-called airport hotel you booked into is actually a bus ride from the terminal. Bloc Gatwick is in the South Terminal, just upstairs from the train station and right beside Security. If you're flying with hand luggage, or using one of the many carriers that let you drop off your hold baggage the night before, you can be airside within a few minutes. If you're flying from the North Terminal, the monorail is just downstairs.
Spread across four floors, the hotel is in an old renovated office block, built above (rather than inside) the terminal. Consequently, even in the corridors, the views are impressive. Unlike most airport hotels, you actually feel you're in an aviation hub, rather than an underground bunker, yet the bedrooms are remarkably sound proof; you can hardly hear the planes at all. Most of the rooms have external windows (unlike Yotel) and some even overlook the runway. Ask for a corner room – numbers ending 42, 44 or 46 are best. From here you can watch planes landing and taking off, and taxiing to and from the gates – the perfect start to a family holiday, great fun for children (and dads).
Comfort
With 245 rooms packed into a compact building, Bloc is a simple trade-off between style and space. Rather than giving you lots of room you don't really need (especially the night before an early flight) it has invested in new technology. If your smart phone comes with Near Field Communication, you can use it as a room key. Lights, blackout blinds, air conditioning and even check out are all controlled via a wall-mounted tablet beside your bed. Flat-screen TVs, power showers and free Wi-Fi are standard in all bedrooms.
Starting at 10sq m, nobody would describe these rooms as spacious, but they're so well designed, with no dead space, they actually feel a good deal bigger. The corner rooms are a lot larger, with Armani Roca bathrooms and more storage space. The penthouse Presidential Suite has a separate lounge and kitchen. When I stayed at Bloc Birmingham, my double room felt just right for one. Staying in a family room at Bloc Gatwick with my 10-year-old daughter, we wished we'd brought my wife and teenage son along.
The front-of-house staff are friendly and very helpful, but when the concept works (and it worked for me) you really don't need much help at all. "The ethos was to be competitively priced, but not compromise too much on quality," Bloc's director, Rob Morgan, tells me. "The intention is to put Bloc hotels in places where space is at a premium, where the infrastructure and local facilities are good." Watch this space.
Travel essentials
Bloc Gatwick
South Terminal, Gatwick Airport, West Sussex (020 3051 0101; blochotels.com)
Rooms ****
Value ****
Service ***
Snug doubles (no window) from £59. Vista doubles (with window) from £64. Family rooms from £69.