Bristol does not suffer from a paucity of accommodation. Yet, while villagey Clifton is awash with guesthouses and B&Bs, the city centre is largely the preserve of the big chain hotels. Brooks Guesthouse slots happily into that gap, providing a good-value, stylish retreat in the thick of the action, just steps from theatres, shops and restaurants. Four new Rooftop Rockets – aluminium-clad, retro-style caravans parked on astroturf lawns atop the guesthouse – add an urban quirk.
THE BED
Dead ringers for classic Airstreams, the Rockets are actually brand spanking new, made in Worcester rather than Ohio, and furnished to the owner's specs. Interiors eschew overt retro styling, opting for a restrained aesthetic matching the guesthouse bedrooms, with teal radio/iPod dock and purpose-made teal Designers Guild curtains and cushions providing splashes of colour. Five-foot beds are topped with pocket-sprung mattresses and goose-down duvets and pillows, while bathrooms are, unsurprisingly, bijou. In truth, space is at a premium all round; we bedded down in the 18-footer (16ft and 20ft vans are also available), and I hadn't grasped how short 18 feet is – plans for cat-swinging were soon abandoned. Having said that, if "fun" is important, these vans are a treat.
Whether I'd choose a Rocket over a room in winter, I'm not so sure, though the owner assured me they're well insulated. Flatscreen TV/DVDs, Geneva Guild toiletries and decent hospitality trays and rooftop views across spires and St Nicholas Market complete the picture. Downstairs, there's an honesty bar with local ales and ciders, wines and snacks, a spacious courtyard garden, cosy lounge area, and free Wi-Fi.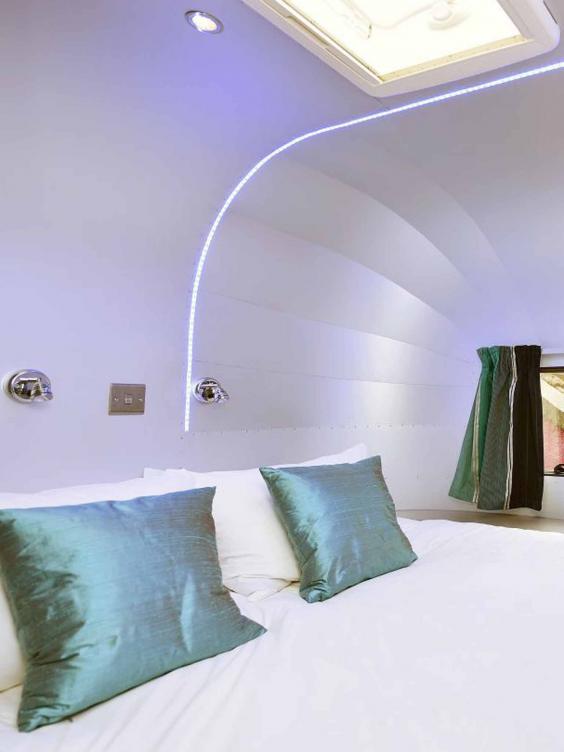 THE BREAKFAST
An open kitchen in a guesthouse is a novel idea – though we were too busy hoovering up home-made granola and muesli, fruit compote, organic juices and West Country yoghurts to keep an eye on the chef rustling up our eggs: scrambled with salmon on toast, plus the creamiest Benedict with local back bacon. Take-out sarnies and bagels are offered for those in a rush – though with service from 7am, most guests should be able to squeeze in a sit-down slap-up repast.
THE HOSTS
Like many of the best guesthouse owners, Dublin-born Carla Brooks had never planned on a career in hospitality. But when the 2008 crash struck, she and husband Andrew took the plunge and ploughed their all into rescuing and revitalising a tired hotel in Bath as the first Brooks guesthouse. Taking on a rundown hostel in a former solicitor's office in Bristol, they've updated the 1950s building with contemporary decor and furniture. There's no blueprint: "I just love combing the vintage shops and markets for retro chairs and tables," confesses Carla, who was inspired to install the Rockets after falling for a rooftop Airstream trailer park in Cape Town.
THE WEEKEND
Step out of the guesthouse and you're immediately engulfed in the enticing Babel that is St Nicholas Market (stnicholasmarketbristol.co.uk): pick up a vintage photo of the city, a succulent venison sausage, vinyl classics or a T-shirt sporting the quintessentially Brizzle plaudit "Gert Lush". It's a pleasant stroll alongside the Floating Harbour to the Arnolfini (0117 9172300; arnolfini.org.uk), hosting unpredictable contemporary exhibitions and performances of visual and musical arts. Across the harbour sits M Shed (0117 3526600; mshed.org), an immersive museum housed in a former dock silo, now providing an entertaining run-through of the city's history. The harbour's crown jewel is Brunel's magnificent iron SS Great Britain (0117 9260680; ssgreatbritain.org), lovingly restored to evoke life aboard a Victorian steamship.
THE PIT-STOP
The Ox (0117 9221001, theoxbristol.com), which was voted best newcomer in the 2014 Bristol Good Food Awards, is a shining light among the ranks of sophisticated steakhouses. Hidden in a subterranean former safe deposit room, the gilt wood panels and grape-bunch light fittings contribute to an ambience that's prohibition-era speakeasy meets 1920s French jazz club. Each cut is sourced and prepared with reverence – the meltingly tender bavette d'alouya (£25), served with triple-cooked chips and a choice of sauces, exemplifies the approach, while a chocolate delice with peanut butter crunch and salted caramel ice cream (£6.50) reduced us to stunned silence.
Even more tucked away – behind anonymous black doors on Colston Avenue – is The Milk Thistle (0117 9294429; milkthistle.com), conjuring up novel twists on classic cocktails in a witty bar decked out like a Gothic-style gentleman's club.
THE ESSENTIALS
Brooks Guesthouse Bristol, St Nicholas Street, Bristol, BS1 1UB (0117 9300066; brooksguesthousebristol.com). Rockets start at £99 for two, including breakfast.
Reuse content