The order of nuns who lived at Bruisyard Hall in the 14th century would scarcely recognise it now. More than 600 years of tumultuous history separate its use as an abbey and the £1.5m refurbishment that saw it reopen as a smart B&B and wedding venue this year.
The Poor Clares, wedded to poverty, may have moved out, but signs of the manor's recusant past are still visible: tucked away in its sumptuous rooms are entrances to the tiny priest holes once used to hide Catholic clergy during the Reformation, and beneath the sundial on its front are scars left by the reappointment of its windows, built high to protect its residents from snooping Protestants.
With a great location near Saxmundham, in Suffolk, close to the pretty seaside towns of Aldeburgh and Thorpeness, Bruisyard has begun letting out rooms for bed and breakfast from Monday to Thursday, offering a taste of Downton-esque luxury for the night.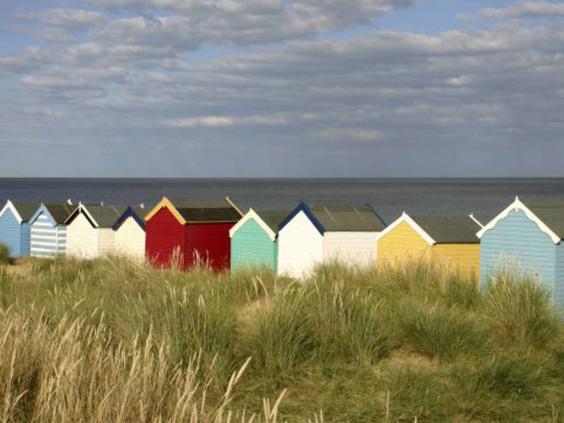 The bed
Post-refurbishment Bruisyard feels so homely that I instinctively ditched my shoes and room key within seconds of unpacking. The 10 bedrooms have been individually refurbished in soft wildflower colours, with beds ranging from grand four-posters to zip-lock doubles that convert into twins. The mood is tasteful, with White Company toiletries in the bathroom and individual portions of artisan coffee sitting alongside cafetières in the smart guest kitchen, where those who chose not to use the in-house caterers can cook for themselves.
The home has all the idiosyncrasies of any ancient conversion: owner Paul Rous warned that the hot water might fail, the wi-fi can be eccentric, and I might run into some ghosts. During my stay the water and internet held up – but there were some unexplained bumps in the night.
Bedrooms lack televisions – although there are sleek flat screens in communal rooms – but other modern touches work well. Connect your phone to the bluetooth speakers in the dining room and your tunes reverberate through the secret corridors.
The breakfast
A full Suffolk English or continental breakfast is served in the sunlit dining room, with views across the grounds. Breakfast is prepared by Heathcote and Hare, Bruisyard's in-house caterers, who source as much as possible from Suffolk producers. Dietary requirements are well catered for, with hearty vegetarian options.
The hosts
Bruisyard has been in the same family for an impressive 400 years. Paul, who has a background in investment banking, married the estate's heiress, Laura, three years ago, and masterminded the house's restoration.
The weekend
Culture fiends will fold right into Suffolk's genteel arts scene, where you can barely turn a corner without running into some kind of book, music, food or drink festival. Highlights include the Aldeburgh Poetry Festival and literature festival Ways With Words in November. The concert hall in Snape Maltings is gearing up for Halloween with a weekend of supernatural-themed events on 23-24 October, including a "haunted" walk and a performance of Benjamin Britten's opera The Turn of The Screw (01728 687100; aldeburgh.co.uk).
Just a 25-minute drive away is Thorpeness, a "fantasy village" built for Scottish eccentric Stuart Ogilvie. The mock-Tudor town is a great spot to explore the coast: warm up afterwards beside the roaring fire at The Dolphin pub (01728 454994, thorpenessdolphin.com).
The pit-stop
Aldeburgh's community of London-weary thesps has filled the seaside town with artisan delicatessens and antique shops: queue for posh grub at Aldeburgh Fish and Chip Shop (01728 452250) or stroll the beach nibbling freshly smoked fish and seafood from the black-timbered smokehouses along the seafront.
A thirty-minute drive brings you to picturesque Southwold, home to the Adnam's Brewery (01502 727 225; adnams.co.uk). Its hour-long brewery tour (which culminates in a tasting) is as rich in local history as it is in beer trivia, and the more "spiritually" inclined can tour the site's brand new distillery, or have a go at making their own gin.
Just around the corner, The Swan (01502 722186) is the perfect place to enjoy a pint of Ghost Ship, Adnam's juicy pale ale.
The essentials
Bruisyard Hall (01728 639000; bruisyardhall.com) offers double rooms from Monday to Thursday from £150 a night with breakfast. Other meals can be catered for on request. 
Liz Dodd travelled with Abellio Greater Anglia (0345 600 7245; abelliogreateranglia.co.uk) from London Liverpool Street to Saxmundham. From there it is a 10-minute taxi ride.
Reuse content