In bold and brassy Naples, it can be hard to find peace. On every street corner, elderly Neapolitans engage in animated conversation and young men call out "bellissima" to girls as they walk by, feigning nonchalance. But wade through the bustling fruit and veg' market on Via dei Vergini, into the yellow-hued courtyard on Via Cristallini and calm is once again restored.
On the top floor, above all the clatter of the Centro Storico (Old Town), is a characterful retreat that more closely resembles an art gallery than a traditional B&B. Italian opera wafts throughout the opulent, double-height lounge, where marble statues, weighty art books, and antique paintings abound. Run by three erudite and educated gentlemen, it's a place for those with refined tastes and a desire for quiet.
THE BED
There are four rooms at Casa D'Anna, each named after the islands in the Bay of Naples: Capri, Ischia, Procida and Nisida. The former three are off a corridor where large artworks of female nudes, painted by one of the owners, line the walls. Each of the rooms has a small balcony and individual touches – a high-backed sofa here, some plum-coloured bedclothes there – plus Etro toiletries throughout.
I was in Nisida, located up on the roof and accessed via a small, Mediterranean-style terrace that's free for all guests to use. Undoubtedly the most atmospheric, it has its own patio, wooden-shuttered windows and apothecary bottles filled with brightly coloured paint pigment – a relic from when this room was intended to be used as the owner's art studio.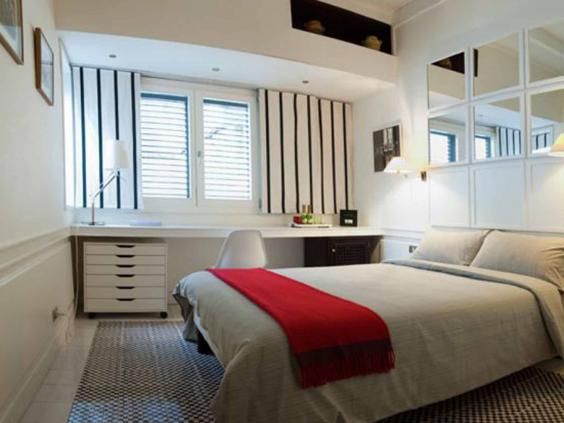 THE BREAKFAST
A simple affair, served at a formal table in the lounge. There's homemade natural yogurt and honey, with fruit and a basket of bread, but no cooked options. Fresh orange juice and strong black coffee appear, alongside three types of jam – made using wild strawberries and oranges from a friend's orchard in Naples – plus a different cake baked fresh each day.
THE HOSTS
A Scotsman named Ken, a Frenchman named Pierre and an Italian – the artist and interior designer – named Davide. If that sounds like the beginning of a bad joke, it's anything but – their trilingual status ensuring that guests are lavished with attention. If you're an English-speaker, Ken will be your main point of contact. He left Scotland in his twenties, moved to Paris where he met Pierre and Davide. They lived in the French capital for more than 10 years, but eventually tired of their chosen professions and moved to Davide's native Naples to set up Casa D'Anna.
THE WEEKEND
Naples has three main neighbourhoods: upmarket Chiaia, with its boutiques and smart restaurants; hilltop Vomera, which affords dazzling views of the Bay of Naples; and the Centro Storico, where aging palazzos line narrow, cobblestone streets.
Since the B&B is on the northern fringes of the old town, you'll probably spend the majority of your time there. Start by sampling the historic pizza parlours of Via Tribunali, where Di Matteo (00 39 081 45 52 62; pizzeriadimatteo.com) and Sorbillo (00 39 081 033 1009; sorbillo.it) are two of the best (slices from €2).
Next, spend a morning browsing the mosaics, frescos and statues from nearby Herculaneum and Pompeii at the russet-red Archeological Museum (00 39 081 442 2149; cir.campania.beniculturali.it). Then head underground from the Piazza San Gaetano to explore the city's cavernous subterranean ruins (00 39 081 29 69 44; napolisotterranea.org; tours from €10).
Finally, emerge to visit one of Naples's more modern attractions at the Museo Madre contemporary art gallery (00 39 081 193 1 3 016; madrenapoli.it; entrance €7), which features installations by Anish Kapoor and art by Tim Rollins.
THE PIT-STOP
Don't leave Naples without strolling along the recently pedestrianised seafront, or Lungomare. You can watch locals doing the early evening passeggiata, as the sun sets over the Bay of Naples. Even better, pause for a drink or dinner at Bar Luise (00 39 081 764 2563; barluise.it) on the Via Partenope, where friendly waiters serve local wines (from €3 per glass) and dishes such as lobster spaghetti (€18) on white tablecloths overlooking the sea.
THE ESSENTIALS
Casa D'Anna, Via Cristallini 138, Naples, Campania, Italy (00 39 081 446 611; casadanna.it). Doubles start at €95, including breakfast.
Reuse content