'The kitchen has always been the centre of things in my family. It's where we chat and catch up on each other's lives," says Pilar Cabrera, owner of Casa de los Milagros, an upscale guesthouse in the heart of food-centric Oaxaca. Pilar is a professional chef who also owns a cooking school (00 52 951 516 6668; casadelos sabores.com) and a restaurant (00 52 951 514 9359; laolla.com.mx) in town.
Casa de los Milagros is a turn-of-the-century building that once belonged to Pilar's great uncle. It was restored by local architect Jorge Quintanar and opened for business as a bed and breakfast in 2001. Original features include exposed wooden beams, thick adobe walls and a large yellow-ochre kitchen: a beautiful setting for one of Pilar's gourmet breakfasts.
THE BED
There are just three bedrooms in Casa de los Milagros, all with windows overlooking an ivy-clad central courtyard. Ceramic floors, wood panelling and whitewashed walls set the colonial tone, with colourful Oaxacan artwork balancing the neutral palette. Bathrooms are honey-coloured with marble sinks and walk-in showers; mine came with a stone fountain and a large glass skylight.
In the hallway, there's a battered oak door, a brass chandelier and some family heirlooms. Guests can help themselves to soft drinks and beers from the fridge and enjoy them on the split-level roof terrace; there's a wonderful view of the Church of Santo Domingo de Guzmán during the day – and superlative star-gazing at night.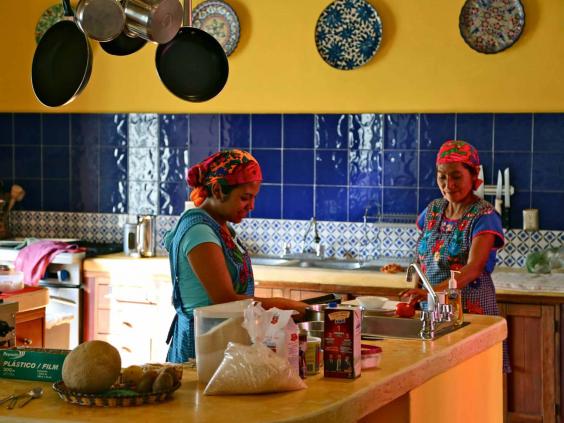 THE BREAKFAST
The rotating breakfast menu at Casa de los Milagros is prepared by Pilar and her two assistants, Cristina and Rufina. Such dishes as Oaxacan cheese and mango omelette with spinach salsa form a colourful combination of traditional Mexican and modern European cuisine. There's also freshly squeezed guava and orange juice; home-made jam on wheat toast; and an endless supply of mugs of steaming Mexican coffee. Cristina and Rufina are also ready to prepare special evening meals upon request.
THE HOSTS
Pilar manages Casa de los Milagros and two other guesthouses (Las Bugambilias and El Secreto) with the help of her sister-in-law, Adriana. A lot of love has gone into the decor. The warm, family feel of the place is obvious from the moment you set foot inside. Some of the watercolours are by Pilar's sister, Aurora; the rest were collected by her mother, Mariana Elena.
THE WEEKEND
The ancient city of Monte Albán is a bone-shaking 30-minute bus ride from the centre of town – but it's well worth the effort. The site was continuously occupied from 500BC to AD850. Some experts claim that it was the first urban civilisation in the Americas. Climb the steep steps of the Southern Platform for unmatched views of the Valley of Oaxaca; then scan the ruins for Building J: a bizarre UFO-shaped structure that seems to float off on its own trajectory.
Oaxaca is home to some of the finest folk art in Mexico. For the best selection of rugs, ceramics and wooden carvings, visit La Mano Magica, at Macedonio Alcala 203 (00 52 951 516 4275), a gallery and shop housed in a grand colonial building two blocks from the main square. Learn more about ancient weaving techniques in the villages of Xochistlahuaca, San Juan Colorado and San Mateo del Mar on a textile tour of the region (00 52 734 769 7839; tiastephanietours.com)
For a transformative experience in beautiful surroundings, try temazcal: an ancient steam bath ritual accompanied by chanting and singing, topped off with an hour-long massage. It all takes place in a peaceful garden in Colonia Morcanes, just 15 minutes from Casa de los Milagros by taxi, and can be arranged directly with Pilar. Be careful, though: the whole procedure left me feeling utterly blissed out – to the point where I almost forgot my wallet.
THE PIT-STOP
Celebrating its 20th anniversary next spring, Pilar's restaurant, La Olla, is a great mid-price option – especially if, like me, you're a fan of chicken with mole negro (£8). This Oaxacan speciality has a long list of ingredients, including three varieties of chilli and a healthy chunk of Aztec-style chocolate.
Round off the evening with a shot of smoky Rey Zapoteco mescal (£7) at nearby Camino Real (00 52 55 110 5100; quintareal.com/oaxaca) Oaxaca's ritziest digs. This 16th-century former monastery has three colonial courtyards, a gargantuan fountain and original murals painted on the stone arches of the main bar.
THE ESSENTIALS
Casa de los Milagros, Matamoros 500-C, Centro Oaxaca, Mexico 68000 (00 52 951 501 2262; lasbugambilias.com/the-houses/los-milagros). Doubles start at US$90 (£56), with breakfast.
Reuse content