Finding Casa dos Loios can be a challenge at the best of times, so arriving when a sound system and its attendant Sagres-swigging crowd had swallowed up the best part of the square on which it stands, probably wasn't the smartest move. The discreet B&B occupies two floors above a minimarket on a pedestrianised square in the thrum of Porto's ancient Vitoria district. Over the weekend of my visit, a free festival celebrating Portugal's historic squares had populated the city with a dozen or so stages of DJs and bands that played throughout the day and into the night.
Happily – and in spite of its age – the townhouse in which Casa dos Loios is located is well insulated and most of its rooms are set at the back overlooking a quiet courtyard.
Moreover, the welcome was reassuringly tranquil. A friendly host sat me down with a map, marked out all the points of interest, and explained which would be shut the following day. "And you must go for lunch across the street at Baga before it shuts in half an hour."
Even though the heat had sapped my appetite, a glass of the Douro valley's exceptionally good-value red and a couple of petiscos (tapas) turned out to be the stand-out meal of the weekend.
The bed
The 16th- to 17th-century townhouse belonged to the Ferraz Mello family, whose coat of arms is stamped on to the stone façade. It is now being leased by the Shiadu group which has successfully transformed four similarly historic Lisbon buildings into distinctive guesthouses. Opened last spring, it is the group's first property outside the capital.
A glass door and a buzzer usher you into a dark stairwell that leads up wooden stairs to the guesthouse. Corridors are similarly dusky, but livened up with antiques: here an old wireless, there century-old shoe stays, unearthed during the building's renovation.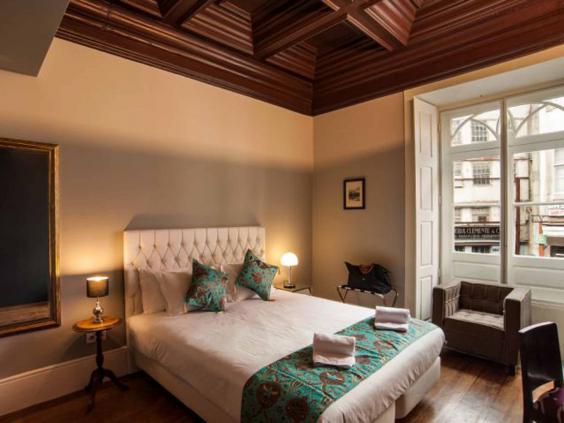 The rooms are mostly small, with bathrooms in neat cupboards and minimal furniture, though this tends to be carefully chosen – a marble-topped chest of drawers and Fifties red leather chair, in my case. Original wooden floors and shuttered windows are complemented by soothing dove-grey walls and Dalíesque paintings.
The biggest and best rooms are at the top of the house – one, a suite sleeping four – and are resplendent with chandeliers and restored painted plaster ceilings depicting Beethoven, Mendelssohn and Wagner, beneath which the Ferraz Mello children once took music lessons.
The breakfast
A simple Continental spread is bolstered by bread with tomatoes, eggs to order (an extra €2.50) and rabanadas – cinnamon cakes soaked in milk and egg, then deep fried. These are offered throughout the day alongside complimentary tea and coffee.
The hosts
The team takes a holistic approach to hospitality, ensuring that guests are not only well looked after at the guesthouse, but that they get the best out of their weekend in Porto, too. Enthusiastic Ines recommended Taberna Baga, while urbane manager Marco ensured I had a taxi booked so that I could make the most of my time before heading to the airport.
The weekend
Wander around the corner to Mercearia das Flores (merceariadasflores.com) to pick up artisanal biscuits, cheese, wine, olive oil and sardines. Then get lost in Vitoria, exploring its warren of steep alleyways and sunny squares. Livraria Lello (00 351 22 200 2037) is both a visually and culturally rich bookshop, while A Vida Portuguesa (00 351 22 202 2105; avidaportuguesa.com) does a thriving trade in stylish souvenirs.
Gravitate down to the Douro, where boat tours head upriver towards the vineyards, or sip a sundowner at the many cafés that line the water, facing the port lodges in Vila Nova da Gaia. On a hot summer's day, there's also the option to hit the beaches of Foz.
The pitstop
Taberna Baga (00 351 222 087 113), across the square , is a sliver of a restaurant, serving petiscos such as chorizo flame grilled at your table and salt-cod fritters (around €18 for two with drinks).
Vinum (00 351 22 093 0417; vinumatgrahams.com) is an award-winning restaurant at Graham's port lodge. Enjoy tapas with a glass of wine or one of the group's many varieties of port (Graham's, Cockburn's, Dow's, Warre's). Or try the elegant restaurant with views of thousands of port barrels on one side and the Douro on the other. Dishes might include oxtail stew, with mains from around €25.
The essentials
Casa dos Loios, Largo Loios 47, Porto, Portugal (00 351 914 176 969; shiadu.com). Doubles start at €84, B&B. Sophie Lam flew to Porto with TAP Portugal (0845 601 0932; flytap.com); returns from Gatwick start at £126.
Reuse content