What does a ski holiday mean to you? If the words "table dancing" and "spag bol" spring to mind, look away now. Then again, stick with me: there may come a moment when convenience, good value, and an outdoor hot tub of one's own will take precedence over Jägerbombs at dawn. A week in La Tzoumaz could be just the ticket. 
All quiet on the northern front, little La Tzoumaz is tucked away at 1,500 metres on a shelf above the Rhône Valley. A secret stash of Swissness, it has a population of 330, a bakery, a few cafés and an outdoor ice rink – unassumingly located on the edge of the largest linked domain in Switzerland. The Four Valleys connects the resorts of Verbier, La Tzoumaz, Bruson, Nendaz, Veysonnaz and Thyon. Compared to Verbier, its flashy neighbour one valley over, La Tzoumaz is the distant cousin who no one's heard of. Hoping to change this, Chalet Auriane hung out its shingle five years ago, planting the first five-star flag in the village.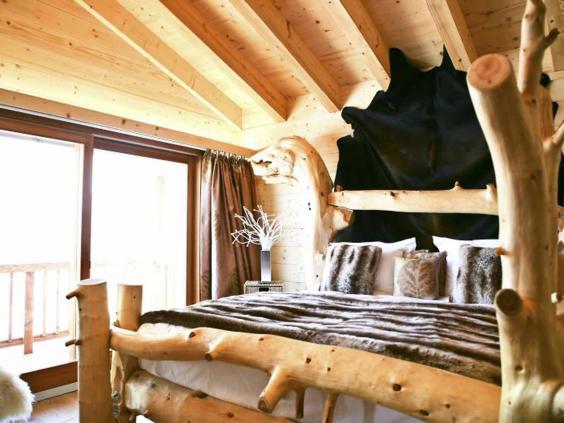 The rooms
After weaving for 15 minutes up the curvy mountain road from Sion train station, I am greeted by the live-out hostess and chef team, as well as a life-sized papier mâché tiger (rescued from a Liberty shop window), moose heads wearing ski goggles, and various Conran-style design delights. The contemporary design was dreamt up by the UK team responsible for refurbishing Fortnum & Mason. There are five bedrooms, each named after a Swiss resort – Zermatt, Klosters, St Moritz and the like. The imaginative master bedroom, Verbier, makes me feel I am sleeping in a magical forest – the oversize bed is assembled with local rough-hewn Arolle logs so big they had to be lifted in by helicopter.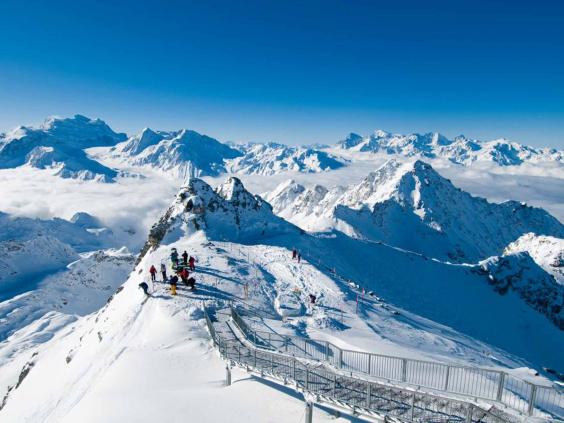 Surrounded by the highest mountains in Europe, much of modern Switzerland has been heli-built in this way. And like many others in the Valais, the piste-side Chalet Auriane is built into an impossibly steep incline. To ease the journey between the road and the door, and the door and the piste, a hi-tech private funicular does the heavy lifting – though during my visit it happens to be broken and in need of a correspondingly hi-tech replacement part. But the rewards of my manual climb are swift. Within minutes of arrival, I'm up to my neck in warm bubbles in the outdoor hot tub, sipping lovely cold ones from a plastic flute, counting stars twinkling high in the sky above and down in the dark Rhône Valley below.
Out and about
After dreaming the night away in the magic forest bed and devouring a lavish breakfast, I clamber through snow to get to the piste. It's all gravy after that: on skis, I am perfectly placed to slide a few hundred metres and jump straight into the waiting high-speed gondola. As we skim above fragrant pine boughs, I can't help wondering: how long did the hung-over, febrile masses have to queue in Verbier this morning? 
In eight clear-headed minutes I reach the deserted Savoleyres ridge, faced with the first major problem of the week: deciding where to go within the Four Valley's 400km of groomers and the endless off-piste, criss-crossed by nearly 100 lifts. Around the La Tzoumaz area alone, there are great swaths of north-facing snowy runs, making it a fine place for relaxed skiers and families to pootle around; in the morning it's always nice to head first to the adjacent, sunnier southern side of Savoleyres. Its gentle slopes are great for intermediates and cruisers, though it can get patchy here in the warmth of springtime. 
One of the biggest draws for the adventurous is found one valley over, above Verbier: a white sea of world-renowned off-piste. Tortin, Mont Gelé, the drop off the backside of Mont-Fort from 3,330 metres … these are the watchwords of many a perfect powder day. One of the finest runs for good skiers is the Vallon D'Arby itineraire leading down to La Tzoumaz. 
The food and drink 
After a day of skiing, I aim for home via Lac des Vaux, whizzing across narrow cow-path traverses cut into the snow by others, a yawning, open drop off on the right ride, negotiating the tricky pass-or-not-to-pass moments as we meet slower skiers along the thin ledge. The stunning treeless valley eventually opens wide to a long ungroomed, sometimes powder sometimes chopped, snow descent. A run to savour, especially when I know delicious dinner is in the oven, wine is chilling, a fire is blazing, and 1,000 films are waiting on big screens in every bedroom back at the ranch. 
Canapés and champagne by the fire are soon served by the in-house chef, followed smoothly by a tasty four courses at a long, festively decorated table. The wine list is predominantly French with a few well-chosen Swiss options for local interest. Wine is included and may be upgraded for an added cost.
The essentials
Chalet Auriane (07903 018549; chaletauriane.com) costs from £825 per person for a week's stay. It sleeps up to 12 adults in four double en suite bedrooms and a bunk room with four adult-sized bunk beds. A six-day full Four Vallées lift pass costs SFr334 (£220). La Tzoumaz: latzoumaz.ch. 
Switzerland Tourist Board: myswitzerland.com
Reuse content