Venice's hotel scene is notoriously pricey, but the calle and caruggi are also home to a growing number of boutique B&Bs that give more of a local feel to one of Italy's most visited cities. Cima Rosa is once such gem, tucked away in the Santa Croce quarter, far away enough from the hordes, yet still with views of the Grand Canal.
As soon as you cross the "Proprieta Privada" sign on the pavement on Cima Rosa's threshold, you know you are on to something special. Off the pretty 13th-century courtyard is the dim, ground floor portego of this 15th-century palazzo, atmospherically illuminated by lanterns. Cima Rosa likes to style itself as an insider's view of Venice and the young couple who run it are engaged in a long-term labour of love restoring the palazzo, piece by piece.
It's a three-minute walk from here to the San Stae vaporetto stop, three stops along the Grand Canal from the main Santa Lucia railway station and directly connected to the airport. You'll be grateful for this tranquil retreat as you sit gazing out the windows watching the boats sliding up and down the Grand Canal.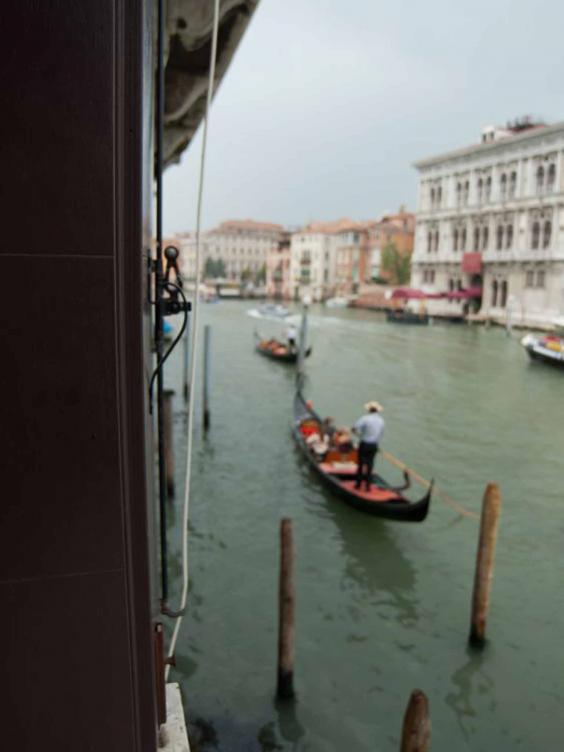 The Bed
There are five rooms, three of which are reached from the main entrance up a flight of stairs to the second floor, all with views of the Grand Canal. Two are suites with small living rooms, original terrazzo and parquet floors and bathrooms. The third double room has a private bathroom across a small hallway. There is also a newly renovated living room-cum-kitchen that formerly served as a library for the university next door. A flight of narrow stairs leads to two new guestrooms set at the back of the palazzo, darker and with no views to speak of, but quiet.
The decor is no ode to Venetian maxmimalism, but tastefully restrained, with misty lagoon greys, blues, eau de nil and exposed beams that complement rather than compete with the architecture. Beds are extremely comfortable and clad in snowy white Italian linen.
The owners have a business restoring furniture and many of the pieces dotting the rooms are original, positioned alongside thoughtfully chosen decorative objects. Other pieces have been cleverly repurposed, like the aged wooden workbenches now used as washbasin shelves.
The Breakfast
Served in the communal living room, this is simple but satisfying – elegantly presented fruit salad and yoghurt, plates of ham and cheese, freshly squeezed orange juice, pastries, bread, conserves and a choice of tea and coffee. There is also a kitchen that guests can use throughout the day.
The Hosts
Cima Rosa's owners are native Venetian Daniele, his American-born wife, Brittany, and their young family. An architect and interior designer respectively, the couple scoured several uninhabited Venetian palazzi for potential projects, struck a deal with the owners of this building and a careful restoration began. They opened the first three rooms in 2011 and the new wing last September.
The Weekend
In Venice there is something of interest around every corner, and close to Cima Rosa is the often overlooked Natural History Museum (00 39 041 275 0206; visitmuve.it). The fabulous Palazzo Mocenigo (00 39 041 721 798; mocenigo.visitmuve.it), a museum of 17th- and 18th-century Venice laid out like an aristocratic home, is also just around the corner.
The daily hustle and bustle of the Rialto market – and the celebrated bridge of the same name – is less than a 10-minute stroll away. Then there's one of the city's most important churches, the art-filled Basilica dei Frari (00 39 041 272 8611; basilicadeifrari.it) also within walking distance.
The Pit-stop
Daniele and Brittany have compiled an "Eat like a Venetian" list of their favourite haunts, helpfully printed on to a map of the bewildering, labyrinthine streets. One of these is Il Refolo (00 39 041 524 0016; rist-refolo.it) – a smart pizzeria set on the pretty Campiello del Piova, by a canal and with al fresco tables. It is run by a member of the Martin family that owns one of Venice's most sought after tables, Osteria Da Fiore (00 39 041 721 308; dafiore.net), which is also close by if your pockets are deeper.
Nearby La Zucca (00 39 041 524 1570; lazucca.it) puts vegetables centre stage on its menu – the pumpkin flan is a must – but carnivores should not be put off as there are some meat dishes too.
The Essentials
Cima Rosa, Santa Croce, Venice, Italy (00 39 3333 548 525; cimarosavenezia.com). Doubles start from €145 (£105) and suites from €225 (£164) per night including breakfast.
Reuse content