With a cosmopolitan feel, Essaouira has long been a draw for hippies, artists, and surfers. Its ancient medina is one of whitewashed, blue-shuttered houses, encircled by honey-coloured ramparts, all bordered by a vast sweep of golden sand pounded by Atlantic rollers. A certain amount of determination used to be required to get here; before there were direct flights it was accessed by a three-hour road journey from Marrakech. But with easyJet's recently launched route from Luton, it's poised to become a destination in its own right.
In the heart of the medina, a 200-year-old former Jewish merchant's house has been given a thoroughly modern makeover by its British owners, Emma and Graham (their other property here is called Dar Emma).
Beida means "white" and the house lives up to its name. Think retro design meets Moroccan minimalism. You'll get a pair of babouches (slippers) to lounge around in and it feels less like a rental, more like you're staying at a friend's house – a friend with great taste, that is.
The rooms
Step through the original wooden door into a quiet courtyard, flanked by stone-rimmed arches leading to a small library. The first floor has a spacious, fully equipped kitchen and dining area, and the cosy living space comes with a wall of animal skulls and two egg-shaped log fires for chilly evenings.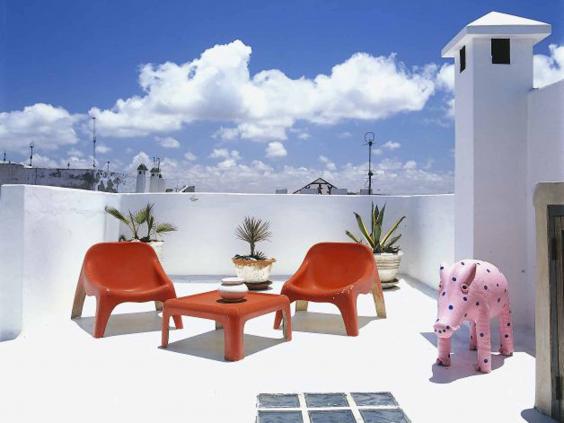 The house may be white but it's not austere. Rooms are filled with splashes of colour: an electric-blue Verner Panton light, a beaded chair from South Africa, shaggy Moroccan rugs and art-covered walls. The first floor also has one double bedroom, with a shower room next door. The two bedrooms on the second floor – one's a duplex – share a large bathroom, and open on to a sun-filled terrace. The fourth en-suite bedroom at the top of the house gets the most light, with sliding glass doors and its own small terrace.
Out and about
There's an information pack in the house but Emma meets every group of guests on their first morning and shows them around the must-see spots of the medina – including where to buy the best rugs, leather and argan oil – and she's only a phone call away if you need anything.
Explore the hassle-free souks, check out Moroccan design at Histoire de Filles (00 212 5247 85193; facebook.com/histoiredefilles) and local art at Galerie Damgaard (00 212 524 78 44 46; galeriedamgaard.com). People-watch over coffee and ice-cream at Dolce Freddo before a sundowner on the rooftop of the Taros Café, both on the central hub of Place Moulay Hassan
The omnipresent wind, known as the alizé, creates the ideal conditions for windsurfing and kitesurfing, or just plain surfing in winter. Explora (00 21 2 611 475 188; exploramorocco .com) rents the gear and runs lessons.
Learn to whip up a tasty tagine at one of the cooking workshops held at l'Atelier Madada's (00 212 5 24 47 55 12; lateliermadada.com) or indulge in Moroccan sweet treats at its Oriental Pastry Workshop.
A 10-minute drive away in the sleepy village of Diabet, Equi Evasion (equievasion.com) has horse and camel riding tours along the beach past the atmospheric ruins of Borj El Berod watchtower; from one-hour to week-long treks.
The food and drink
There's tea, coffee, milk, water and a bowl of fruit – including juicy oranges perfect for squeezing – waiting for you, plus freshly made bread and yogurt on sale at the mini grocery shops opposite.
Fish and seafood lovers should head straight to the row of tiny restaurants known as the grillades de poissons. Try No 33, where you can choose a fresh-caught fish and it will be grilled and served up with bread and salad for the perfect alfresco lunch.
For a more sophisticated menu, head to Elizir (Rue d'Agadir; 00 212 5244 72103), decorated in retro-chic flea-market finds, where the chef-owner mixes Moroccan classics with Italian favourites such as homemade gnocchi, inspired by time spent living in Bologna.
Inland, at the rustic La Fromagerie (Route Cotiere de Safi; 00 212 666 233 534), the blackboard menu features whatever's fresh from the market that morning and Abderrazak Khoubbane, the charismatic cheese-maker, is a genial host.
If you feel like staying in, Dar Beida's housekeeper, Amina, will prepare a traditional Moroccan dinner for you – an array of cold salads and a tagine – for 150MAD (£10) per person.
The essentials
Dar Beida, Essaouira, Morocco (00 212 667 965 386; castlesinthesand.com). A week's rental costs from £900 for three people or £2,400 for eight; shorter stays are available, price on request. EasyJet (easyjet.com) offers flights from Luton airport to Essaouira from £55 return.
Reuse content