It was on a summer ramble around the Farncombe Estate that the ideology of the Cotswolds fell into place. A flock of sheep was seeking shade under a mature oak tree, drowsy from the heat, when a trio of Chinese tourists came bounding down the hill and – armed with cameras – started snapping away with curious glee, scattering them across the field. For the Cotswolds is the rural idyll writ large – a paint-by-numbers pastoral landscape with not a stone out of place, nor a hedgerow left unclipped.
You might imagine that the wildlife had been perfected by Walt Disney. Accordingly, tourists arrive from far and wide, in much the same way that you might go in search of baguettes and Breton stripes in France, or conical hats and carrying poles in South-east Asia.
Crowning the Farncombe Estate is Dormy House, a country-house hotel that made its name in the late Seventies and has been studiously (and expensively) retouched for the modern visitor. The approach is immaculate: the old dry-stone wall has been extended in creamy perfection while the lawn is as closely cropped as a Premier League football pitch. Neatly turned-out staff linger outside in country-casual cords and checked shirts, to whisk guests from their (Land Rover) cars into the 17th-century farmhouse.
The interiors have been completely transformed by Todhunter Earle, the design firm also responsible for Raymond Blanc's exemplary Le Manoir aux Quat' Saisons, and should please most sensibilities: you enter via the original, dark-wood panelled hallway, then peel off to discover a kaleidoscope of living rooms.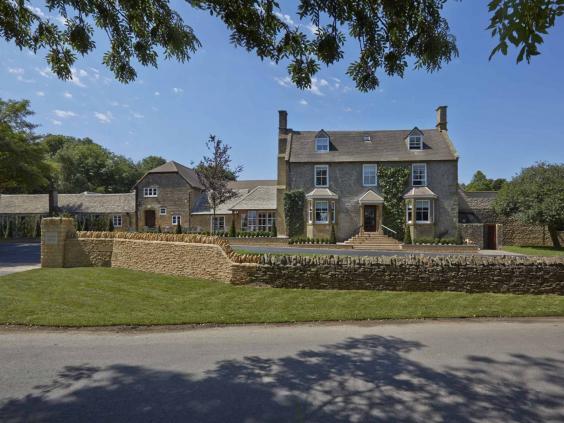 There's a powder blue drawing room with an Edison lightbulb chandelier and framed, pressed flowers on the walls; a burgundy-painted room with mole-grey velvet sofas; and a large room with Cotswold stone walls that's splashed with vibrantly patterned textiles. Jugs of freshly-cut flowers, vintage curios, and an eclectic book collection give it a homely feel; and on my summer visit, the smallest of log fires crackled in one of several hearths.
Seasonality is keenly observed in the Garden Room restaurant, where the roasted beetroot comes with goat's curd and wild nettle puree, and breakfast presents a choice of cinnamon, thyme and regular honeys to drizzle on home-made muesli. The room has plate-glass doors that open on to the showpiece garden – it's impeccable, but relatively small, and as the hotel's only proper green grounds, could do with some furniture.
In winter, the Potting Shed comes to the fore – this pubby restaurant is all low ceilings, warm lighting, and cosy nooks for hunkering down in with a local ale. Service in both venues was unfalteringly friendly, but disappointingly suffered from forgetfulness on a couple of occasions.
And the name? I assumed it was a corruption of the Latin dormire. In fact, "dormy" is a golfing term (the hotel is next door to Broadway Golf Club, peppered with "private" signs) – less romantic than the soporific contentment I'd had in mind.
Location
The hotel is part of the 400-acre Farncombe Estate, which spills down towards Broadway, a pretty village overlooked by a 65ft, 18th-century tower of the same name. In the 1880s Broadway was home to an American artists' and writers' colony, among them John Singer Sargent, Francis Millet and Henry James, and the village now holds a biennial arts festival in June (3-12 June 2016; broadwayartsfestival.com).
For bigger bustle, continue along the A44 to Evesham, or further west, to Worcester. Cotswolds honeypots Moreton-in-Marsh, Chipping Norton, and Stow-in-the-World are around 15-20 minutes' drive away; Oxford is45 minutes; Birmingham is an hour north. The closest train station to Dormy House is Moreton-in-Marsh, 95 minutes from London Paddington.
Comfort
There are 40 bedrooms, most of which open on to bright, stone-walled corridors and which all take a very different approach to contemporary style. On my visit, they were occupied by a mix of families (who delighted in the departure goodie bags) and parents-to-be. The excellent House Spa would give many London rivals a run for their money.
My corner Hideaway Suite had a picture window over those golf club signs and beyond to the Vale of Evesham and Wales. Inside, it was rather like the hotel itself – a pretty study in rusticity (framed antique botanical drawings, William Morris-style wallpaper, a mixture of antique and mid-century-style furniture) enhanced by technology: in place of printed room blurb there's a tablet that you can use to order room service (pragmatically, there's also a phone).
Travel essentials
Dormy House, Willersey Hill, Broadway, Worcestershire WR12 7LF (01386 852711; dormyhouse.co.uk).
Rooms ****
Value ****
Service ***
Double rooms start at £200, including breakfast.
Reuse content