It's easy to escape the tourist crowds in Florence: simply cross the Ponte Vecchio to the southern side of the River Arno and turn right. Better still, take the third right down narrow Via dello Sprone. Within minutes you're in Piazza della Passera, a little square that typifies Florence's Oltrarno district – literally, the other side of the Arno. Here there's less frenzy and more of an authentic feel to the city.
Overlooking Piazza della Passera and tucked away on tiny Via del Pavone is Floroom 1, a stylish four-bedroom B&B that suits the relaxed atmosphere of the district. Guests are sent an access code in advance to let themselves into the building, but the housekeeper is there for your arrival to make certain you're settled in. He can also help with lugging your bags up the three flights of stairs and can point out the best places to eat and drink – some of which are just outside the B&B.
The bed
The four rooms have individual touches but follow the same principles: plain white walls, dark polished wooden floors and giant arty black-and-white photographs of Florence offset by rustic, beamed ceilings. This old/new mix is in keeping with the property, whose cream-coloured exterior blends in with its 15th-century neighbours, even though it's 500 years younger. The rooms are pared back without feeling spartan, helped by crisp linens and immensely comfortable beds, some of which are four-posters. An opaque glass wall hides the sleek bathroom with its rainforest shower and chunky pewter fittings.
The entrance hall echoes the contemporary design: a white open staircase winds up to the communal area where breakfast is served under the sloping beamed ceiling. Here there's a squashy sofa in front of the flat-screen TV and DVD player, along with a selection of films and books.
The breakfast
Breakfast is simple: a small amount of Parma ham and cheese, fresh fruit, yoghurt, toast, jam, fruit juices, cereals and little biscotti to dunk into your coffee or tea. The kitchen is open to all guests to help themselves throughout the day to coffee, tea, fruit juice, fresh fruit, cakes and biscuits. There's a Nespresso machine, kettle and toaster, and you can also do a little light cooking on the two-ring hob. It's exactly the sort of set-up that you need on a city break: somewhere to unwind with a hot drink after a busy day out and about.
The hosts
Owners Giacomo Fantini and his girlfriend Francesca Pecci both come from families with thriving businesses, but they wanted to create something new together. Although they're not based in the property, they do like to visit when they can and housekeeper Joel is on hand to welcome guests and serve breakfast. The couple also owns Floroom 2, a similarly designed property on Florence's north side near Piazza Santa Maria Novella.
The weekend
Oltrarno's two biggest draws are vast legacies left by the Medici family: the galleries and royal apartments in the Palazzo Pitti and the splendour of the neighbouring Boboli Gardens (00 39 055 294 884; polomuseale.firenze.it; prices vary; closed Monday).
For art on a smaller scale, a must-see is the Brancacci Chapel in the church of Santa Maria del Carmine (00 39 055 276 8224; €6/£4.70; closed Tuesday). Masaccio's depiction of Adam and Eve is one of the most visceral frescos ever painted.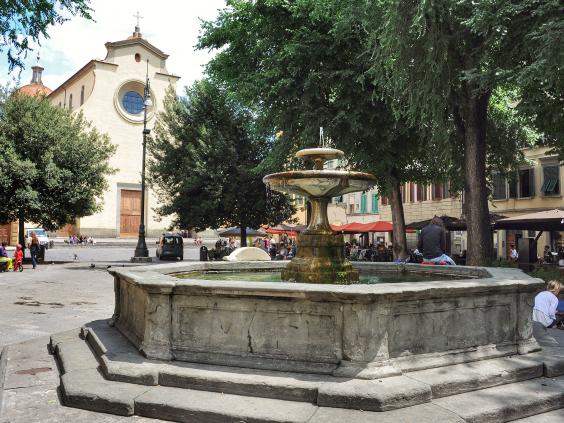 Refresh yourself afterwards with a drink or snack in one of the cafés in Piazza di Santo Spirito, the buzzing hub of Oltrarno. There's a food market every morning, but this lively place goes into overdrive on the second Sunday of the month during its flea market.
The pit stop
You need not venture beyond Piazza della Passera to be properly fed and watered. Vegetarian dishes are on offer at 5 e Cinque (00 39 055 274 1583), including saffron risotto with parmesan and courgettes for €10 (£8). Meat-eaters can feast on succulent osso bucco for €12 (£9.50) at Trattoria 4 Leoni (00 39 055 218562; 4leoni.com). Both of these are worth booking, even just a few hours ahead.
Opposite is the bar and tiny restaurant at Caffè degli Artigiani (00 39 055 291 882), where you can have plates of tagliatelle with porcini for €8 (£6.35) on one of the outside tables. Finish off with an ice cream next door at Gelateria della Passera (00 39 055 291 882), where a scoop is only €1 (80p).
The essentials
Floroom 1, Via del Pavone 7, Florence, Italy (00 39 055 230 2462; floroom.com). Doubles start at €120 (£95), B&B. Mary Novakovich flew with CityJet (0871 405 2020; cityjet.com) which offers London City-Florence returns from £158. Florence is also served by BA from London City and by Vueling from Gatwick.
Reuse content