Whether it's the suites that "float" over Mamitas Beach, the stunning open-air lobby set in mangrove forest, or the Mayan-inspired spa where you can peer down into a pool that resembles a cenote (sink hole), there's an air of luxury at the Grand Hyatt not yet seen in Playa del Carmen. The fact that this 314-room hotel was first planned as a standard Hyatt before being upgraded to "Grand" status – joining the ranks of Grand Hyatts in Cannes, New York, Tokyo and more – should speak volumes.
Architect Javier Sordo Madaleno (see Mexico City's dazzling, abstract San Josemaría Escrivá Church), in partnership with the New York-based Rockwell Group (Virgin Hotels Chicago and Robert De Niro's Greenwich Hotel in New York, among others), has injected a dash of sophistication and elegance to an area until now characterised by all-inclusive resorts with a few small, boutique properties. Madaleno has combined the contemporary with Mayan heritage, avoiding the pitfall of sterility and focusing on creating a natural extension of the beach. It's a sign that Playa del Carmen is changing.
As soon as you arrive, you encounter a fountain cascading down a wall of steps that nod to those found at the ruined Mayan city of Cobá. Immediately after, your eyes are led through the lobby, past the bars to the infinity pools and into the turquoise of the Caribbean Sea – a view the resort, inevitably, makes much of.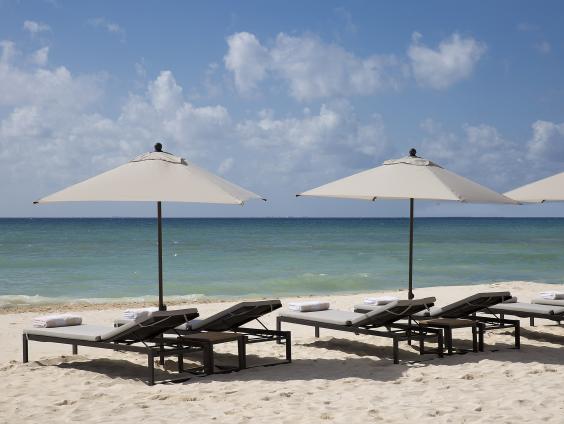 The hotel's focal point is El Paseo, an open-air space that connects Playa del Carmen's central strip, la Quinta Avenida with the beach. Here, you'll find stalls serving Mexican street food and raw seafood, as well as a cocktail bar. Irving, the talented and cheerful mixologist, enthusiastically conjures up all manner of libations – I'd recommend a mezcal margarita. For a classy sit-down supper, La Cocina has a menu to match its ocean view, and the lobster huarache – a sandal-shaped taco loaded with avocado and queso fresco (fresh cheese) – was particularly good. The Grill at 1-26 serves seafood, alongside various cuts of steak.
Location
Playa del Carmen is 45 minutes south of Cancun, but a world away. The resort is wedged between Mamitas Beach and la Quinta Avenida, so moving from beach bum to shopoholic, in the Quinta Alegria mall, is easy. Aside from the touristy shops and restaurants that populate la Quinta Avenida, there are notable destinations, such as Alux Caverna, a restaurant set in a cenote cave that serves Mayan specialities. However, the Grand Hyatt's luxury is yet to be matched in the area – which is fine, so long as you don't mind spending most of your time in the hotel ... which is very nice after all.
Comfort
Floor-to-ceiling windows open on to a balcony,  complete with a sea view and lounger, that makes a perfect retreat for sleepy afternoons out of the sun yet in full view of the sea or mangrove forest. Rich walnut wood, with a turquoise and sand palette continue from the lobby to bring beach chic to the rooms, blending mod cons (including a Nespresso machine) with tranquil design. A 47-inch HDTV and free high-speed wi-fi help you check-in with the outside world, but the pièce de résistance may well be the cookies that are left after turn-down.
A spacious bathroom with twin sinks and  rain shower make those tequila-heavy nights that little bit easier, though a bath would have been welcome in my partial ocean view room (they are available in the ocean view suites). The swim-up rooms, while lacking sea views, afford a peaceful dip in a shared pool for those seeking some privacy and convenience of not having to walk to the infinity pools and hunt for a sun lounger. For those with deeper pockets, there are suites with private plunge pools and Executive King Suites on the "bridge" over the Paseo, complete with plunge pools and soaring views.
Grand Hyatt, Playa del Carmen
1a Avenida esquina Calle 26, Playa del Carmen, Mexico (00 52 984 875 1234; hyattplaya.com).
Rooms ****
Value ****
Service *****
Doubles start at US$237 (£158), room only.
British Airways (0844 493 0787; ba.com) flies three times a week from Gatwick to Cancun, from £641 return.
Reuse content