It was about two days into my stay in Alacati that I realised I was walking very slowly. My stressed-out city strut had gone and my elbows had been firmly put away as I glided along the cobblestone streets of this idyllic town on Turkey's westernmost peninsula, Cesme.
It was not just the unhurried pace of village life that instilled a sense of calm in me, but a couple of days spent at Alavya. The hotel opened last summer on a tree-shaded street just off Alacati's main square. The story behind it is a sweet one: the owner Erol, bought the property for his wife Rana; she named it in honour of their young son, who couldn't pronounce the English words "I love you" correctly and instead would say it phonetically as, "A-lav-ya". Correspondingly, the hotel's restaurant is called Mitu, as if the parents are calling back "me too".
However, behind the endearing tale is a bold business story: the couple owns Polimeks, one of Turkey's largest construction companies, responsible for erecting government buildings, sporting complexes and shopping centres. While they've delivered hotels for clients before, this is their first personal project – with sister properties planned in Istanbul and the seaside village of Torba.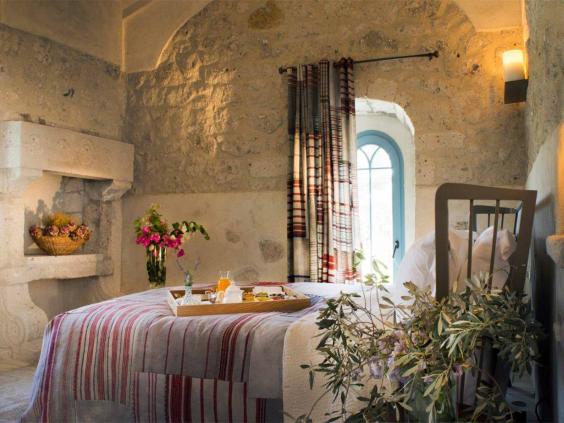 The site they've chosen served at one time as Alacati's open-air cinema. It's a composite of the town's old stone houses and some new-builds that have been crafted to resemble their older neighbours, all standing around a lush, green lawn in the middle. The look is harmonious – and not by accident.
The hotel was designed around the existing gardens, instead of the reverse. The grounds feature bougainvillea-draped perimeter walls, fruit trees and fragrant herb bushes, giving the effect of being in a secret garden. This means that whether sitting by the pool, watching birds and butterflies flit in the branches overhead, or sinking a cocktail beneath the sprawling mulberry bush that reaches out across the restaurant's leafy courtyard, nature surrounds you.
Thoughtful touches make the experience all the more enchanting. The meze-style breakfast goes beyond the normal requirement, with baskets of home-made breads, local cheeses, plump tomatoes and black olives. Chilled fruit juices are produced on arrival and again during hot afternoons by the pool. And little treats are left in the rooms at turn down: a teddy bear one night, a kaleidoscope the next. There's also complimentary bottled water, fresh fruit and home-made biscuits to enjoy. Then, as the sound of the muezzin's call to prayer wafts across the grounds, the magic is complete – it's almost as if the trees are whispering the words, "A-lav-ya".
Location
Fifteen years ago, Alacati was a one-horse town. It was spared the mass development of Turkish resorts further south, thanks to its location – 3km from the nearest beach. Slowly, windsurfers came to dance on the waters that surround the Cesme peninsula and artists started moving in to Alacati's idyllic stone houses.
Restaurateurs followed, setting up atmospheric eateries in hidden courtyards – Agrilia and Asma Yapragi are two of the best. Later, well-heeled types from Istanbul started flocking here for weekend breaks, but it's only recently that the town has begun to catch the attention of tourists from further afield.
The hotel staff are geared up to help you prise the most out of the area – whether it's recommending a boat trip to the Greek Island of Chios or a taxi to Ilica Beach, home to powder-white sands and midnight-blue Aegean waters. On Wednesdays, they also run cycling trips around the area. Bikes are available to borrow at other times, and staff can put you in touch with local surf schools if you want to try the watersports.
Comfort
The 25 rooms are all styled by Turkish designer Hakan Ezer, who has created interiors for the likes of British restaurateur Tom Aikens. The result is a mix of creamy, neutral textiles, balanced against ancient stone walls in some and wood panelling in others, all offset with Turkish kilim rugs and eclectic modern art from the family's private collection.
They range in size from two gargantuan loft suites, one of which has a towering four-poster bed, several hammam-style bathrooms and an outdoor terrace, through to premium rooms that feature pool-facing fronts and concertina-style doors at the back, leading on to snug courtyards. Mine was the smallest option, a Classic Room, though the scale was still generous, with a balcony that delivered garden views. All have Acqua di Parma toiletries, hooded white robes and those all-important extras, which just seem to keep coming.
Travel essentials
Hotel Alavya, Alacati, Cesme, Izmir, Turkey (00 90 232 716 66 32; alavya.com.tr).
Rooms ****
Value ****
Service *****
Doubles start at €190.
Exclusive Escapes (020 8605 3500; exclusiveescapes.co.uk) offers three nights' B&B at Alavya with flights from £700pp.