Protruding like a sore thumb with its vivid-red façade, the newest boutique offering in the Chilean capital evokes the decadence of Twenties architecture within the city's bohemian Barrio Bellavista. This four-storey townhouse was built in 1923 for a wealthy French-Chilean family named Lehuedé. After several decades of neglect, it has been renovated into a 19-room hotel.
Set on a petite plaza, the building combines if-you've-got-it-flaunt-it qualities with uninhibited architectural make-believe. The façade is a wild hotch-potch of styles: Tudor criss-crossed wooden panels, loggias, steep-pitched tiled roofs, Spanish colonial window grilles and a Moorish pillar with Baroque capital amid a row of smooth arches.
This eclecticism continues indoors – each renovated floor is significantly different. The small reception is moodily classical, with a hacienda ambience – a tiled floor and intense red drapes. A bit of interior design jiggery-pokery has gone on here – the marble fireplace and dark-stained panelling around the reception desk have been uprooted from elsewhere in the house.
The next floor is sumptuous. A Gothic stone staircase climbs to a lounge for drinking coffee or enjoying an evening pisco sour: Chile's national cocktail of brandy, lime and egg whites. The velvet sofas, chandeliers from Buenos Aires and sparkling lapis lazuli crystalware evoke a Wild West bordello.
The top floors host the bedrooms, which are clustered around an original French wooden staircase. The corridors are demurely calm: solidly mid-20th-century European with little ornamentation. However, a pleasing historical context is maintained with a subtle sprinkling of Lehuedé family photographs and memorabilia.
For breakfast, guests migrate across a small courtyard to the Brasserie Petanque, which recreates the ambience of a Parisian brasserie. Fresh croissants from the French manager's brother's bakery and delicious jams reinforce the Francophone roots of the original household. A second restaurant serving Chilean food is opening soon.
Location
Castillo Rojo is around 45 minutes by taxi from the airport and a 10-minute walk from Baquedano metro station. The hotel resides among tree-lined streets of buildings decorated by vivid murals and could not be better placed for exploring Bellavista's artistic and culinary scenes. The barrio bustles with galleries, craft shops, theatres, cinemas and pavement cafés.
The most important local attraction is La Chascona (fundacionneruda.org), the fabulous hillside villa of Bellavista's most celebrated former resident, the poet Pablo Neruda. A pleasant half-hour stroll away is the Baroque Museo Nacional Bellas Artes (mnba.cl).
By night, Constitución street – on which the hotel is located – purrs with alfresco dining. Very near is Peumayen Restaurant (peumayen chile.cl) which gives Chilean ancestral dishes a contemporary presentation, with ingredients ranging from Easter Island tubers and quinoa to cured salmon. Peumayen's chef will be launching Castillo Rojo's food outlet.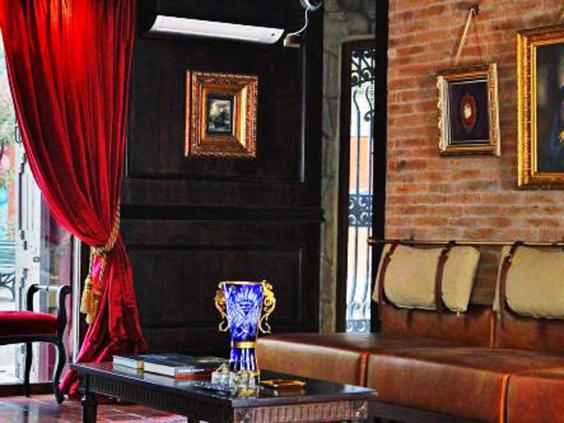 Comfort
No two bedrooms are alike and they are graded Standard or Superior, plus four suites. There are few concessions to modernity other than a good Wi-Fi connection and televisions (the lack of complimentary bottled water was disappointing). Original features such as the wooden flooring marry with reproduction dark wood furnishings to create a restrained sobriety although large windows lighten the intensity.
Decoration is subtle and representative of the creative souls who inhabited the house after it was subdivided into apartments by a Russian owner in 1947. My room had a wall-framed foldout Kodak camera while others had sheet-music wallpaper and a mounted portable typewriter. The bathrooms have been added, so seamlessly you might think they were original, with checkerboard-tiled floors, gilt-frame mirror and brass taps.
These are not laze-on-the-bed-with-oodles-of-pillows-flicking-through-TV-channels rooms; they are more like a trip to an art gallery to sit on the centrally located bench and admire the classics. It's worth splashing out on the extra $40 to upgrade to a Superior.
The most delightful rooms are the top-floor suites. (Although in the absence of a lift, serious consideration should be made for anyone with limited mobility.)The additional floor-space and airiness from extra windows allow you to appreciate the architectural nuances and spirit of the Lehuedé family's era. Bellavista Suite, for instance, is split-level with an internal staircase leading to a secreted fifth floor under the eaves, which from the outside, you would never know existed.
Travel Essentials
Castillo Rojo, Constitución 195, Santiago de Chile (00 56 2 2352 4500; castillorojohotel.com).
Rooms ****
Value ****
Service ****
Doubles start at $250 (£167), including breakfast.
Reuse content