Whether you're a hardcore bike nut or a fair-weather cyclist, the stylish Hotel Cycle is sure to push your pedals. It's part of Onomichi U2 – a former maritime warehouse in Japan's Hiroshima prefecture that's been converted into a complex of slick lodgings, quality dining outlets, and a bike shop. It opened last May, conveniently located at the start of the 45-mile Shimanami Kaido cycle path that connects the mainland, Honshu, with seven islands in the Seto Inland Sea via a series of impressive bridges.
However, it wasn't at all like I imagined a cycle hotel. There's not a harsh strip light, muddy tyre print, or smear of chain oil in sight. It's minimal, yes, but immaculate too. And very stylish – my guide tells me that architects and interior experts come to ogle the resort.
As we approach the reception she flicks a hand towards a remarkable abstract molecular sculpture. This, she says, is something artists come a long way to see. I do a 360-degree shuffle and squint a little until the white spheres align to depict a jubilant figure, hands thrown high in celebration, on a bike.
The rooms, which occupy around a third of the building, are at one end, while on the other side is a Giant shop where cyclists can buy new gear or hire road bikes (5,000 yen/£28 a day for adults). The space in between is a free-flowing foodie haven accessible to the public; an open-plan space that includes Butti Bakery, with magnificent fig bread, and The Restaurant, with its distinct Italian slant, all overlooked by an open kitchen. There's also the aptly named Kog bar, where the stools were originally designed with pedals so that punters could generate enough electricity to sustain the overhead mood lighting. That plan was ditched but, I'm told, may be revisited in the future.
Along the same sort of fun and slightly gimmicky lines is the resort's "cycle through" facility. You can ride up to the window of the Yard Café and buy drinks and sandwiches without even dismounting. The organisation behind Onomichi U2 is focused on boosting business opportunities and employment, so the majority of the ingredients used throughout the resort are locally sourced.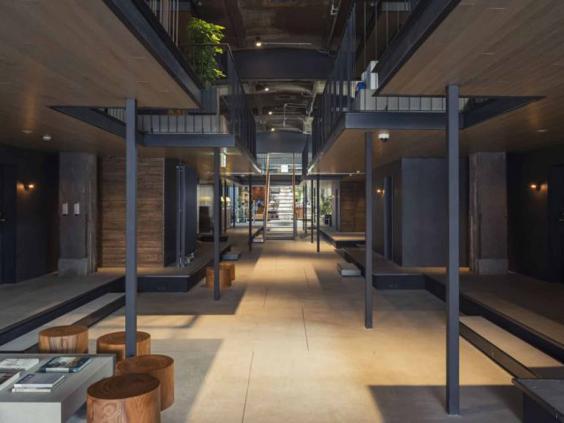 Location
The Shimanami Kaido cycle path is undoubtedly the area's main attraction. Tatara, a photogenic cable-stayed bridge, is the third of six on the route, while the spectacular Kurushima-kaikyo is Japan's longest suspension bridge at 2.5 miles. Each of the islands connected by the cycle route has its own speciality, ranging from citrus fruit to sea salt.
Getting to Onomichi from Tokyo takes around three hours 40 minutes. Visitors with a Japan Rail Pass can take the Shinkansen bullet train from Tokyo to Fukuyama, via Osaka, before changing on to the local service to Onomichi. The hotel is a five-minute walk from the station.
Comfort
Despite a nod to bikes at each opportunity, Hotel Cycle's 28 rooms are certainly worth a stay even if you're not a Lycra-clad rider. While the eight deluxe rooms are more spacious than the standard options, I'd be inclined to save the extra yen to spend at the restaurant or bakery.
The focus of each room is the unusually wide, crisp white bed, which practically glows against the dark grey walls and dark wooden furnishings. Ramps have been integrated into the interior design, with special hooks in many of the rooms to hoist up your bicycle like a work of art.
The bathrooms have ample pampering space in front of generous mirrors; standard rooms have an over-bath shower while the deluxe come with deep tubs and walk-in showers. All bathrooms run the width of the rooms, with many separating the bedroom from the window. This lack of natural light might be an issue for business travellers armed with papers or a laptop, especially considering the rooms are so dimly lit, but it's just the ticket for a good night's sleep ahead of a big day on two wheels.
Hotel Cycle, 5-11, Nishi-Gosho-cho, Onomichi, Hiroshima, Japan (00 81 848 21 0550; onomichi-u2.com).
Rooms ****
Value *****
Service *****
Doubles start at 19,800 yen (£111), B&B.
Reuse content