Paul Scholes and Phil Neville were having a coffee, chatting away like the old mates they are, when Ryan Giggs walked in, on his way to training. Scholes and Neville are men of leisure these days, the odd bit of punditry notwithstanding. Giggs on the other hand, now Manchester United's assistant coach, was in his trench coat, staring down the barrel of a busy day. Yet there they were shooting the United breeze, in the way you or I might do about our Sunday league team.
The brand new Hotel Football – so close to the Old Trafford home of the Red Devils that it might as well be inside it – feels like the Class of '92 common room. And well it might, given Giggs, the Neville brothers, Scholes and Nicky Butt are its co-owners. And the stardust sprinkled on it by its famous investors might well last. "I think people will want to be seeing us around the place," Phil Neville told me. "It's part of the appeal isn't it?"
They've not just slapped their names on it, either. Gary Neville, who along with Giggs appears to be the more senior partner in the project, knows the price of every pane of glass in the building, so I am told. And on opening night, Scholes and the younger Neville were in the basement, addressing fans in the brand new home of the Old Trafford Supporters Club, which is a quid to get into on match day (all proceeds go to charity), has room for 800 and sells Supporters Club craft beer for £3.50 a pint.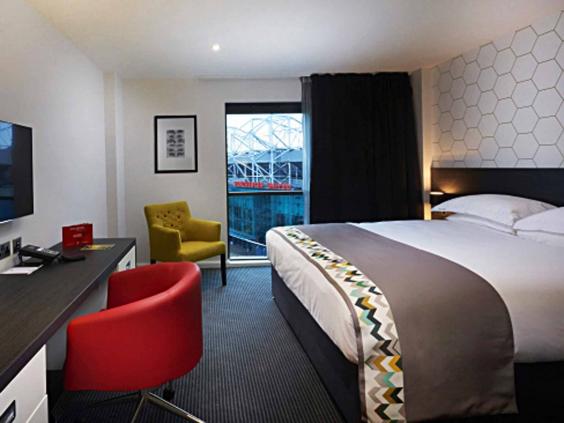 The restaurant, Café Football, is identical to the one that opened in Westfield Stratford in London last year. Certainly, it's a football theme restaurant and it's going to be popular for kids' birthdays, not least since it has its own sweet shop and ice cream counter selling Vimto ripple. But judged on its own terms, the food is Champions League.
Nev's Noodle Pot is a re-imagined Pot Noodle with a kettle of stock to pour over chicken noodles in a china cup. The burgers are £9.95, come with chips, and recently topped the National Burger Awards. The football theme is ever present, but never crass, cheap or overbearing.
And it's not all Manchester United, either. The walls are lined with art by students from Salford University and the staircases are decked out in comic-book-style depictions of historic football moments: Zidane's headbutt; Roy Keane's deliberate assault on Alf Inge Haaland.
The gang hope they might be able to expand the Hotel Football franchise to other cities, but Manchester is clearly its natural home.
Location
It's hard to imagine the place filling up when there's not a game on, but as Gary Neville pointed out, gesturing over the canal to arguably the nation's best-known football ground: "You've always got the view." And there's enough going on at Old Trafford, with its stadium tours and events, to draw people in.
Comfort
The rooms have something of a business hotel feel, themed artwork forms the main concession to footballdom (there is a cloth bag labelled "Hairdryer" in the top drawer, which football fans will know had deeper meaning round these parts not so long ago). There's an entirely free mini bar, for which you have The Hairdryer himself, Sir Alex Ferguson to thank. Giggs and the rest, so they say, spent years checking into hotel rooms where the mini bars had been deliberately emptied pre-arrival (chocolate and crisps being a greater temptation than the whisky). This mini bar is their childhood fantasy, and it's all Curly-Wurlys, Wham bars, popping candy and Vimto. In some, there are even a couple of Café Football-branded beers.
Travel essentials
Hotel Football , 99 Sir Matt Busby Way, Manchester M16 0SZ (0161 751 0430; hotelfootball.com).
Rooms ***
Value ***
Service ****
Standard rooms start at £99, room only, rising to £350 on Manchester United match days.
Reuse content