Hidden behind large grey, wooden double doors with almost no external signage, the Hotel Julien remains Antwerp's best-kept bedroom secret. Step inside, though, and it's a different story. The 16th-century mansion, which used to be an auction house for stamps, feels like an elegant and welcoming home from home, or at least the home I'd love if I could afford it.
Situated in the centre of old Antwerp, the Julien claims it was the city's first boutique property when it opened in 2000. With its cool lime-washed reception overlooking an open-air courtyard, and magnificent sitting room beyond, the decoration is a cocktail of styles; a subtle mix of antique, mid-century and modern, with a dash of Art Deco thrown in.
The original fabric of the building has been sensitively restored. Old oak floorboards in the sitting room have been matched with new ones elsewhere. A pair of painted ebony double doors, discovered under rubble in the basement, have been restored and re-hung. The sitting room ceiling is a work of art in itself, and there are smaller details to enjoy too, such as an intricately carved wood newel post in the shape of a scaly coiled serpent, and a wrought iron balustrade with creeping ornate flowers.
The owner has added her own imaginative touches elsewhere, including a gleaming gold leaf wall at the far end of the corridor, next to acres of cool white Carrara marble and a dazzling opalescent white mosaic floor. The cocktail bar is pure 1960s glamour, with black and white photos of a smiling Serge Gainsbourg, appearing to cheer you on as you take that first sip, while the sitting room next door is furnished with classic sofas and chairs by Vitra and Eames. The basement – previously a wine cellar – now houses a luxurious spa.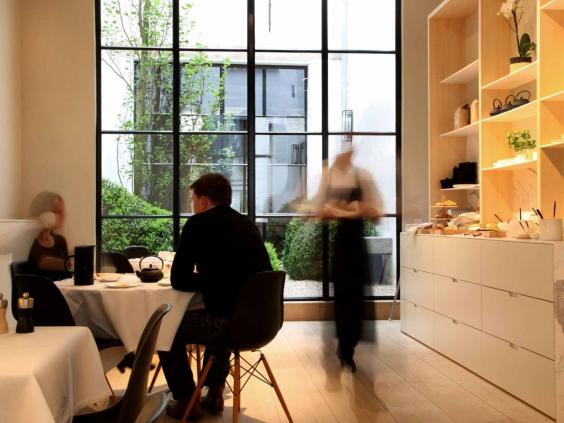 The Breakfast
Light and airy, with white marble surfaces and crisp, white linen tablecloths, breakfast is a slick help-yourself affair, with everything from aged Parma ham and Van Tricht cheeses to jams and croissants from the city's Michelin-starred Dome restaurant. Tea comes in cast iron Japanese teapots, sugar and milk in hand-thrown porcelain bowls – all white, naturally.
The Host
It's no surprise that the owner, Mouche van Hool, worked as an interior designer before becoming a hotelier. She has an impeccable eye and great attention to detail; even the paints are mixed to order. She named the hotel after her younger son, and is rumoured to have agreed to name a second, should she ever open one, after her other son, Henri.
The Bedroom
In 2008, van Hool expanded the Julien by acquiring the building two doors down and connecting it via a passageway at the back. Each of the bedrooms has unique characteristics, from private decked terraces to super-high ceilings. Room 7, where I stayed, had a beautiful original terracotta tiled floor and huge marble-clad bath. Expect pure white cotton bedlinen, and original artwork.
The Weekend
There's enough in Antwerp to keep you going for weeks, assuming you can bear to leave the Julien – and its central location means most places are within easy walking distance. The Red Star Line Museum, based in an original dockside warehouse, tells the story of how almost two million immigrants from across Europe set sail from here in the late-19th and early-20th centuries in search of a better life in the US. The striking 10-storey red sandstone museum, MAS, has unmissable views across Antwerp, while other must-see sights include the Rubenshuis and Central Station, which you will pass through if you arrive by rail.
Design junkies will love all the fashion and interior design shops, many of which are clustered along Kloosterstraat; and, for the best in a curated selection of young Dutch and Belgian designers, visit the Recollection at No 54.
The Pit Stop
Graanmarkt 13 (00 32 3 337 79 91; graanmarkt13.be) is a fashion and design shop upstairs and a restaurant downstairs, serving delicious three-course set lunches and dinners for €29 and €39 respectively. Seppe Nobels's simple, foraged-style cooking includes generous amounts of herbs grown on the roof and the best truffled scrambled eggs I have ever tasted, which come served in their shells in an egg box.
The Essentials
Hotel Julien, Korte Nieuwstraat 24, Antwerp, Belgium (00 323 229 060; hotel-julien.com). Doubles from £140 including breakfast.
Reuse content