The Berlin Wall may have crumbled in 1989 but, 25 years on, both halves of this now united city still feel distinctly different. The east is poorer, grubbier, but sexy too, while the west is shiny, decadent and flush with obvious wealth.
The recently renovated Hotel Zoo – flanked as it is by an Apple store and a Hugo Boss – is classic west side, a predictable addition to the more affluent portion of the city. It's in good company too, located on the prosperous Kurfürstendamm avenue with The Waldorf Astoria a stone's throw away. Unsurprisingly, Berlin Zoo is also close.
The building itself has a rich history. Built in 1891 as a private residence for a well-heeled Prussian architect, it was converted into an upscale hotel in 1911. After surviving two world wars, it re-emerged in the Fifties as the official hotel for guests of the Berlin International Film Festival, with a star-studded clientele that included Grace Kelly and Sophia Loren.
The renovation sought to restore that glitz. The entrance is signposted by a runway of ostentatious up-lighting and in the hall I was greeted by four monochrome leopards sprawled on the jade green carpet leading to reception. Fortunately, unlike the big cats in the zoo nearby, these kitties are two-dimensional, the work of fashion designer Diane von Furstenberg.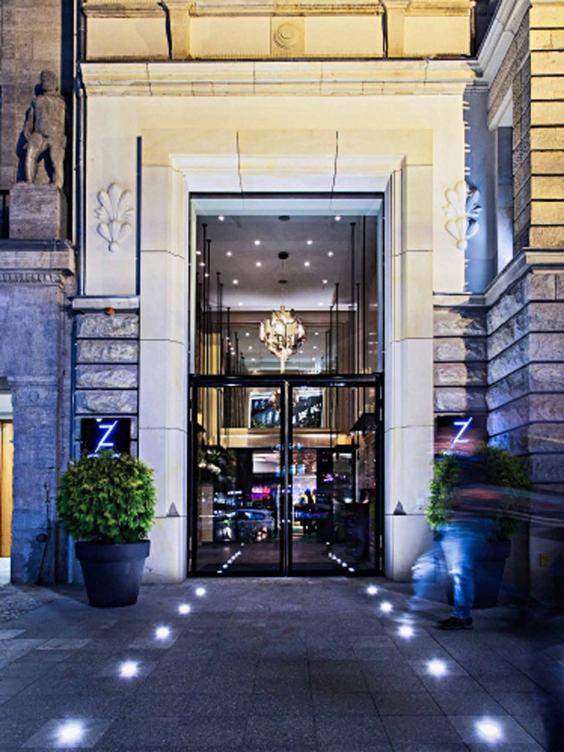 Two themes are at play in Hotel Zoo. The first is obvious: animals. They're everywhere. Leather-stitched hippos prop up the bar while topiary giraffes peer down on the interior courtyard. They're fun but bizarre and not quite in keeping with the hotel's other theme: old-school Hollywood glamour. A marble reception leads into an elegant living room, complete with plush furnishings, indoor brickwork and an enormous crystal chandelier. As I stepped into the lift I was momentarily blinded by a sudden flash of lights. Blinking, I realised the walls have been designed to imitate the click-click of a paparazzo's camera, harking back to the hotel's past as a hangout for the rich and famous. In the present day, however, it feels a little tacky.
The Grace restaurant opened a month after my stay, but my boyfriend and I did visit the romantically lit Grace Bar for pre-dinner cocktails. All lacquered wood and fringed leather seating, the bar – which is open to the public as well as hotel guests – screams retro-chic.
With no cocktail menus in sight, we asked the barman to rustle us up a White Russian and a Bellini, which he did adeptly. I later found a menu and, to my delight, chanced upon a cocktail named the Hamilton's Best. Top marks from me.
Location
If topiary animals don't do it for you, head to the real-life zoo (00 49 30 254010; zoo-berlin.de) a 10-minute walk away from the hotel. Opening hours are 9am–7pm, although entry stops an hour before closing to allow enough time to meander around the park. Admission €13 for adults.
It's also worth visiting the Helmut Newton Foundation (00 49 30 31864856; helmutnewton.com), a photography museum within walking distance, where the German-Australian fashion photographer's permanent loan collection opened in November. Open 10am-6pm daily except Monday, to 8pm on Friday and starting at 11am at weekends, admission €10.
Comfort
Although parts of the hotel don't quite add up (decorative animals plus paparazzi lift), the bedrooms are unequivocally elegant. With one look at the ruby red drapes framing the entrance to the room, I was transported back to the glamour of the Fifties. We stayed in a Grand Deluxe Room which had a king-size bed comfier than any I've slept in and a cocktail glass of macaroons tastier than any I've eaten.
The view was of the brightly lit Kurfürstendamm, although some other rooms overlook the hotel's interior courtyard. All come with specially-designed Maison Martin Margiela nightshirts, perfect for snuggling up in in front of the Apple TV (one in each room) if you decide you need a break from busy Berlin.
Some of the rooms come with a free-standing bath but we made do with a rainforest shower which had inbuilt speakers, meaning I could listen to the film my boyfriend was watching in bed while I rinsed the hotel's complimentary April Aromatics shampoo from my hair. The hotel also has its own signature nail polish – the same jade green as the leopard-print carpet – although at €22 a bottle it was a little rich for my taste.
Travel essentials
Hotel Zoo Berlin, Kurfürstendamm 25, Berlin, Germany (00 49 30 884 370; hotelzoo.de)
Rooms ****
Value ***
Service ***
Double rooms start at €167, B&B.
Reuse content